…and Dino is due a big-break!
Karl Robinson won a marvellous promotion with MK Dons last season. It was done in supreme style playing expansive passing football and scoring goals aplenty. It was richly deserved and his reputation grows constantly.
Previously, I had criticised Karl in this column, and I subsequently said that we exchang
ed telephone words before shaking hands and laying things to rest. As men do, we left things behind and have enjoyed a good relationship since then.
This week I will be visiting him to learn all about his winning formula, to gain an insight into his methods and to exchange ideas. Such is the respect between managers nowadays.
Sharing
There is a true gentlemanly approach to helping each other even though we will all be in competition from time to time.
Sharing knowledge and best practices between ourselves can only strengthen us all and, in the end, that is a huge positive for the English game.
Karl has started well in the Championship and is destined for great things. I have to say that he greatly deserves them.
I have worked with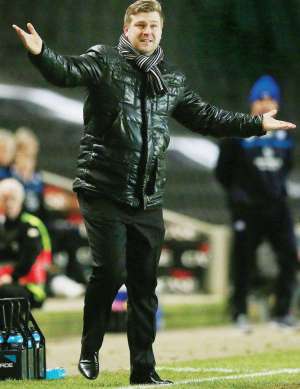 some very capable and highly dedicated men, players and staff in my time in football – 800-odd games  as a manager sees to that. One of those men is Dino Maamria who has served me brilliantly as both a player and a coach. His reputation as a player was one of being feared in Non- League football as a ferocious competitor. But Dino was much better than just a workmanlike player.
Passion

He was a clever player with a strong eye for goal and a passion for winning. Which is why I chose to appoint him as a player coach and subsequently as my first team coach. We've occupied many a successful dugout together and shared many learning experiences together. He is a tremendously loyal and hard-working man, currently completing his Pro Licence to add to his now vast experience.
It has astonished me that he hasn't been snapped up by a club since we left Stevenage back in May. With the reported dearth of coaching resources in England, it doesn't add up to me that a man with so much to give is sitting on the sidelines.
He needs to be working and he ought to be working.
Football League take note.
——————————————————————————————————-
We can't let money ruin the game we love
I live in the real world. I can understand that a player might want to double, treble, quadruple – or more – his salary.
I get the appeal of moving to a bigger or better club, or moving for a king's ransom. In fact, I am sure that we all understand that.
However, if a player has agreed a contract with a football club, to play for a certain amount of money for a certain length of time, then that player has a duty to fulfil his obligations and play to the very best of his ability on a continuous and consistent basis. The club will pay him under contract if he is injured. He must give his all when he is required.
John Stones is perhaps a good example of this. He wanted to go to Chelsea. He was honest and submitted a transfer request. But he played well throughout the saga, showed his club, Everton, decency and represented England last week. It makes me angry to consider that a player could ever let any other club's interest get in the way of his professional responsibilities. All this 'head not right' stuff doesn't wash with me.
In professional football, there are some privileged existences. Particularly at the top of the game. It is dreadfully wrong for the current AGREED contract to be disrespected by a player.
It also pains me to hear that a player would ever sit back and accept wages for staying where he isn't wanted rather than move elsewhere to play the game that he ought to love. It is wrong.
Of course life is a two-way street and a club has to honour the contracts it agrees just as a player ought to.
My mantra is that if you love football then football loves you. You have to give to receive.
The entire football community should stand together and make sure that money does not destroy the principles of respect and teamship that are core to the values of the game of football.
There is a lot of hard-earned, working class money being paid into clubs to support the game. Nobody lucky enough to earn money at any level in professional football should ever be able to forget that.
——————————————————————————————————-
Seven keys to give bosses edge…
There was a wonderful article that looked at the job that football managers did.
The conclusion was that most managers do deliver what they ought to deliver. In other words, the biggest budget normally comes top and the smallest budget normally comes bottom.
The calculation was that just 10 per cent of managers overachieve against their budget. So the question has to be, what do these managers do that others don't? How does the man with the 12th biggest budget win promotion??
The answers will lie in seven key areas; he will instil practices at technical, tactical, teamship, personal, professional, physical and mental levels that enable his team to succeed. So, for instance, Chelsea's well-rehearsed block to enable John Terry to score at a corner is one of hundreds of tactical details in their armoury. And the linguistic skills of Manuel Pellegrini are a factor that enables a team to form in a multi-lingual environment at Man City.
As the future unfolds, it seems certain that a manager will have an increasing social media burden to control or harness, an ongoing language situation to master and a continuing requirement to only play a pure form of football.
The challenge that the best must address to enable them to differentiate themselves from the rest is vast. The science behind the entire management agenda is becoming more and more extensive, whether in physical matters or in data analytics.
Finding the edges that enable you to be one of the 10 per cent appears to be an increasingly complex task, although the brilliant Brian Clough made it seem easy with his view that you just need a good goalkeeper, centre-half and centre-forward. And eight others who will run!