ASKED to name a Championship player destined for the Premier League, everyone from the armchair fan to Marcelo Bielsa would answer Kalvin Phillips.
Strength. Positioning. Tactical discipline. Silly red
cards aside, the 24-year-old midfielder has got the lot.
"I think he's good enough for the top half of the
Premier League at the moment," said former Leeds and England right-back Danny
Mills. "He's a quality player, a class act. The ability on the ball, the
athleticism, the movement – he's got all the attributes to play that holding
role."
Watched by Gareth Southgate during Leeds' recent defeat
to Sheffield Wednesday, rumours of an England call-up and a reported price tag
of £30m serve only to burnish the impression of a player set for stardom.
Spare a thought, then, for George Thorne. Thorne, who
quietly joined Oxford United on a free, short-term deal last week, once stood
on the same launchpad as Phillips. Prepped, primed and ready for blast off, he
was the holding midfielder with the world at his feet.
Just 16 when he made his debut for West Brom, Thorne
became the club's youngest player since Bobby Hope back in 1960.
Roy Hodgson, his manager at the Hawthorns, was a huge
fan. "You watch George play and you would never know he's just a young boy,"
said Hodgson after watching the teenager in action against Spurs in 2012.
"Physically, he's well
built. He can defend and is prepared to tackle. He sees passes, gets forward
and supports the attacking players. He doesn't have obvious weaknesses. That
alone gives him every opportunity of becoming a very good player."
And he did become one. Briefly. Having recovered from a
cruciate ligament injury to shine on loan at Derby County, Thorne's rampant
displays at the tail end of the 2013-14 campaign have gone down in legend at
Pride Park.
Steve McClaren's Rams would lose an agonising play-off final to QPR, yet the news that Thorne had forced a permanent transfer was greeted with a rapture akin to promotion itself.
"A future England player," said McClaren, and he'd
know. But just four days later, in a pre-season friendly against Zenit St
Petersburg, Thorne did his cruciate. Again.
Few players return unscathed from dual cruciate ruptures. Even the great Alan Shearer, for all his powers of adaptation, was a much diminished force after his second such injury.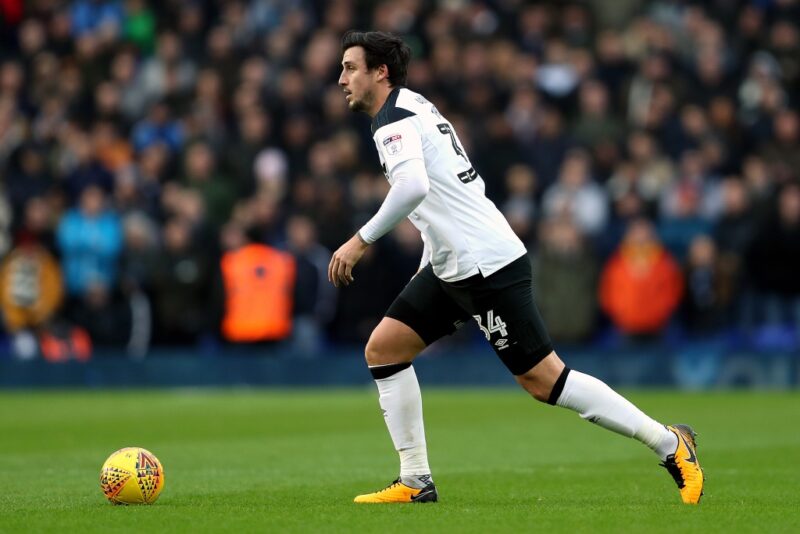 Acceleration and mobility are both significantly
affected. The knee joint itself becomes far more rigid. Tony Cascarino, the
former Republic of Ireland striker, once recalled watching an afflicted
colleague who could run only in a "wide, painful arc".
As the body compensates, surrounding joints and tissue
come under strain. Niggling injuries nag like flies on a horse's hide. Such was
the fate that befell George Thorne.
Even when his body played ball, fate struck a harsh blow. On the final day of the 2015-16 season, Thorne suffered a double leg break in the final match of Derby's season. Misdiagnosed, he contracted multiple infections and did not return for 17 months.
Subsequent seasons have yielded further frustration,
pain and just 23 appearances. Loaned to Oxford in August, Thorne immediately
dislocated a shoulder. When your luck's out…
Today, Thorne remains a technician of formidable
talent. His touch and vision are a cut above anything in League One.
But, at 27, his body is so ravaged that it is hard to
imagine a future anywhere beyond the third tier.
Thorne has undoubtedly made a good living from the game and is in a far more fortunate position than the majority of people his age. From a sporting perspective, however, he has been treated with savage cruelty.
This is a player who, with a fairer wind, might have
anchored a Derby midfield already boasting Will Hughes, Jeff Hendrick and Craig
Bryson all the way to the Premier League.
Remember, too, that England have spent much of the last
three years playing Eric Dier – a converted centre-half – at the base of
midfield. Had Thorne risen with Derby and beyond, it is hardly fanciful to
imagine him alongside Jordan Henderson. Such was his nascent talent.
That he is not, and never will be, is a reminder of just how quickly any player can be transformed from the next big thing into a footnote in football history.
CHRIS DUNLAVY