THINK of the Pixies and it is hard to escape the image of Frank Black, corpulent andcrazed, endlessly veering from psychotic scream to frantic whisper.
Black
– or Charles Michael Kittridge Thompson IV to bestow his given name – brought
feral flamboyance to an era-defining band who still sound fresh today.
Yet
what really brought the Pixies to life was the driving chug of Kim Deal's bass.
Erase that and all the brooding menace of Debaser and Wave of Mutilation would
melt away.
Technically,
Deal was no virtuoso. Nor did she want to be. "If I see somebody up there
onstage who's just playing scales really good and showing their dexterity, it's
like watching somebody type," she once said. "The bass in the Pixies is just
glue. It's not supposed to be something else."
Deal
wasn't being modest; she understood that Black's fireworks were most
effectively anchored by an unspectacular throb. She was the No.4. The Makelele.
The N'Golo Kante of alternative rock.
Few
players are as underappreciated in England as the defensive midfielder. Ray
Wilkins was witheringly dubbed 'the crab' for his sideways passing.
Michael
Carrick, one of the greatest we have ever produced, spent his career damned by
unflattering comparisons to Steven Gerrard and Frank Lampard.
Not
enough goals, no assists, no athleticism. Rarely did anybody praise his
peerless ability to pick a pocket and launch a counter-attack. The focus
perpetually fell on what he couldn't do rather than what he could.
Adam
Forshaw, the Leeds midfielder, has suffered plenty of beatings with that stick.
The 27-year-old was magnificent in last week's scrappy victory over QPR, a
pulsing bassline of timely challenges and no-frills ball retention.
He
made more interceptions and more tackles than any other player on the pitch and
his pass completion rate (90.6 per cent of 53) was bettered only by Pontus
Jansson, a centre-half.
Those
stats are no fluke. At Brentford, Middlesbrough and now Leeds, the former
Everton trainee has regularly excelled at football's earthier arts.
Within
the four walls of a dressing room, he is valued highly. "It's not like, 'Oh,
he's suddenly a good player'," said George Friend after Forshaw's qualities
were highlighted on Match of the Day in 2016.
"We
have always known he was a really good player ever since he arrived here. He's
so good for the team."
On the terraces, however, he has rarely been embraced. At both Elland Road and theRiverside, Forshaw's limitations have been a constant source of debate.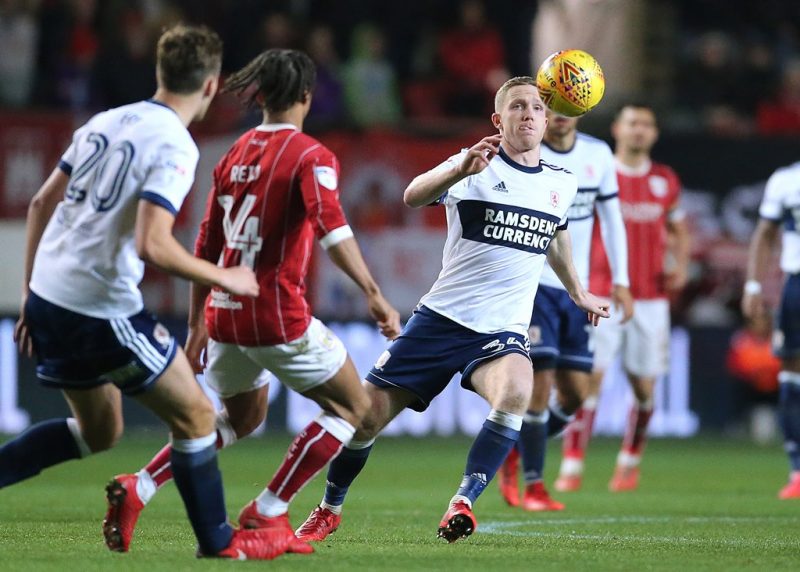 In
mitigation, passing stats will always look better if your job is to knock
six-yard balls; a player who takes risks has a much tougher gig and is
certainly worthier of greater adulation.
Nevertheless,
deep-lying players do suffer from an identity problem in England. Here, a
midfielder is a midfielder, our paradigms defined by generational freaks like
Bryan Robson who could tackle, score and generally run the show.
In
Italy, each role is unique, every position described in a rich glossary of
terms. There is no such thing as a midfielder.
A
Regista – conductor – controls the tempo and pings balls around like a
quarterback. An Incontrista is combative and tough tackling. Think Roy Keane.
The
Interno plays wide in a midfield three and is expected to provide craft and
creativity, a role re-defined by the brilliance of Xavi and Iniesta.
A
Mediano di Spinta (Italian for 'thrust') is deep-lying but offensive, like
Kante. Mediano d'appoggio, meanwhile, translates to 'offering support' –
breaking up play, filling gaps and passing simply.
Were
Forshaw playing in Livorno rather than Leeds, he would be recognised as a
Mediano d'appoggio and criticised only within the boundaries of that position.
Likewise,Carrick would have been celebrated for his mastery of the regista role. Yetwhat the Italians see as six or seven different jobs, we see as one. It's likeexpecting every Olympian to be a decathlete. To paraphrase Kim Deal, men likeCarrick and Forshaw are just the glue. And they aren't supposed to be anythingelse.
CHRIS DUNLAVY