By Chris Dunlavy
AS his old mate from Morecambe, Jim Bentley, tactfully points out, David Artell would never make the good-          looking XI.
"We used to call him the Moose," laughs the Shrimps boss. "He'd put his head in anywhere, and it showed.  He was committed, he was aggressive, he was brave. In terms of defending, he did exactly what it said on the tin."
To watch Artell in action for the likes of Rotherham, Crewe and Mansfield was to see an old-school meathead, an archetypal lower-league stopper with scars to match. Yet appearances can be deceiving.
Aside from a plethora of coaching qualifications, Crewe's new manager has a BSc in forensic and analytical science from Sheffield Hallam, a BSc in forensic biology from the University of Chester and a PGCE in biomedical science.
Then there's Open Goal, the tax consultancy for footballers he founded in September 2013 and still runs to this day.
"I've always said that, if I ever went on Who Wants to be a Millionaire?, David would be my phone-a-friend," says Bentley. "He might look thick but don't be fooled. Education-wise and in terms of football knowledge, he's probably the cleverest bloke I ever played with."
Speaking in 2010, Artell described how seeing careers cut short in their prime had inspired his return to education at the age of 23.
"I saw too many lads leave the game with nothing to fall back on," said Artell, whose degree choice was inspired by watching Cracker. "We can all be home for half two or three o'clock and we do have the chance to further ourselves in an afternoon.
"I did something academic, but it could be 12 weeks learning to be a plumber or joiner. Young lads have to do it because they could break a leg tomorrow and all this is over."
Thankfully for Artell, that moment never arrived. A trainee at home town club Rotherham, he made his debut as an 18-year-old in 1999 and played 40 times as the Millers won promotion to the First Division in 2001.
---
The FLP's weekly profile is sponsored by Marathonbet. Odds here: https://www.marathonbet.co.uk/en/
---
Paul Davis, of the South Yorkshire Times, described his performances that year.
"David Artell would throw himself into challenges, attack any ball," he said. "He refused to take a backward step and had no regard for his own safety because the Millers were in his heart."
Sadly, those qualities didn't convince Ronnie Moore that Artell could thrive at the higher level and he subsequently played for Shrewsbury, Mansfield and Chester before joining Football League newcomers Morecambe in 2007.
It was there he met Bentley and formed one of the most fondly-remembered centre-back pairings in the club's 96-year history.
"I used to travel into training with him," adds Bentley. "We roomed together. We played centre-half together. We got on straight away and he's still a good mate of mine.
"Neither of us was easy on the eye, but we did the job. We'd look out for each other, back the other up. We were both vocal. And, funnily enough, we had a knack of going forward for set- plays as well. I'd get a block on his man, or vice versa.
"We always said that if one scored, the other had to buy a meal at a cafe near us. That year, we finished with about 14 goals between us!"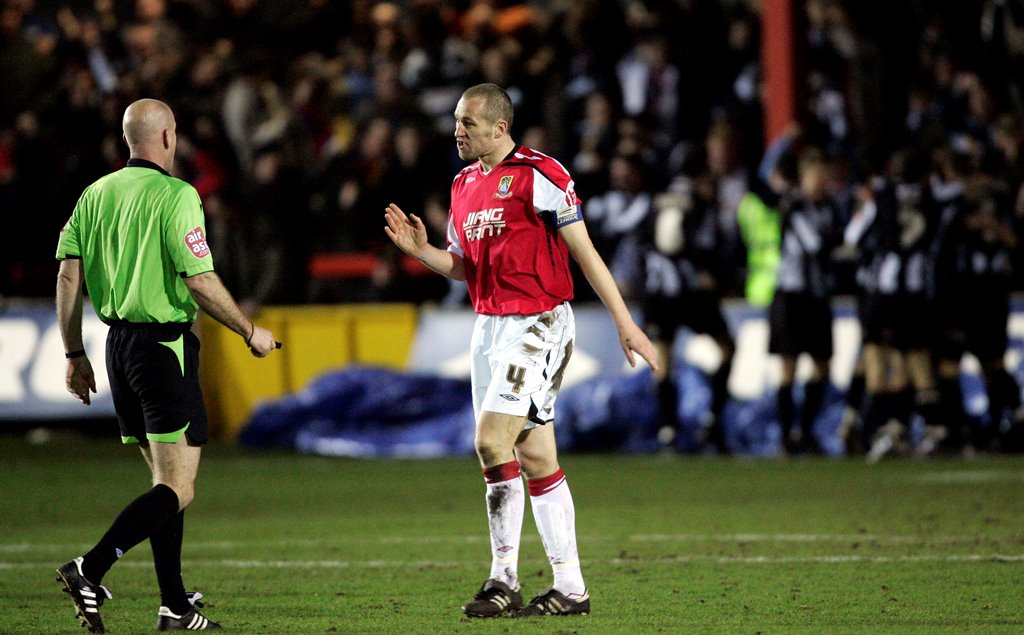 Next came Crewe, captaincy and, for Artell, an opportunity to finally use the grey matter on the pitch, rather than in a classroom.
"It was very refreshing when I arrived," he said in 2014. "Dario Gradi and Steve Davis didn't just tell me to head it and kick it, like virtually every other manager had done before them. They encouraged you to think about the game, trusted your ability. It was a real eye-opener."
In return, Gradi and then Davis got an experienced old head to keep the conveyor belt of youngsters running smoothly.
"He is a leader and the other players look up to him and respect him," said Davis after handing Artell the captain's armband. "I know that, in him, I have someone on the pitch who has great experience and thinks like me. You can have a captain who is quiet but leads by example or a talker who helps organise things on the pitch. Dave is both."
Though his time at Crewe ended sourly – Artell was released just weeks after lifting the League Two play-off trophy at Wembley in 2012 – his admiration for the club never waned.
So, after stints at Port Vale Northampton and Wrexham and seven caps for Gibraltar at the age of 34, Artell returned to Gresty Road in 2014 as academy manager under Davis.
"It is the best club I ever played for," said Artell, who spent the week after his appointment preparing to face Poland's Robert Lewandowski for Gibraltar, while still playing part-time football for the likes of Bala Town and Droylsden. "The ethos, the philosophy, it was a perfect place to start my coaching career."
Now, after Davis' dismissal, Artell is starting his management career there, too. And Bentley, the pro game's third-longest serving manager after Arsene Wenger and Paul Tisdale, is convinced his old friend will succeed.
"It wouldn't have mattered if it was football or forensic science," he said. "Dave's one who can put his hand to anything and be good at it.
"I remember watching Gibraltar against Germany when the camera panned in on him belting out the national anthem. He's from Rotherham! But that's him. He clearly realised it would be appropriate to learn it, put his mind to it and mastered it.
"He loves learning and is clever enough to do it quickly. Add to that his professionalism and leadership qualities and it's a great combination."