by Neil Fissler
GRAEME CRAWFORD is modest about his record that did more than almost anything else to help York City win promotion from Division Three.
Crawford kept 11 consecutive clean sheets, to beat a record which had stood for nearly 50 years, as York claimed third place behind Oldham Athletic and Bristol Rovers.
The club had avoided relegation on each of the previous two seasons only on goal average, but that was about to change.
Crawford would play a major part equalling the record for clean sheets set in 1926 by Millwall's Joe Lansdale, who played in ten games and Fred Fox the other.
He was unbeaten in 1,039 minutes for a Football League best that stood for five years  until Reading's Steve Death went unbeaten in 1,103 minutes.
It helped York to gain promotion to Division Two for the first time, but Crawford says he had some luck along the way.
"It was unbelievable. I got the record supposedly, but it was very much a team effort," he insisted.
"Two or three times the ball would go past me, but Phil Burrows would turn up on the line. Phil would knock it away. But we had a lot of luck as well because we had two or three penalties in that time, but fortunately I went the right way and saved them.
"It was one of those things. We were on a bit of a roll and confidence was high, but the lads in front of me were very much part of that as well.
"Chris Topping, John Stone and Phil Burrows were always getting me out of trouble and they still are to this day.
"I remember the goal that beat me was a header from Jack Howarth, who had scored against us at Aldershot. Then, he did the same at Bootham Crescent."
After winning the opening game against Charlton Athletic 4-2, York failed to win any of their next three games.
But, by mid-November, they had hit their stride and found themselves in the promotion places. They stayed there against the odds.
York sealed promotion with a 1-1 draw against champions Oldham at Bootham Crescent, Chris Jones scoring one of his 17 goals that campaign.
They were to finish third on goal average, however, after dropping a point in their penultimate game at Halifax.
"Tom Johnston brought in one or two players and the team just went from strength to strength, though at the start of that season when we were promoted we had a bit of a nightmare," said Crawford.
"We won only one of our first few games, but then we went on a right run and confidence was obviously high.
"Even if we went a goal down, we knew we would come back. And we thought we were never ever going to get beaten.  We had a team with no stars and everyone played for everyone else.
"The first season we went up into the Second Division we were doing really well – and then in the second season, too.
"If we had strengthened the team in a couple of places, we would have stayed up, but unfortunately Tom (Johnston) and us went downhill from then."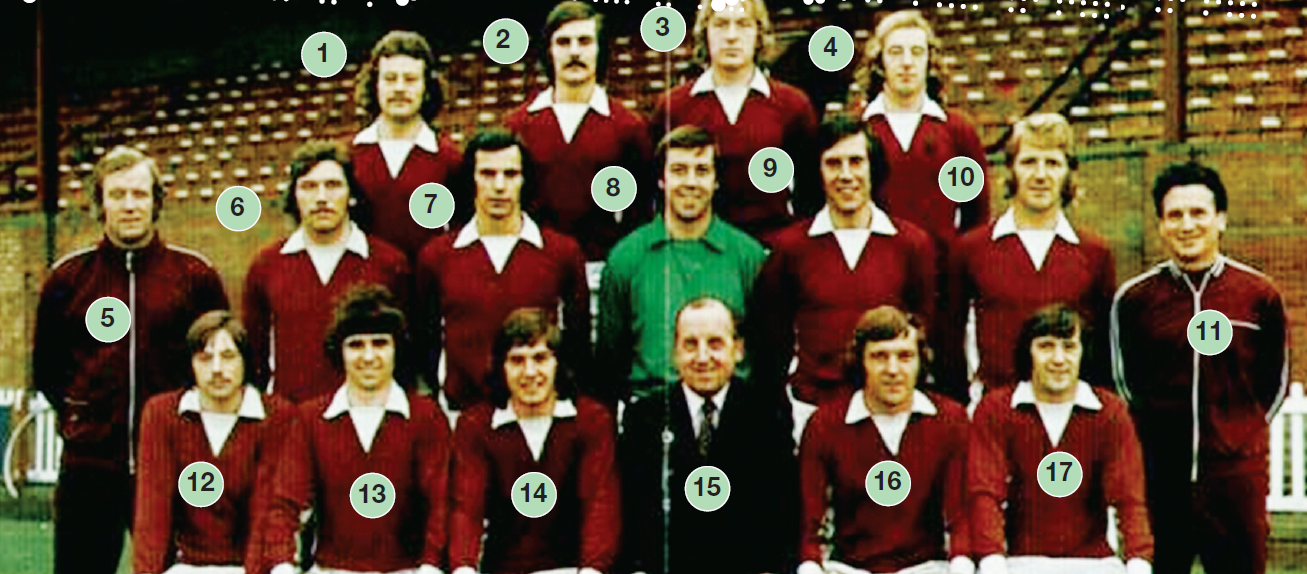 Brian Pollard: An England youth international winger who ran a pub in Sherburn, Scarborough, and then worked in despatch for Ward Strictures.
John Woodward: A midfielder who settled in the York area and has coached at various local schools.
Jimmy Seal: A striker who settled in the York area, where he worked as a milkman but has run his own painting and decorating firm for more than 25 years.
Ian Holmes: A midfielder who worked in the insurance industry and is now a mortgage broker from his base in Huddersfield.
Colin Meldrum: After three spells as Workington manager and another at Stafford Rangers, he was a sports development officer in Blackpool, where he lives in retirement.
John Stone: A right-back who opened a sports shop in Grimsby and then owned a milkshake and fruit drink shop, Shake Shack, with his wife.
John Peachey: A striker who also coached at Emley and was a Community Support Officer with Barnsley Council until his retirement in March last year.
Graeme Crawford: The goalkeeper spent 19 years as director of Leeds-based Avista Promotions before starting his own promotions company, from which he is now retired.
Chris Topping: A defender who has managed a mushroom farm and worked as a postman in Selby and coached at Cliffe Primary School.
Barry Shallow: A defender who had two spells as caretaker manager and became a club director. He also ran a hotel and pub in the city.
Ron Spence: A former York wing-half who worked as a trainer and then physiotherapist who also coached the juniors. He died in Doncaster in April 1996, aged 69.
Dennis Wann: A winger who is now retired on his native Fylde Coast after owning a couple of newsagent shops in the Lytham St Annes area.
Phil Burrows: A defender whose father and grandfather were both footballers. He now lives in the Stockport area and worked as a chartered surveyor in the building industry.
Cliff Calvert: A defender who finished his career in the United States but settled in Toronto. He ran a furniture store and then became a fireman.
Tom Johnston: He managed Rotherham and York, together with three spells at Huddersfield Town, and lived in Nottingham. He died in November 1994, aged 76.
Chris Jones: A striker who became a school teacher delivering RE and PE. He has also run a guest house and is a pundit with BBC Radio York.
Ian Butler: A winger who ran a guest house in Bridlington, before becoming a prison officer at Full Sutton. Now retired in Driffield. His son, Martin, also played for York.