by Chris Dunlavy
JACKIE McNamara never wanted to be a football manager. "I'd seen too many managers, guys who'd done a lot in the game, shown a lack of respect by lads who'd achieved nothing," said the former Celtic defender.
"I said to myself 'No way. Not a chance'."
After a nightmarish start to life at York City, the Scot might wish he'd stayed true to those sentiments.
Six games, six defeats, 21 goals conceded. Embarrassment heaped on ineptitude. The National League could soon be the home of a man who once played in a World Cup.
Yet McNamara has never shied from a challenge. At Hibernian, he broke his leg at 15 and was forced to hobble on crutches as friends collected YTS contracts. Released for being too small, he joined Dunfermline and showed Hibs the error of their ways.
Later, as an unfashionable face amid Celtic's galaxy of superstars, he was dropped by everyone from Wim Jansen to Martin O'Neill. All regretted it.
Famously, O'Neill even pulled McNamara aside on the day he left Celtic Park. "Son," he admitted. "I should have played you more."
As a manager at Partick and Dundee United, McNamara developed countless young starlets, then had to do it all over again after they were sold from under him.
In 2011, he even climbed an actual mountain, beating the altitude sickness that floored his assistant, Simon Donnelly, to reach the summit of Ecuador's 20,000 foot Cotopaxi Volcano.
"Jackie might be quieter than most and he might look like a choirboy, but he is one book who should not be judged by his cover," said former Celtic team-mate Chris Sutton.
"He is intelligent, opinionated and determined – and he hated to lose."
Those qualities were undoubtedly instilled in McNamara by dad Jackie, a legendary player for Hibs and Celtic.
One of the Clyde's youngest-ever shipyard stewards, Jackie Sr was an avowed Communist who led the Scottish Players' Union. Nicknamed 'Trotsky' by Kenny Dalglish, he publicly dismissed football as a "sick business" and his exit from Celtic Park is widely acknowledged to have come at the behest of conservative board members.
McNamara's political views are less strident but his convictions – hard work, principles and standards – are not.
John Hartson was McNamara's room-mate at Celtic and, like Sutton, says the right-back's slight frame and meek demeanour masked a steely self-certainty.
"That image he has hides the truth," said the Welsh international. "I've seen him launch into players both on the park and off it.
"The ball rarely ran away from him, but if it did he was more than capable of putting someone up in the air, just as he wasn't shy about bawling at someone in the changing room if he felt they deserved it."
Sutton, who spent five years playing alongside McNamara, adds: "Jackie wasn't afraid to speak his mind in a dressing room full of big characters, like Neil Lennon, Henrik Larsson, Paul Lambert, Stan Petrov and John Hartson.
"He wouldn't back down if he felt any criticism coming his way was not constructive, and he was the same on the park. He was a fierce tackler but could also be as nasty as the worst of them when he had to be."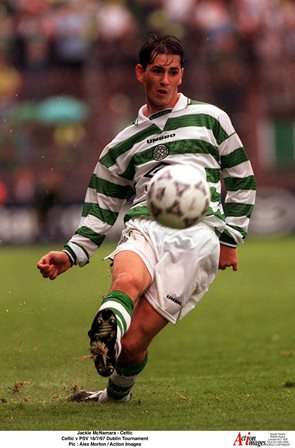 McNamara played 358 times in his decade at Celtic, winning four league titles, three Scottish Cups and, in 1998, the SPFA Player of the Year award.
That same year, he crowned a 33-cap Scotland career with two appearances in the World Cup. Typically, he had to fight his way into the side having been dropped for the tournament opener against Brazil.
McNamara's career ended as it had begun, with a broken leg. He retired in 2011, having seen out his final years at Wolves, Falkirk and Partick.
Yet, while his stance on management would soften, his standards suffered no such fate. On his first day as Partick manager in 2011, the players were met by a sign promising fines for everything from urinating in the showers to taking calls after 1.30pm on a Saturday.
It worked too. Partick had reached a cup final and lay second in the First Division when McNamara left for Dundee United in 2013. The top-flight Terrors finished fourth and fifth, and lost in two more cup finals.
Along the way, he developed the talents Johnny Russell (now at Derby), Andy Robertson (Hull) and Ryan Gauld (Sporting Lisbon), then rebuilt when they were sold on.
"His knowledge of the game was tremendous," said Robertson, who joined the Tigers for £2.85m. "And his style of play helped us all. He didn't like to lump it up the park and play off second balls. He liked us to get the ball down and pass."
McNamara's time at Tannadice ended on a sour note, with his sacking in September amid revelations that he'd received a cut of player transfers. Now he is re-booting south of the border.
"Jackie's had a rough time, but he's a strong character," said Sutton. "He was always going to go into coaching and, for all the setbacks, I'm convinced he'll be a success."