by Kieran Thievam
Carli Lloyd may have scored the fastest hat-trick in the history of the World Cup final as the USA lifted the trophy, but she's not about to let the attention change her.
"I'll remain an underdog for the rest of my career and probably the rest of my life," she says as she conducts her latest interview since lifting the World Cup in Vancouver on July 5.
But make no mistake, this is no false modesty from the 33-year-old New Jersey-born midfielder, who already had two Olympic gold medals to her name before running riot in this year's World Cup final.
It's an attitude that has seen Lloyd fight back from multiple setbacks to become one of the most complete players ever to take the field in the women's game.
Not only did she almost single-handedly tear apart the Japanese defence in Vancouver to help her side triumph 5-2, but she scored in every knockout round of the competition to help the US write its own chapter after waiting 16 years to repeat the success of the team that prevailed in 1999.
Lloyd puts this mental strength down to two things.
One, the countless hours she has dedicated to her game to make her one of the most feared box-to-box midfielders in the world. And two, her mentor and friend, James Galanis.
Australian-born Galanis is director of New Jersey-based soccer school Universal Soccer Academy, and 12 years ago he set out to make Lloyd one of the best players in the world when she, in his words, "wasn't physically fit and wasn't mentally tough". Ever since, he has been her go-to guy on an almost daily basis, especially during the World Cup when the Houston Dash midfielder had no family to speak to.
"I pretty much banned my friends, family and fiancé from coming to the World Cup, and it worked, because it allowed me to focus," says Lloyd. "James and I speak on an almost daily basis, whether that's by text or email. He emailed me before the final and told me this was my chance to show the world what I'm made of."
Lloyd has had her fair share of obstacles to overcome in her career, including missing a penalty in the shoot-out defeat to Japan in the 2011 World Cup final and starting the 2012 London Olympic tournament on the bench after losing her place in the team prior to the competition.
But ask the 2015 Golden Ball winner how she was feeling after an indifferent group phase in Canada for the eventual champions, and the response might surprise you.
"Believe it or not, I was in a bad place and was probably at an all-time low, it was worse than being benched at the 2012 Olympics," she says.
"I couldn't have been more prepared for this event. You go in there and you envisage it's going to start off a certain way, and when it doesn't, it almost feels like you've failed and have disappointed people.
"I'm very hard on myself, I take responsibility for how the team plays if I'm not playing well, and this fear of making mistakes just trickled through me with each group stage game."
This was a real test for USA's Number 10, who admits Galanis helped her through the crisis of confidence, before she received the boost she needed when scoring in the win against Colombia in the last-16.
It was here, as has been shown in previous tournaments, that Lloyd came into her own, bagging the winner against China in the quarter-finals, before coolly slotting home a penalty in the 2-0 semi-final win over Germany.
"It's crazy how the mind works and how tournaments are – it's not how you start, it's how you finish," adds Lloyd.
"By the time the final arrived, nothing was going to get in my way because I wanted to win so badly and would do anything it takes to get the job done."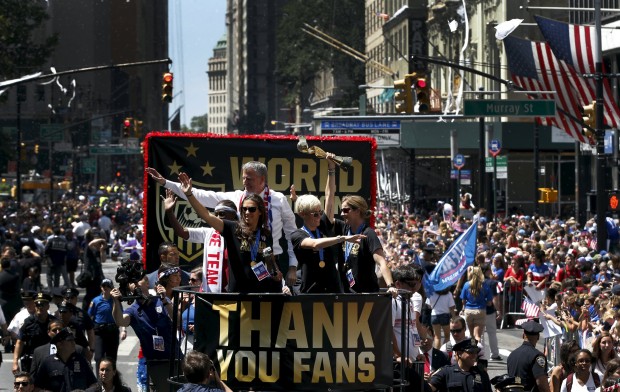 The 13-minute hat-trick that helped put her side 4-0 up inside 20 minutes left even the most diehard USA fan picking their jaw up from the floor, but seeing a free-flowing Lloyd in a major final is now not so much of a surprise.
At the Beijing Olympics in 2008 she scored the game-winning goal in extra-time in the gold medal match against Brazil, before scoring twice in a 2-1 win against Japan in front of a Wembley crowd of 80,000 at London 2012.
That makes it six goals in four major finals, with the only blip the penalty shoot-out defeat to Japan in 2011.
So just how does she take her game to the next level to ensure she is an influence on a team that is overwhelmed with talent, when it really matters – in a major final?
"It's about preparation and pushing your body beyond limits that are almost unimaginable," she says.
"There is no way that when I started out on this journey that I would have imagined being able to do the running that I have been, and conquering the challenges I have up to now.
"It's knowing that I have an extra edge over everybody. My body gets better with every game that I play, and in that final I was still able to run when everyone else was tired."
Lloyd reveals that there have been people along the way who have "wanted me to fail and have constantly doubted me", which has given her that extra drive to prove them wrong.
But it is her own personal goals and her desire to reach the top, which continue to push and encourage her to play the role of the underdog.
"There's no other way, because there's so many things that I need to improve on and I will improve on," Lloyd concluded.
"I don't just want to become the best in the world. I want to be the best player ever, and in order to do that you have to keep climbing the ladder and not allow yourself to get wrapped up in any of your past accomplishments."