GEORGE Friend has just turned 33, but he's refreshed and ready for another major challenge with manager Aitor Karanka.
Friend was Karanka's first signing after taking the Birmingham job.
The club has got itself into all kinds of mess on and off the field and Friend is just what the Spaniard needs – someone he knows, who he can rely on, someone who can make a defence tighter than a miser's purse. But at the moment it's not enough.
Birmingham had lost their last two Championship games going into yesterday's fixture at QPR and a sound, if unspectacular, start to the season has turned into a slide down the table.
Blues had only won one league game, back on the first day against Brentford, but what do you want when you are in need? A Friend.
Friend had played in all seven games this season, one of them the Carabao Cup, and Birmingham have not conceded more than one goal in any of them.
The problem is scoring with only Jeremie Bela with two, and one of those a penalty, and Harlee Dean on the scoresheet. But Friend's up for the challenge.
He's looking to play the full 46 Championship games, a 6ft2ins warrior defender who spent four years with Karanka at Middlesbrough and was a key man in their promotion to the Premier League.
"I would like to think I'd play all the league games for Birmingham this season," says Friend. "I feel fit, I look after myself. I turned 33 last Saturday but I said to one of the young boys, 'When I come last in pre-season, I'll know it's the time to give up'.
"Throughout my career I have been at the front in pre-season and that hasn't changed.
"I feel good. I actually feel refreshed and renewed in myself having been at Middlesbrough for so long (eight years) and now coming here.
"I feel like it's given me that bit more energy, which helps. I am very happy to be at this club."
Karanka is styling the same kind of football that was successful at Boro, moderately successful at Nottingham Forest and something that so far no Birmingham City fan has seen live.
It's a defensive-based system that needs to be successful to continue because if you lose playing the Karanka way then the numbness of the football angers fans.
Middlesbrough fans protested about it and Forest supporters were becoming less happy.
Friend was offered a new deal by Middlesbrough, but it was 12 months on reduced terms.
He's got a two-year contract at Birmingham with a one-year option, a contract that will probably see him into retirement.
A season or two in the Premier League prior to that is the aim, if a distant one at the moment.
Friend only has 25 Premier League games to his name in a 15-year career, one for Wolves ten years ago and the rest with Karanka's Boro.
Apart from that, his time has been spent in Non-League, the lower ends of the Football League and the Championship.
He's happy to be back in Karanka's hands with a club to rebuild.
"Aitor is a big reason for my move," admits Friend. "I had a successful time with him at Middlesbrough and I know what he's all about. I know he's looking to build something here and the club has got ambition."
More recently Birmingham City has been a disaster area with the constant fear of relegation only matched by the rapid turnover in managers.
One of them, Garry Monk, was back at St Andrew's last week with a 1-0 Sheffield Wednesday win.
Monk was big on forming a bond with Birmingham fans.
He kept them up despite a nine-point deduction for breaching profitability and sustainability rules. From being outside promotion contenders, Blues were suddenly in familiar murky relegation waters.
Safety was achieved and then there was yet another, typical, Birmingham bust-up and Monk was binned. At least it was a good rehearsal for what Monk has been landed with at Sheffield Wednesday, after their 12-point deduction for breaking the same rules.
Karanka is not one to be messed about, as Friend will know. He walked out on Middlesbrough and came back during their promotion season and then jacked it in at Forest as well.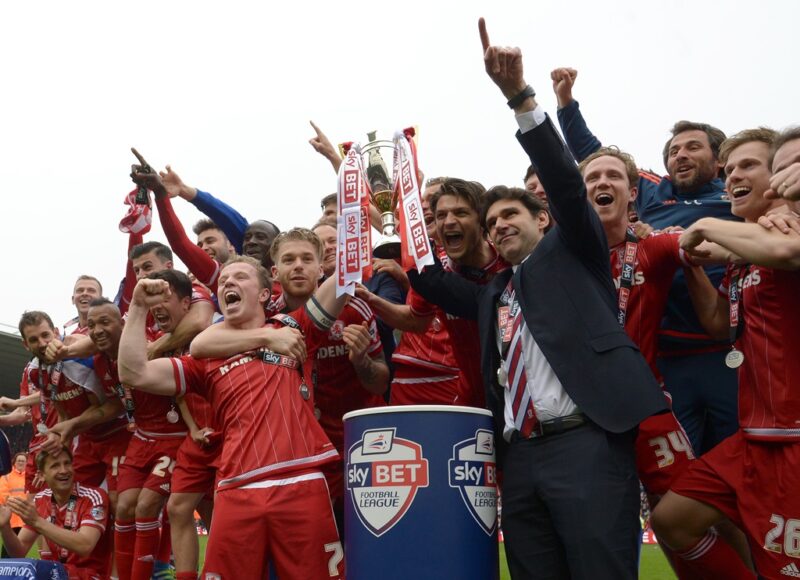 There is always that feeling at Birmingham that it all might end suddenly and it means the former Athletic Bilbao and Real Madrid defender hasn't got a lot of leeway.
"I hope we are going to be hard to beat this season," adds Friend.
"We set quite a high standard in those first games, that first block before the international break, and when you set the bar at that level you have got to try and maintain it.
"The first loss was always going to be hard to take because we were going undefeated in the league."
Karanka switched the team around to be more attacking against Wednesday, but the tactics flopped dismally.
That was followed by another 1-0 defeat at Norwich three days later and suddenly the 47-year-old boss finds himself in a bit of trouble.
The loss of last season's top scorer, Lukas Jutkiewicz, with Covid-19 hasn't helped.
Karanka has signed nine players and Friend says: "We've added a lot of players but it's quite simple what we are trying to do. I don't think we are changing a lot tactically, everyone knows what they should be doing when they come in.
"It might take a bit more time for people who have been out for a while. I was really impressed with Jonathan Leko when he came on as a substitute against Sheffield Wednesday because he has been out injured for so long."
Leko was signed from West Brom for £1m, which is an investment in a talented 21-year-old who hadn't kicked a ball for ten months because of knee ligament damage.
Karanka has to be careful with him. Leko got his first start at Norwich and lasted less than an hour before he was exhausted.
But the manager sees him as the player to add a bit of celebrity to a working man's team.
Friend says: "He will need a bit of time to get up to speed, but he is already looking sharp.
"It shows that you can just slot in and do OK because it's quite straightforward what we are trying to do. It's not always about the tactics, it's about desire as well.
"They are not just going to look at a player here. Before he comes, the manager is going to look at their character.
"I can tell straight away those who have been brought in are good guys. You also have got senior players here, some that have been here for a number of years, Juke (Lukas Jutkiewicz), Harlee (Dean), and they will make sure the dressing room is right.
"Add myself and Clayts (Adam Clayton) who are older players and I think it's important to take that responsibility, to make sure the changing room is right.
"From what I can see so far, those brought in are buying into everything, they want to do the best for their own careers but, more importantly, for the team."
JOHN WRAGG