by Tony Leighton
It was 'Nick Who?' when Manchester City launched their new-look women's team early last year with a bevy of star-name players, but a manager who was barely known outside the Academy system of the Etihad Stadium club.
Twenty months on, however, after a Continental Cup triumph in his team's inaugural season and a
2016-17 Champions League place in prospect as they chase a top two finish in the Women's Super League, Nick Cushing is making a name for himself as well as helping build City into a major force.
Looking ahead to today's Continental Cup quarter-final against Arsenal – the team that City beat in last year's final – Cushing took time out to reflect on his journey from playing Non-League football, via Academy coaching, to managing City in what is his first ever job in the women's game.
"I played for (West Cheshire League clubs) Vauxhall Motors and Capenhurst Villa as a teenager," said Chester-born Cushing, now 30. "But then ten years ago I started as a volunteer coach here at City and I fell in love with the club and threw myself into coaching.
"I used to drive up the M56 from home on Sunday mornings and coach the Under-5s and Under-6s in the boys' Academy. I did that for eight months then became part-time, taking sessions in the week as well as weekends, then became full-time – I must have had thousands of hours on the training pitch by now.
"I really enjoyed the development side of the game, but I always expressed a desire to become a manager and while I was coaching I was also doing courses in management and leadership, business and accounting as well as in coaching.
"So when I was asked by the club if I would like to manage the women's team, it was a no-brainer. Okay I hadn't worked in the women's game before, but I didn't make any disconnect between men's football and women's – it's football."
Under Cushing's direction, City have quickly established themselves as one of the very best club teams in England.
Having many of the country's top players in the squad – seven of whom have been called up for next week's Euro 2017 qualifier against Estonia – has been a big factor and the manager would not deny that.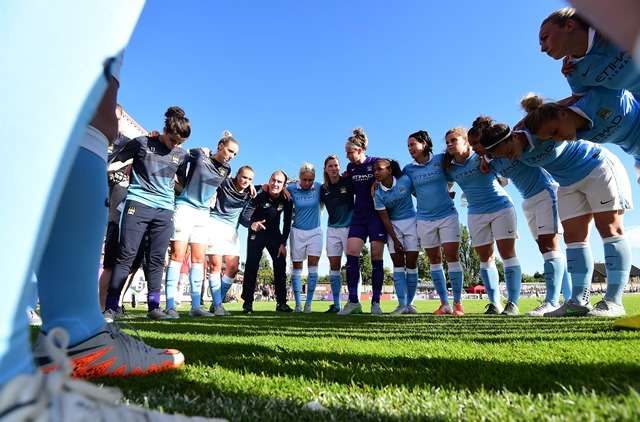 But Cushing's role has been key, insist the players. City and England captain Steph Houghton said: "Nick is one of the very best coaches I've ever worked with.
"In the last year and a half my game's come on leaps and bounds and that's down to him. His technical detail and tactical knowledge are first class, you can see that in the style of play we always aim to produce and in the results that we've been getting."
Houghton was meant to step out against Arsenal today, the club from whom Cushing signed her as one of his first and most important captures, with the avowed intent of taking a giant stride towards a second successive Continental Cup final.
Having gone unbeaten in their last 13 League and Cup outings, 11 of them won following Thursday's 2-0 victory against Liverpool, City would have headed down to Boreham Wood feeling confident of progressing in the competition.
But their defence of the trophy could be cut short after they were charged by the FA for fielding an ineligible player in the game against Sunderland on August 15.
The game has been postponed until the outcome is determined, with City required to respond to the charges by Thursday.
While retaining the trophy was one of the targets set by the manager this season, he had even bigger things in mind when outlining his season ambitions to his players ahead of the campaign.
"Winning the Continental Cup in our first season as a new club was huge in terms of the team's development," said Cushing. "It gave the players belief in the way we want to play, and as a manager it really spurred me on.
"It was the first trophy I had won as a coach or manager, and the feeling was addictive. Now I want us to keep that trophy and to go on winning things.
"From January 2 this year – the day we first met up to start preparations for the season – the thing we've been striving for is Champions League football.
"Our men's team is a great example to us. They won the FA Cup in 2011, they've won the Premier League twice since and for the last few years they've played in the Champions League – and that's where we want the women's team to play.
"We went into the season with the aim of qualifying by winning the Super League, but although Chelsea are favourites now we know that second place will get us there and that would be massive."
As they close in on their goal, City's last two WSL games – against Bristol Academy and Notts County – are both at home and will doubtless be played in front of big, loudly-supportive crowds at the Academy Stadium.
Among the fans will be Cushing's four-year-old son Harry, a regular supporter of the women's team at home games and already a keen young player.
So what footballing advice will dad, who not that long ago was coaching five-year-old boys, give to Harry and his 18-month old brother Frankie as they grow?
"Having the lads come to games will give me the opportunity to give them the values and beliefs that we have here as a football club," said Cushing senior.
"I will always say to them that if you show commitment and have a real desire and passion to achieve – and that's all I had as a football coach – then whatever it is you want to achieve, you stand a good chance of achieving it."
So watch out in the years ahead. Harry Who? Harry Cushing, that's who. Remember the name.