(Picture: Action Images)
By Ben Baker
IT SHOULD not have been a surprise to see Paul Anderson show no mercy a fortnight ago as he kick-started Northampton Town's FA Cup rout against lowly Harrow Borough. He is a man on a mission after all.
Anderson popped up with a superb sixth-minute opener, the first of six Cobblers goals as their Ryman League Premier Division visitors were brushed aside.
It was the 28-year-old's third goal in as many games and a fifth since he arrived at Sixfields on a free on transfer deadline day, after leaving League One rivals Bradford City by mutual consent.
Anderson's time with the Bantams never got off the ground as he suffered a nasty leg break in September 2015, just two months on from being released by Championship side Ipswich.
The injury compounded the former England Under-19 international's misery.
He was already cut up at being forced down the football pyramid despite ending his final Championship campaign top of Ipswich's assists chart with seven.
This fact, the winger felt, proved he could still cut it in the second tier – and that opinion hasn't changed in the past 12 months.
"Last year, it was disappointing having to drop out of the Championship and play in League One, but I went to a team that was having a go, and still are, in Bradford," said Anderson, who played three league games under new Bantams manager Stuart McCall this term before leaving.
"I was ready and raring to go and Bradford were fighting at the top of the table.
"It was just unfortunate that I missed all of that through injury and I think I could have offered a lot.
"Then, there was a new manager in and new owners and things didn't work out.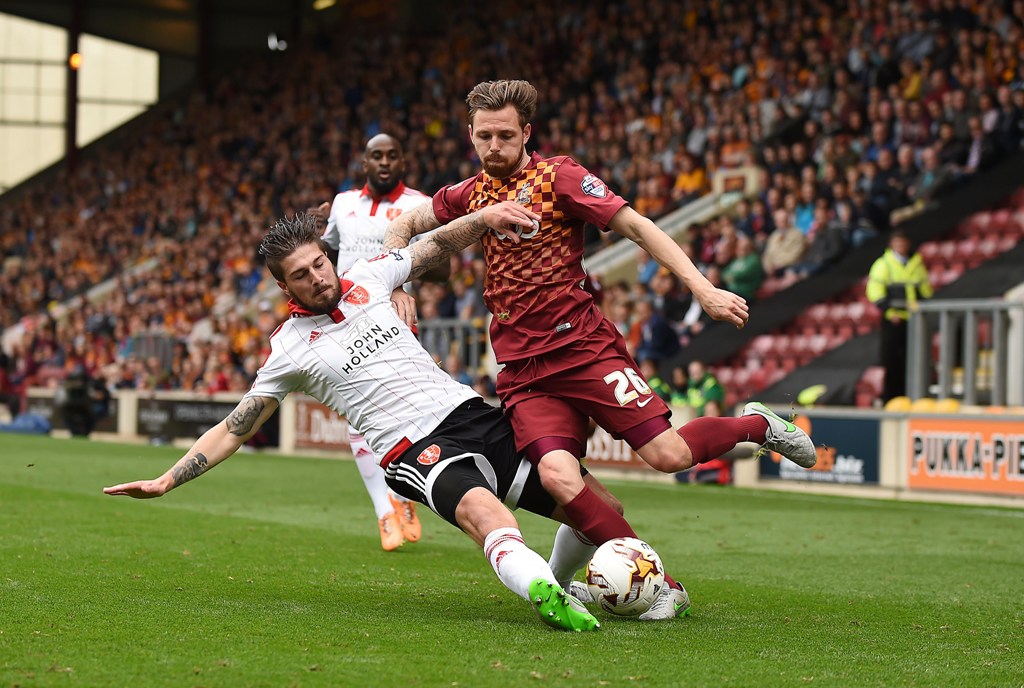 "Soon, they said they were going to try and move me on. When Northampton contacted me, we didn't really talk contracts and it took only half an hour, or maybe an hour, before I signed.
"It was never about money or anything like that for me. I just wanted to be back playing and prove to people I still had it.
"I felt then, and still do, that I can play at a higher level. I just wanted to prove that to people and show them what I could do – I feel like I have done that so far here.
"I hadn't played much for Bradford before I joined Northampton, but the manager threw me straight into the side and I got off to a good start. I am getting back to full fitness now so, hopefully, I can keep pushing and improving."
Anderson could very well be back in the Championship as soon as next year, given the progress Northampton have been making.
This is the Cobblers' first season in the third tier since 2009, but they headed into the weekend just two points off a League One play-off spot.
However, while everything at Sixfields looks set up to play Championship football next term, Anderson's contract isn't – after he signed just a one-year deal at the club.
"No-one was jumping to sign me after I missed most of last year," added Anderson. "My contract at Northampton had nothing to do about money. I just wanted to get back playing and get my career back on track.
"Northampton wanted me. They were a team on the up and my agent said some great things about the club, so I jumped at the chance and it has been great.
"It was never about the contract for me, but I am sure that, if I reward the club with something, then I will get rewarded by them in return.
*This article originally featured in The FLP on Sunday 20th November.