by Neil Fissler
KEITH EDWARDS admits that he was banned by his wife from helping the Blades win promotion by the smallest of margins, one goal.
The prolific Edwards won the Golden Boot after firing The Blades to a second promotion in three years with 42 goals two years after leaving cash strapped Hull.
But it could have been so different had The Tigers beaten Burnley by three clear goals in their last game of the season which would have seen them go up instead.
Edwards who blasted four goals on the opening day of the season against Gillingham was left at home listening to the game on the radio
"It couldn't have got any closer, with Hull being my former club made piping them to the post somewhat special for me
"We recognised that we got as low as we could and there was only one way to go, whereas Hull were still trying to get over their financial difficulties which is why we made progress quicker.
"My time at Hull was difficult because they were broke, I was just like a piece of meat, and I had to be sold to finance some of their difficulties.
"I went back to Hull in 1988 and had some fantastic times there but the Blades were my team and got promoted by one goal and how often has that happened?
"I remember a few of lads went with Colin Morris to the Hull game because he had a connection with Burnley, then there were half a dozen that went out.
"I sat in and listened to it on the radio but couldn't stand it too much, when we realised that we were going up I wanted to go out and meet the lads but our lass wouldn't let me.
"So I missed out on it, I should have been out with the lads but we made up for it. It was a great set of guys at the club then.
"Alot of them were from the North East like me but we had a few Yorkshiremen but we all got on great," he said.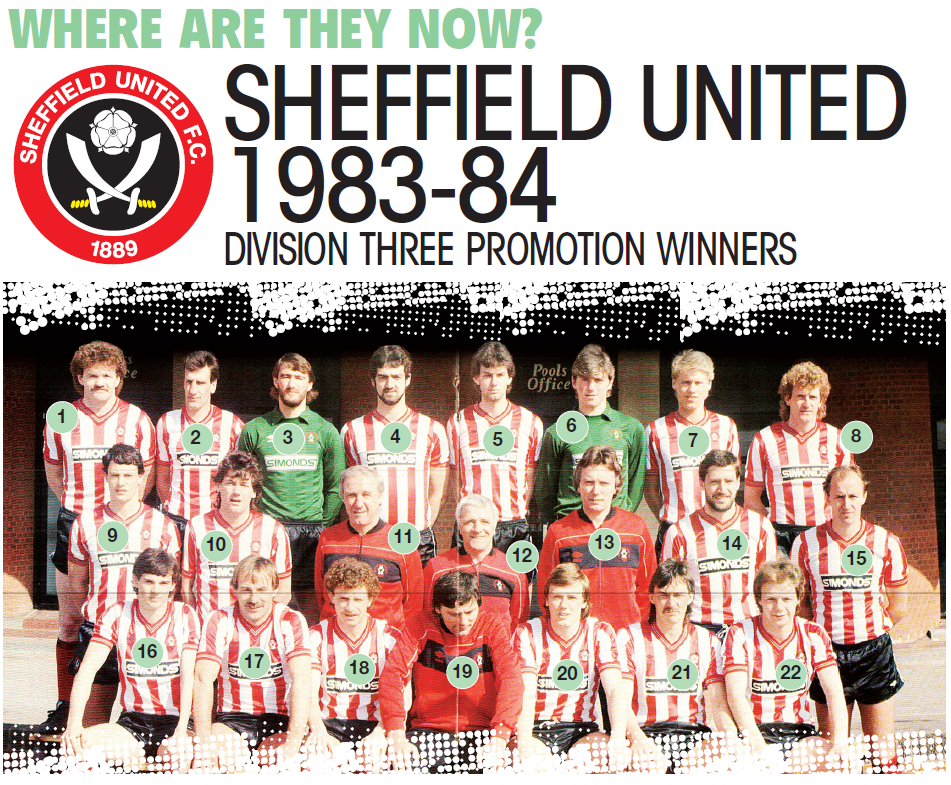 1. Tom Heffernan: A right back who became a painter and decorator in Bournemouth but has now returned to his native Ireland but remains in the same trade.
2. Joe Bolton: A full back featured in The Housemartins hit Happy Hour was Matlock Town boss but living in his native Birtley is working as a lorry driver.
3. Keith Waugh: A goalkeeper who became youth team manager at Watford before joining Bedfordshire police force and he has been a detective for the last 14 years.
4. Paul Stancliffe: A defender has been assistant manager and youth team coach at York before becoming head of youth of Doncaster Rovers where he is professional phase development coach.
5. Gary West: The England youth international defender is back living and working in his native Scunthorpe.
6. Paul Tomlinson: A goalkeeper is living in Dronfield, Sheffield where he has been working in the pub trade.
7. Tony Philliskirk: The former striker went into coaching and is head of youth at Oldham Athletic and his son Danny is playing for Blackpool.
8. Glenn Cockerill: A midfielder who managed Woking and Winchester. Has also scouted for Carlisle and Brighton. Now working as a painter-decorator.
9. Steve Charles: A midfielder who has managed Gainsborough Trinity and is working at Norton College, Sheffield as a tutor in sports science.
10. Kevin Arnott: A midfielder who worked in the family building business in South Wearside before becoming a driving instructor in his native Tyne and Wear.
11. Jim McGuigan: The former Crewe, Grimsby, Chesterfield, Rotherham and Stockport manager died in Chesterfield in March 1988 aged 64.
12. John McSeveney: The former miner who was assistant manager later scouted for a Wolves, Coventry, Bolton, Ipswich, Derby and is now retired living in Barnsley.
13. Jim Dixon: The former trainer and coach is now living in retirement in the North East.
14. Bob Atkins: The former defender is now living back in his native Leicestershire and is earning a living as a prison officer.
15. Mike Henderson: A defender who was  caretaker manager at Chesterfield before becoming a Policeman in Sheffield where for 19 years he has been a dog handler.
16. Gary Brazil: A midfielder who went into coaching has twice managed Notts County and is now the academy manager across the Trent at Nottingham Forest.
17. Ray McHale: A central defender who  twice managed Scarborough Town, had a spell as Oldham's chief scout then as worked as an FA Tutor and ran a soccer school until retiring to Spain.
18. Colin Morris: A midfielder who became a car salesman for Arundale of Bridlington but then moved to Portugal where he was a currency dealer. His son Lee played for the Blades.
19. Ian Porterfield: The hero of Sunderland's 1973 FA Cup win managed all over the world before his death from cancer in September 2007 aged 67.
20. Keith Edwards: A striker who worked as a lorry driver before joining Cancer Research UK, is now lorry driver with Sheffield Installations and has been a summariser for BBC Radio Sheffield.
21. Tony Kenworthy: A defender who moved to Scotland where he worked for a Youth training Programme and then lived in Stockton on Tees and worked for the Press Association.
22. Paul Garner: A left back who stayed in his native Sheffield, and worked as an insurance agent and a milkman before becoming a plumber.
NOT PICTURED
Mike Trusson: A midfielder who became youth team coach and then first team coach at Bournemouth is now a coach educator, working for various County Football Associations.
Paul Richardson: A midfielder has spent many years working for BT.
Jeff King: A midfielder who settled in Derby where he is  working as a painter and decorator.
Alan Young: A striker who lives in Nottingham and has worked for BBC Leicester and in youth development for Notts County, Chesterfield and Leeds.
Steve Neville: A striker – Is now living in Western Australia and was senior coach with Sorrento FC and works as a plasterer. His son Scott is an Australian under-23 international.
Terry Curran: A striker who bought a transport cafe, and opened a pallet business, later turned the cafe into a motel and an Italian restaurant before selling up to a property developer and retiring.
Paul Smith: A winger became a Policeman in Sheffield.
Julian Broddle: A  full back is now a Policeman with the Greater Manchester Police.
Stuart Houston: A full back was twice caretaker manager of Arsenal, managed QPR, and coached a number of other clubs and then scouted for The Gunners.