by Paddy von Behr
WILL Keane waited a while to get the better of his twin brother  – and, after doing exactly that last weekend, the Preston striker has grand plans to kick on.
Keane and twin brother Michael went head to head in terrible conditions at Turf Moor eight days ago and there was a clear winner, with the on-loan Lilywhites striker opening the scoring as high-flying Burnley were beaten 2-0.
The twins, who both graduated through the Manchester United academy, had faced one another in a competitive game just once before, in August 2014.
After their latest meeting, Will certainly holds the upper hand and the 22-year-old, who is on loan at Deepdale from Old Trafford, admits it was a meaningful afternoon's work.
"I told him before the game that we were going to win, so I've got the bragging rights," he said. "I think we were both looking when that game was scheduled  straight away at the start of the season.
"He stormed straight off the pitch after the game and I had come off, so I didn't get a chance to see him, but I spoke to him later on. He was obviously disappointed with the result, but I think he was happy for me.
"We played against one another once before, when he was on loan at Blackburn and I was at QPR at the time. He played right-back, so we weren't actually against each other.
"It was a bit bizarre really. The weather was so bad, it was hard to actually speak and hear each other. It was hard to even hear yourself think."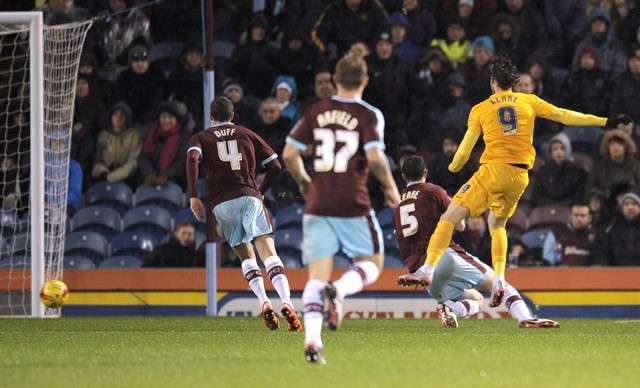 The outcome was not just a significant one for Keane, however, as Simon Grayson's Preston picked up a coveted three points on the road.
With that, the newly-promoted side moved five points clear of the drop zone and, such is the nature of a competitive Championship, Preston began this weekend just eight points off a play-off place. "To begin with, you want to make sure you remain in the league," said Keane.
"But there is a confidence and we know we have the quality to push up the table as well.
"We have had the foundation of a lot of clean sheets and we can build on that.
"I was desperate to get a goal. I know my job is to try and get goals so I was chuffed to do that against Burnley.
"The game  was probably my first start for six or seven weeks. I felt like I had made a good impact a couple of times. I started the season well. I didn't really get among the goals, but I felt I was performing well.
"Then, we went through a bit of a dry spell as a team and all the strikers were suffering a bit, but I think we are also gelling as a team." Unlike Michael, who signed for Burnley on a permanent deal this summer, Will also has his future at Old Trafford to think about.
While his loan is season-long, there is a break clause next month – and, with the Red Devils desperately short of healthy striking options, the lure of Premier League football is undoubtedly strong.
"I am just eager to get games and be playing week in, week out," he added. "I will have to speak to both clubs in January and see what my position is.
"I keep in touch with the U21 manager Warren Joyce. He comes to watch quite a lot of games and, playing under him for the last few years, we have a good relationship.
"I am sure he will keep an eye on my progress and report back.
"In hindsight, if I had stayed at United I might have had a sniff at the team but you can't really think like that in football.
"You have got to stick with your decision.
"I have to make sure I'm doing the business at Preston and see where that takes me."