by Chris Dunlavy
PAUL Clement says dealing with the preening superstars of Real Madrid and Chelsea was a doddle compared to working in the Championship.
The Derby boss was assistant to Carlo Ancelotti at Chelsea before following the Italian to PSG and then Real Madrid.
Improving the likes of Cristiano Ronaldo and Karim Benzema would seem a daunting task for a man whose playing career peaked at Corinthian-Casuals, but the 43-year-old insists he never felt like an imposter at the Bernabeu.
"It's a question I was regularly asked at Real Madrid," admits Clement, who started out as a PE teacher in a London school before moving into coaching. "'What's it like for someone of your background working with big egos?'
"But you know what? I never found it a big problem. Those egos are a natural by-product of playing at the top level. It's the standards they have and demand of others.
"It was never a case of them saying to me 'I don't agree with that' or 'I know better' or challenging your legitimacy.
"Yes, you have to prove that you can stand on your own two feet. That you have knowledge that will benefit them. But they want to learn.
"My experience with Cristiano is that he was eminently coachable. If you tried to help him – with a technical aspect, a tactical idea or even his own motivation – he was very open to it.
"He'd listen, he'd learn, and he'd put things into practice. That's why he has stayed at the very top of the game for so long.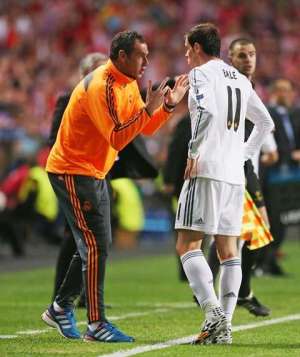 "Whether it be Cristiano, Sergio Ramos or Zlatan Ibrahimovic, Frank Lampard or John Terry – they're all fantastic professionals. They're all driven, all competitive. The biggest challenge was actually to calm their intensity down.
"Anyone would love that job. The hardest thing for a coach is working with players who can't do what you're asking them to. When you're working with facilities that are substandard. Poor pitches, bad infrastructure, a lack of equipment. That's when it's really hard.
"And that's what coaches are dealing with – here in the Championship and right down to semi-pro level. Compared to that, dealing with egos is easy."
Not that he is having much trouble at the moment. Brought in to replace the sacked Steve McClaren in the summer, Clement failed to record a single victory in August.
But with those teething problems out of the way, the pre-season favourites have now won six of the last eight to close to within striking distance of the top two – banishing memories of last season's astonishing collapse.
"I inherited a good team, one who were capable of playing good football," says Clement, who has described eight-goal striker Chris Martin as the best centre-forward in the division. "Steve McClaren set down a base here, a creative, attacking style. So I wasn't trying to do something miles different.
"Everything was in place for me to make an easy transition. What I wanted to do was make things tighter defensively, more organised and more structured. So far the stats are good in that area."
As a young coach learning his trade, Clement benefitted from the teachings of Bobby Robson, picking the veteran's brains for sage wisdom. Like Clement, Robson worked with the cream of world football and, when pushed, wasn't afraid to exploit it.
During his time at Newcastle, Robson famously silenced a lippy Craig Bellamy by reeling off the names of those he'd nurtured – Stoichkov, Lineker, Ronaldo. "You son," he told the striker, "are an ant compared to them." So would Clement ever throw his reputation around?
"I don't think that's my style," he says.
"These players know what I've done and where I've worked.
"But when you're working with people day to day, what you've done before doesn't matter. Just like at Madrid, I've got to show these players that I've got something to offer them.
"So far, I think I'm doing that."