by Joshua Richards
MATTHEW Upson is older than his manager, but believes his young-at-heart attitude makes their relationship at MK Dons work perfectly.
The 36-year-old former England defender was snapped up by boss Karl Robinson, 34, in the summer, adding vital experience to the Championship new-boys' squad.
Not only are they getting on famously off the pitch, but on the field are getting the right results too, with the Dons sitting pretty in mid-table and through to the Capital One Cup third round.
"We have had a great start. Realistically we couldn't have wished for much better and I don't see any reason why that should change," said Upson, who won 21 caps for England, scoring twice.
"The manager identified that he needed a player of experience and that worked in my favour. Sometimes age is seen as a negative but it worked out well for me, even though the manager is younger than me!
"But that isn't a problem. In my mind I'm still 21, so as far as I'm concerned he's in charge and has my respect."
Upson's days of Premier League football looked to have come to an end two years ago when he swapped Stoke for Brighton. But a full season's football convinced Nigel Pearson to add Upson to his Leicester squad last term.
Injury and circumstance meant the former Luton trainee had to wait until February for his debut and he added only five more appearances after that in Leicester colours.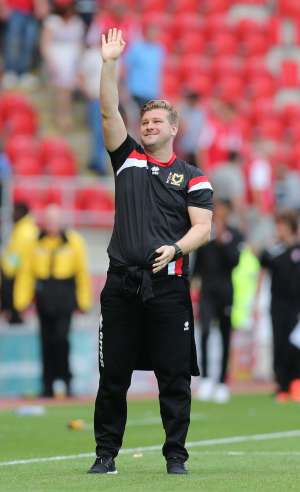 His switch to MK Dons looks to be the start of a new chapter, but Upson looks back fondly at what he's achieved.
"I've still got great memories of my time in the Premier League and playing with England," added Upson, who won the Premier League with Arsenal in 2002. "I'm proud to look back at some really positive achievements. Sometimes it feels like a long time ago, but it does make me feel good when I look back.
"When you think about the rich pickings England managers had to choose from in defence I think that makes my achievements with England all the better."
But rather than spend too much time dwelling on the past, Upson is excited for his future and is putting in extra work away from the training pitch to ensure he does not have to hang up his boots anytime soon.
"I had a bit of catching up to do this summer in terms of gaining some match practice. I've done my own pre-season work and I came through last Saturday's game without any problems so I'm feeling good," he said. "I have always done my own work on movement and stretches outside of the club and I have built the best programme with people who I think are good at what they do. Without it I wouldn't be playing football now.
"It's something I've been doing for five or six years. A friend of mine introduced me to someone who specialises in improving conditioning and we meet up once a week.
"When you play football every day for 20 years you are always going to pick up little niggles, so it's just a case of ensuring my body stays fit and strong.
"I want to play for as long as possible, whether that's in the Championship or another league. I don't like to put limitations on anything.
"I'm doing my coaching badges, but for now my full focus is on playing. It's a short-lived career and everybody says play for as long as you can, so that's what I intend to do."