By Tony Leighton
THE newly-created England Next Gen women's team have stumbled across a future star in Hoffenheim starlet Sophie Howard, according to head coach Marieanne Spacey.
Centre-back Howard – who was born and brought up in Germany but whose father Neil is English – was recommended to the England set-up by the Bundesliga club, prompting Spacey to selected her for the squad's first training camp, held at St Georges Park last week.
"One of the beauties of the Next Gen concept is the opportunity it gives us to widen the net to bring in and take a good look at English heritage players we might not have been aware of, and hopefully we can find a few gems," Spacey said.
The Next Gen squad has replaced the England Under-23's and will include players outside that age bracket as Spacey, who is also assistant to senior team coach Mark Sampson, looks to develop players for the big international stage.
It could have been a daunting experience for Howard as she stepped into the unknown at England's training headquarters near Burton-on-Trent, but so far the 22-year-old has taken it in her stride.
"I didn't know any of the players on the camp," she added, "and although I'd spoken to Marieanne I hadn't met her. So it was a bit difficult when I arrived at St George's Park, not knowing what to do or where to go.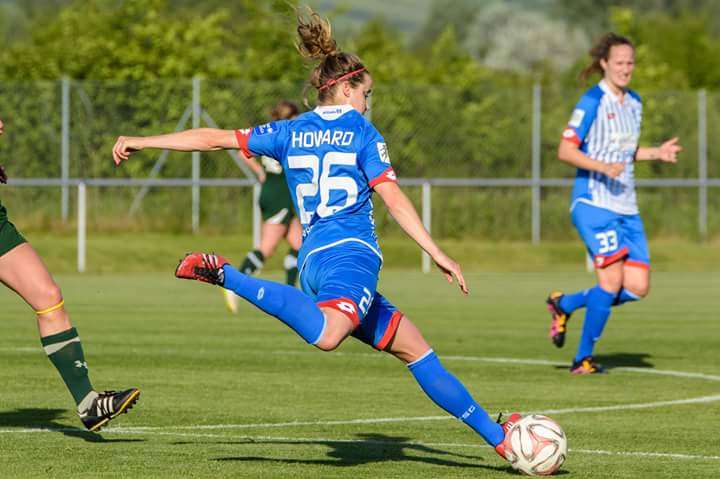 "But once I'd met everyone I was made to feel very welcome and my room-mate Aoife Mannion (Birmingham City) was really helpful in getting me used to the surroundings and the routine of the training camp.
"It was also great that other England teams were there at the same time.
"I was able to watch the seniors in practice and it was good to see the interaction between the players in the different squads, including the Under-19's.
"I'm just hoping that I did enough during the camp to get invited back to the next one. Although I was born and brought up in Germany it's always been my ambition to play for England, and hopefully I've now taken my first step."
Howard's footballing journey began in her home town of Hanau, near Frankfurt, and after proving her potential she went to America to play college football while studying for a sports science degree at the University of Central Florida. Back in Germany after graduating she re-joined Hoffenheim, where she had played for the reserves before heading to the USA but where she quickly cemented a first team place on her return to the club.
She will now eagerly await the announcement of the Next Gen squad's second get-together next month, once again alongside the senior England team as they prepare for their final two Euro 2017 qualifiers, against Estonia and Belgium.
Spacey said: "Our work with the Next Gen squad will mirror everything we do with the senior team, so to have the squads together at the same time should be aspirational for Next Gen players and will smooth the transition to senior level."
*This article orignally featured in The FLP on August 21st.