A GOALLESS draw against Stevenage in the Papa John's Trophy in midweek may not have made headlines, but it meant the world to Ricky Holmes.
After all, it was the 33-year-old Northampton's winger's first start for two years on Tuesday night.
Holmes rejoined the Cobblers at the start of November having not played since a loan spell at Oxford from Sheffield United in 2018 due to a back injury which left him on the verge of retirement.
The final start of his time with the U's came on November 17, 2018 and, two years later to the day, he was finally back on the pitch from the off.
He explained that it was linking up with Northampton fitness coach Pablo Garcia – "a guru to me" – that put him on the comeback trail.
"After a serious knee injury, people can be back in six months – it took me 23 with my back!" said Holmes.
"It was demoralising. As a footballer, you want to retire on your own terms rather than through injury. I was a late bloomer in the game, so I wanted to play as long as I could.
"There were some dark moments. When you're injured, you hardly see any of the other boys and being at Sheffield United, I was up north and away from family.
"But the club were brilliant with me and being under contract until this summer meant I had healing time, which I was determined to make the most of.
"I knew I wanted to give it another shot and thought if I don't go for it with Pablo, someone who got me fit before when I had back issues, I might regret it.
"He has been fantastic and somehow got me fit again. It's allowed me to get back to doing what I love."
Holmes' back problems stem from his time working on a building site during his Non-League days with Chelmsford City and his passion for the game has meant playing through the pain barrier throughout his EFL journey.
"Ask any of my managers and physios, it's held me back my whole career," he added. "Managers have always said 'can you do a job?'. I've always loved playing games, so I've agreed.
"At Oxford, I would train on Friday, play on Saturday and be crippled for the rest of the week. In the past, I've had to ask teammates I've been living with to help me get dressed. There have been times when I've struggled to put my socks on in the morning.
"When you have back pain, it affects your whole body and your mental health. You can't move, you can't do things you want to do."
Sessions with Garcia provided light at the end of the tunnel and Holmes soon put pen to paper on a short-term deal, which he hopes will be extended come the new year.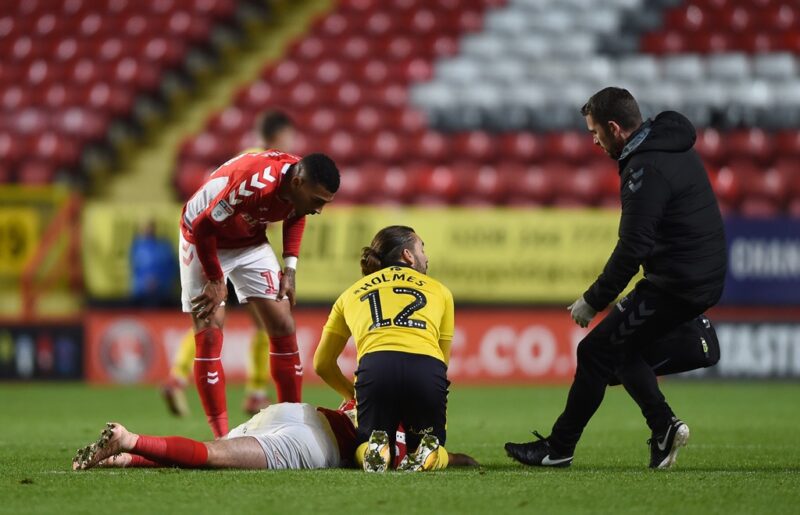 And having been a key part of the Cobblers side that romped to the League Two title under Chris Wilder – who later signed him for Sheffield United – in 2015/16, the winger believes the current crop can consolidate in the third tier following promotion last term.
"It's a brilliant group who have been so welcoming," he said. "The gaffer (Keith Curle) has similar traits to Chris Wilder. He establishes a changing room who fight for each other.
"League One is the hardest it's been in some time. There are big clubs with good players and the schedule is relentless.
"It's going to be a tough season but we have enough about us character-wise to stay in the division.
"I'm just buzzing to be back and that my Saturdays aren't sat at home watching the scores come in on Sky! There is no better feeling than helping your team get three points."
PAUL MARTIN