By Chris Dunlavy
AFC WIMBLEDON chief executive Erik Samuelson says battling for a return to Plough Lane gave him sleepless nights.
The Dons reformed in 2002 after the original Wimbledon controversially relocated to Milton Keynes and have played 'home' games in Kingston ever since.
Yet the club's founders always dreamed of a return to the borough of Merton, which had been without a football club since May 1991 when the Taylor Report forced Wimbledon into exile at Selhurst Park.
Plans have dragged on and stalled, but on Wednesday Merton Council finally gave the green light to a £25m stadium just yards from the Dons' old Plough Lane home.
"It's a marvellous achievement," said Samuelson, the Sunderland-born accountant who has witnessed six promotions in the 15 years since he first volunteered as the club's finance director.
"When you're in negotiations, there are frustrating times. A problem comes up and you think 'How the hell will we get round this one?'
"You say 'We just can't do A'. Then they say 'Well we can't do C'. And neither of you can work out what B is!
"Nothing stops me going to sleep but there are times when I've woken in the middle of the night and thought 'I have to get up and shake this out of my head'. It was almost obsessive."
The stadium will be built on the current site of Wimbledon Greyhound Track, funded 50-50 by the club and housing developer GRA Acquisitions.
"It's something called an Enabling Development," explains Samuelson.
"Basically, to get planning permission for houses, a developer must also commit to building a community asset. In this case, that's a stadium for AFC Wimbledon. Oddly, not a lot of our fans seem to know the figure, but the developer of this site is putting £14m into the stadium. That's more than half the cost.
"Then, we're selling our current ground to Chelsea to make up the rest, so that's how we've done it."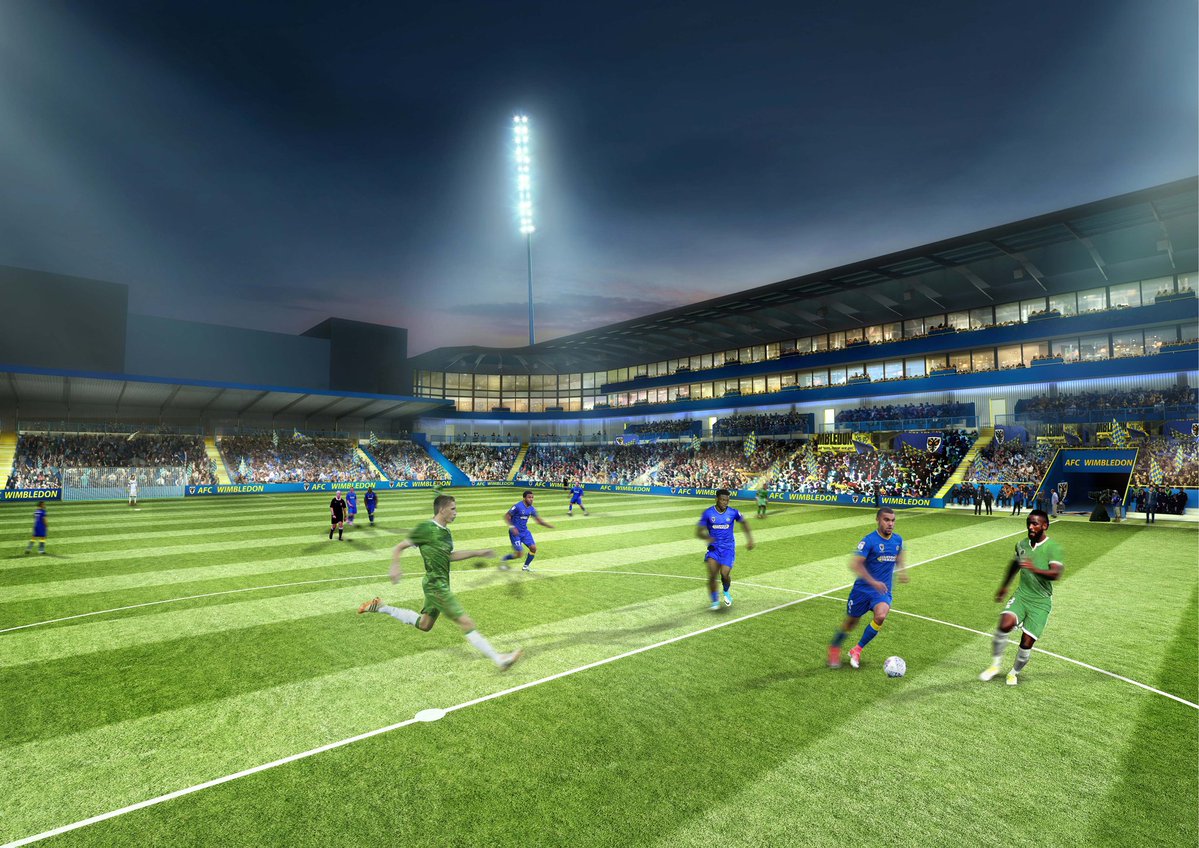 This aspect of the deal has not been without controversy.
Selling Kingsmeadow forced tenants Kingstonian to relocate, albeit with a £1m donation from Wimbledon.
Residents, too, have voiced concern about an 11,000-seater stadium suddenly appearing on their doorstep.
"I completely understand if people nearby are nervous," admits Samuelson. "But we've done lots of public consultations, allowing people to come and talk to us.
"We've done a lot of work in the community, to make parents of young children aware of the opportunities we provide.
"I'm sure we'll win over the overwhelming majority and my guess – though this is not up to us – is that the stadium will be the catalyst for regenerating a rather rundown area."
Building work is due to begin next summer and Wimbledon hope to be back at Plough Lane for the start of the 2019-20 campaign. So, can Samuelson finally relax and celebrate?
"Not really," he says. "It's a little bit like 'What now?'
"In no way would I compare us with Manchester United, but I always remember Alex Ferguson talking about his first title. His first thought was 'How do I keep it?'
"It's a similar feeling for me. Learning to stop and enjoy things is a trait I'm not sure I've ever acquired."
To that end, Samuelson is now targeting the Championship – and a return to the level Wimbledon graced – before the club was snatched away. "The capacity will be double what we currently have," he explains.
"And we've got permission for 20,000, so potentially, it could be quadrupled.
"We'll also have facilities on non-match days to significantly increase our income and put money into the team.
"So why not strive for the Championship? We'd have to battle to stay there.
"The youth policy would be vital as we can't compete financially with the parachute clubs. But wouldn't that be a good problem to have?
"I've always said that, if you're a football club with no ambition, you shouldn't be a football club at all.
"Let's get ourselves there, then look up and see how big the next mountain is."