By Chris Dunlavy
SUNDERLAND skipper Lee Cattermole says humility is behind the Black Cats' surprisingly solid start to life in the Championship.
Relegated in disarray, bereft of a manager and short on funds, the Wearside outfit were widely tipped to flounder after a decade in the top flight.
And, when midfielder Darron Gibson was filmed drunkenly questioning his team-mates' commitment in pre-season, many feared an implosion.
But Simon Grayson's arrival from Preston steadied the ship, and five points from tough games against Derby, Norwich and Sheffield Wednesday have swiftly raised spirits.
"Nobody is taking this division lightly," said Cattermole, the Middlesbrough-born enforcer who had never played outside the top flight in 12 seasons as a pro.
"Being grounded, having the right attitude – that's been a big thing for us. No-one was dropping down thinking 'We're Sunderland, we've been in the Premier League for ten years and that's where we deserve to be'.
"The second you start swaggering around like that, you'll have problems. We're in this division because we deserve to be.
"Everyone is approaching it right, even the lads like myself, who haven't played at this level before.
"We're talking to the ones who have, asking advice, not just going 'Well, I've played in the Premier League, this'll be easy'. The attitude has been spot on."
Sunderland's lack of direction under chairman Ellis Short was illustrated by a repeating cycle of managerial upheaval, last-gasp escapes and overpriced foreign flops.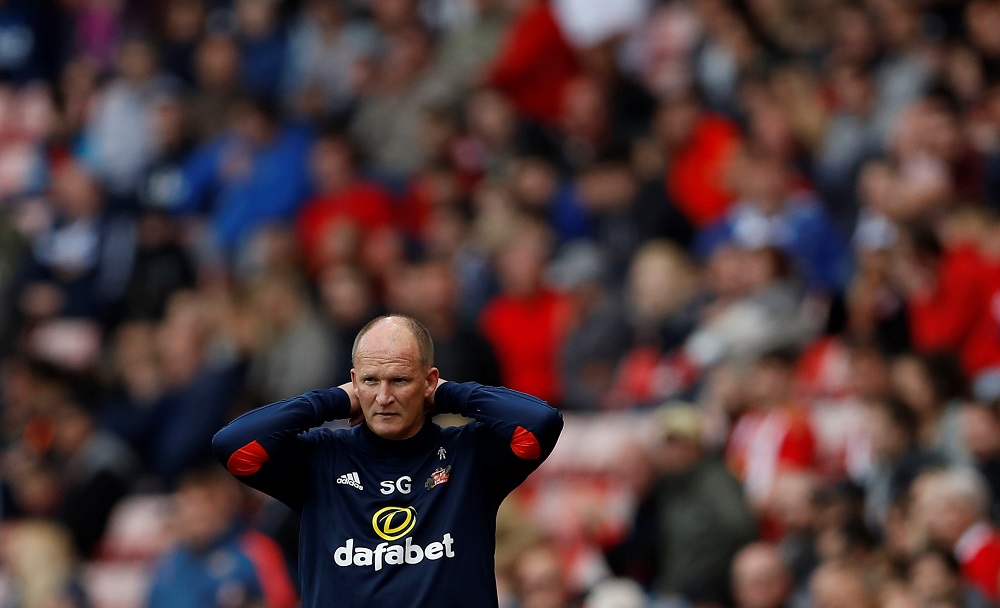 Last year was one shambles too many. Now, the kitty has run dry, leaving Grayson to scratch a squad together for buttons.
Cattermole, though, is convinced the 47-year-old can lead the Mackems to a bright new dawn.
"Last year was a massive let down, but it's a new start, a new era for the club," adds the 29-year-old, joint-second, alongside Roy Keane, on the all-time list for Premier League red cards.
"A chance to rebuild – properly. They've brought in a manager who knows the division. That's where the optimism comes from.
"I think he was a great appointment, exactly what the club needed. The club could have gone out and got someone who was more… I don't know, more high-profile. A household name.
"But would they have had the experience we needed? Simon knows the division. He knows the market.
"He's proved many times that he can build good teams on a lesser budget, which everyone knows is the case here. I was genuinely pleased with his  appointment and, as soon as he walked in I thought 'This is the fella to steady the ship'.
Above all, Cattermole is enjoying walking on to the pitch and not fearing a hiding.
"It's totally different in the Championship," he says. "It's that feeling of being in the game, knowing you can win.
"Every time, you step on the pitch thinking 'We can do this'. Not that we didn't in the Premier League, but the reality is that against the top five or six, there's a massive difference in class.
"We'd all prefer to be up there, of course. But, in terms of building a bit of confidence and giving people something to shout about, a year out of the spotlight might not necessarily be a bad thing."