(Photo: Action Images)
By Ben Baker
GLENN Murray looks set for another crack at the Premier League next season, but the Brighton striker knows his red-hot form this campaign doesn't guarantee him anything.
The 33-year-old sharp-shooter brought up 20 Championship goals this term with the opener in a routine 3-1 victory over struggling Birmingham on Tuesday night.
It is the second time he has achieved that landmark in the Championship – going on to score 30 when Crystal Palace were promoted in 2013 – while he is the first Albion player to reach the milestone in the second tier since Bill Curry finished with 23 in 1959-60.
His goals have put the Seagulls on the cusp of the Premier League – and he bagged his 21st of the campaign as the Seagulls strengthened their promotion bid with a 2-1 win at QPR on Friday.
While admitting he would love another chance to prove himself at the top level, following disappointing stints with Crystal Palace and Bournemouth, Murray knows that with Premier League status comes new challenges.
"First, we have to get to the Premier League and then the job is to stay there. I am sure the club will spend at some point in order to do that," said Murray, whose contract expires in 2019.
"It is nice to get 20 goals. That was the aim and I am pleased I got there. I never really put an amount on how many goals I want to get but you have little milestones during the season and, once you have reached one, you set another.
"I think all strikers are greedy. That is what makes us who we are. I am no different. I always want to get as many goals as I can.
"But I am under no illusions that, if we were to get to the Premier League, then the club will look to bring players in and rightly so as the next aim will be to stay there.
"I am looking to get back to the Premier League and score goals at that level again. It would be nice to get a run of game time and keep the team there.
"I want to score goals and, hopefully, I will get a chance to do that next year in the Premier League, but first we have to get there and then a lot can happen after that, too."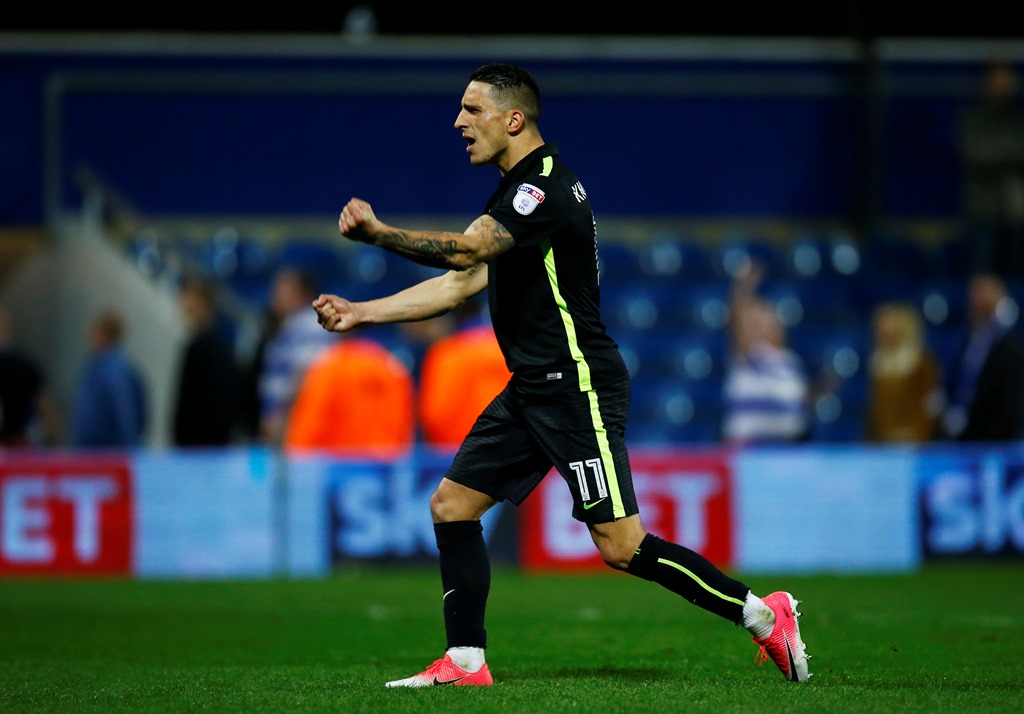 Hot on Murray's goalscoring heels is Anthony Knockaert, who with 13 strikes was the highest-scoring midfielder in the Championship this term.
The Frenchman has also racked up eight assists, and that form has seen him nominated for the Championship Player of the Season award alongside Leeds hitman Chris Wood and Newcastle striker Dwight Gayle.
The winner will be revealed at the EFL Awards in London tonight.
Murray admits it is a dream to play alongside the 25-year-old wide man.
"Anthony is a fantastic player and everyone has been able to see that this season," said Murray. "He has been nominated as one of the top three players of the season.
"That is much deserved and it is plain to see how important he is for us.
"He is a great player and when you give him the ball things happen. That type of player is few and far between and we are lucky to have him."
Murray also believes Seagulls boss Chris Hughton deserves recognition for the job he has done.
"Going into the season, there was an expectation that we would be one of the favourites for promotion, and with that comes pressure," he added.
"To still be there or thereabouts at this stage of the season shows what a great manager he is. He keeps our feet on the ground."
*This article originally featured in The FLP's 9 April 2017 edition – you can pick up your copy of the paper every Sunday in stores nationwide.