(Photo: Action Images / John Sibley)
By John Wragg
GARY Brazil is sitting in the room where Brian Clough ruled English and European football. He has his back to the wall where Clough's desk was. You expect Del Boy, the  family golden retriever that as often as not shared the office with Clough, to slowly walk in.
Now, the room at Nottingham Forest's City Ground is used for coaches' guests on match days and Brazil, 18th in line of succession since Clough retired 14 years ago, is the latest to try to rebuild the club and establish its new identity.
Having a new manager roughly every nine months and a lack of solid leadership since  Fawaz Al- Hasawi bought the club five years ago has destabilised Forest .
You can't see the wood or the trees through the mish-mash of a relegation fight on the field, late payment of bills and two failed attempts to sell the club by Al- Hasawi.
Brazil is six weeks into the task of rescuing all this. Despite the rumours, Brian Clough never did walk on water, but Brazil, 54, might have to achieve it because there's a miracle needed here.
He's done it before, as a temp between Billy Davies being sacked and Stuart Pearce taking over  three years ago. But, after being caretaker again following  Philippe Montanier's dismissal in January, Brazil has moved up  from head of the academy and is in the job permanently until the end of this season at least.
Clough won the League and two European Cups from this office and told everyone, from Margaret Thatcher to his Forest chairman, what to do. Brazil sits calmly.
"You have to remember we are on a journey here and we are trying to put something in place, to put some real philosophy and unnegotiable things on the football pitch and on the training ground that will stand everybody in good stead," he says.
There's a relegation battle to win first. Before yesterday's game at Wigan, Forest were six points clear of the Championship's bottom three, having played more games than some down there.
"I don't feel I am just covering for somebody this time, I feel I can actually take this thing forward," reveals Brazil.
"Then, what they decide to do in the summer, it's down to the owner."
Clough didn't have the jewels Brazil has unearthed. Clough rescued the careers of, among others, John Robertson and Kenny Burns, made top players out of Martin O'Neill, Larry Lloyd and Garry Birtles, but he didn't have the depth of young talent that exists at Forest now.
As academy director, Brazil made and sold Oliver Burke for £13m. Others have graduated via his tutelage, first teamers Ben Osborn, Matty Cash, Joe Worrall and the latest, 17-year-old Ben Brereton.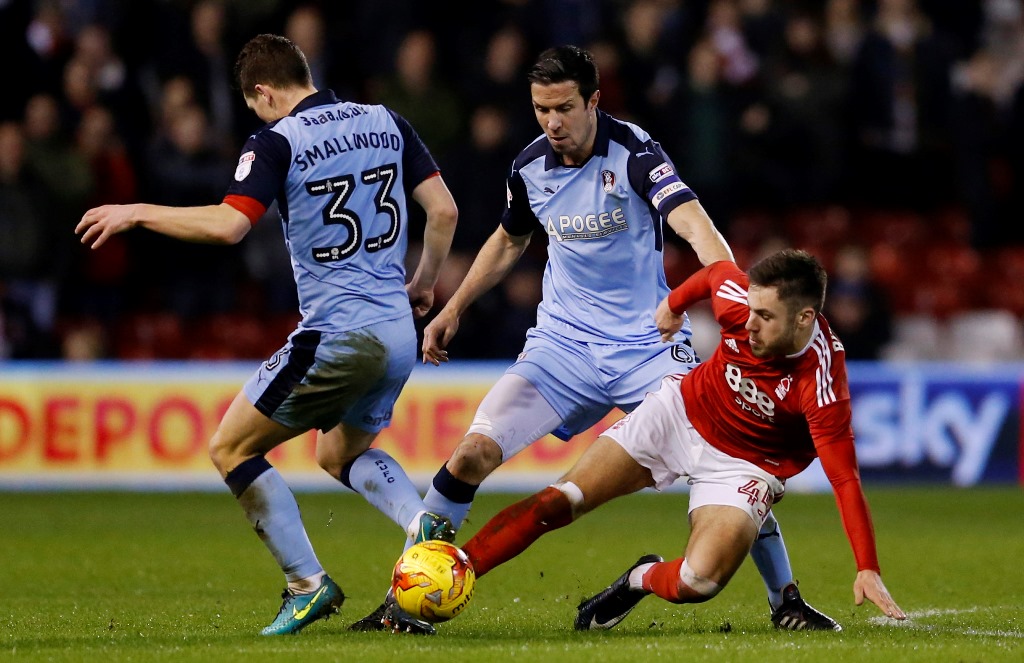 There are others, Anel Ahmedhodzic, Toby Edser and Jordan Smith. Brazil says 14 players have graduated from the academy into Forest's first team over the last three years.
Not all have stayed in. They've come in, gone out, and are still working at their careers.
"It's very hard to build something if you don't have values and behaviours and beliefs," says Brazil. "You have got to have those in place.
"We have those inside the academy really clearly and we are working hard to put those into the senior team.
"The youngsters obviously get it and the seniors want to be part of that identity, to understand what the requirements are for the player who plays for Nottingham Forest."
At the training ground, there is a league table that details how well players have done in training.
"Whatever we are doing through every working day, every small sided game, every element of practice, there is a winning team and a losing team. If you are on the winning team, you get a point and if you are on the losing team you don't get points," says Brazil.
"It's marked up through the whole of the month. We get an energy and a competitiveness in training because you don't want to be bottom of that table.
"We have a week to go in February and the leader board is really keen. It's sat at the side of the dressing rooms. As you walk past, it's there, it's looking at you. You can't hide.
"There is no quarter given in training, so there will be no quarter given in matches. It gets lively and I mean lively.
"You can't train one way and play another way. You're playing is set up by your training and your training has to mirror your games.
"We are getting that on the match day. We are getting a very competitive football team."
Al-Hawasi would probably still sell if he could. At the time of the failed John Jay Moores buy-out a month ago. there was protest and anger from fans, an open question as to where a club once made the best in Europe by Clough was going.
Brazil, a man used to expectation and pressure as a player, who wore the No.9 shirt for Newcastle ("briefly," he corrects), is isolating himself from the high finance as much as he can, concentrating on radiating calm and trying to build a passion in the fans again.
"I would be lying if I said I wasn't enjoying it. I think we have created a calmness. Inside the club, inside the training ground, they know that the things we are doing are right.
"We've got a nice feel to the place.  It's important we create a calmer feel in the club in general. The place has a more relaxed, happier feel to it, which is good, but we need to build on that."
Those in the club have noticed that Brazil is much more at ease in the manager's job now than he was when he was temping between Davies and Pearce. There is an authority about him and a maturity that is growing
"To say our academy budget is quite tight, we are very proud of what we've done," says Brazil of his other life. "There are players coming through that the fans are becoming aware of and I'm not frightened to use them because I know their potential.
"There are ones the fans won't be aware of yet, but I'm sitting there thinking, in a couple of years' time, they are going to be ready.
"The amount of scouts that turn up at our 16s and 18s games on a Saturday morning has got bigger and bigger and bigger. We've had to keep making the pen for the scouts bigger to allow them in.
"My plan is also to recruit the right quality players for Championship football, older, senior players with good knowledge and understanding of the Championship, great athleticism. The right ones come in and you blend them together with our academy players.
"Getting out of the Championship, if you look at the clubs that consistently do it, Bournemouth,  Burnley, Leicester, there is something about those teams and the things they had in their squads that tells you that's the blueprint to be at the right end of that league."
Brazil, 160 goals in 658 games as a player, three promotions with Sheffield United (twice) and Preston in his 14 years with seven clubs, is sandwiched between two Forest legends.
Pearce, club captain and inspiration, succeeded him and Nigel Clough, goalscoring  son of God, as they say on Forest's side of the River Trent, turned down Al-Hasawi for Brazil to get his big chance. When Forest beat another former European Cup winner, Aston Villa, with a last-minute Brereton goal a few weeks ago, the City Ground exploded with a joy not seen for years.
"It's lovely that a young boy scores the winner," says Brazil. "I wouldn't have minded if that player was 39. It was the way we won and the way the crowd responded that was so good.
"I think a sensible head will see the progress we have made.  They will see we are competitive. After the Villa game, we went back in the dressing room and there was a euphoria and I said 'Right. Settle down. Feel this feeling. Stop and feel this feeling. How much do you want this feeling again?'"
If Brazil can bottle the formula, Forest have a bright future.
*This article orignally featured in The FLP's 26 February 2017 edition – you pick up your copy of the paper every Sunday for £1.50