(Picture: Action Images via Reuters)
By Luke Baker
IN Matt Godden's words, Stevenage got a monkey off their back by ending a four-month winless home streak last weekend. The fact it was his first Football League hat-trick that inspired them to victory was simply a bonus.
Before last Saturday, the last time Stevenage had collected all three points at the Lamex Stadium in League Two was on September 10 against Crawley Town.
However, Godden's treble condemned bottom side Newport County to a 3-1 defeat and consigned that unwanted run to the history books.
The fact Boro had not plummeted too far down the table in that spell – they were just six points outside the play-offs before yesterday's trip to Plymouth Argyle – is testament to their remarkable away form.
A run of seven consecutive league victories on the road at the back end of 2016 kept them afloat, but Godden insists the players never thought that was good enough.
"We've been getting away with it because our away form was so good, the best in England," explained the 25-year-old striker. "But you want to put on a show for your fans because they pay the money to come through the gates. It's your stage on a Saturday at home.
"It was a good day for the club (beating Newport) and an important three points for us after the blip of not winning for four months at home.
"It's a monkey off our back and now we can push on. It was important to push us in the right direction and have us climbing the league, because we don't see ourselves as a mid-table side.
"We see ourselves as a lot higher than that. That's where we want to be, so picking up the three points was what we needed."
Godden is no stranger to hat-tricks, having netted three for Ebbsfleet United in National League South last term, but he concedes that a first in League Two was a special moment for him.
The former Scunthorpe marksman has looked perfectly at home since his return to the Football League over the summer – already notching 11 goals before this weekend – and says he hasn't found the transition from Non-League too challenging.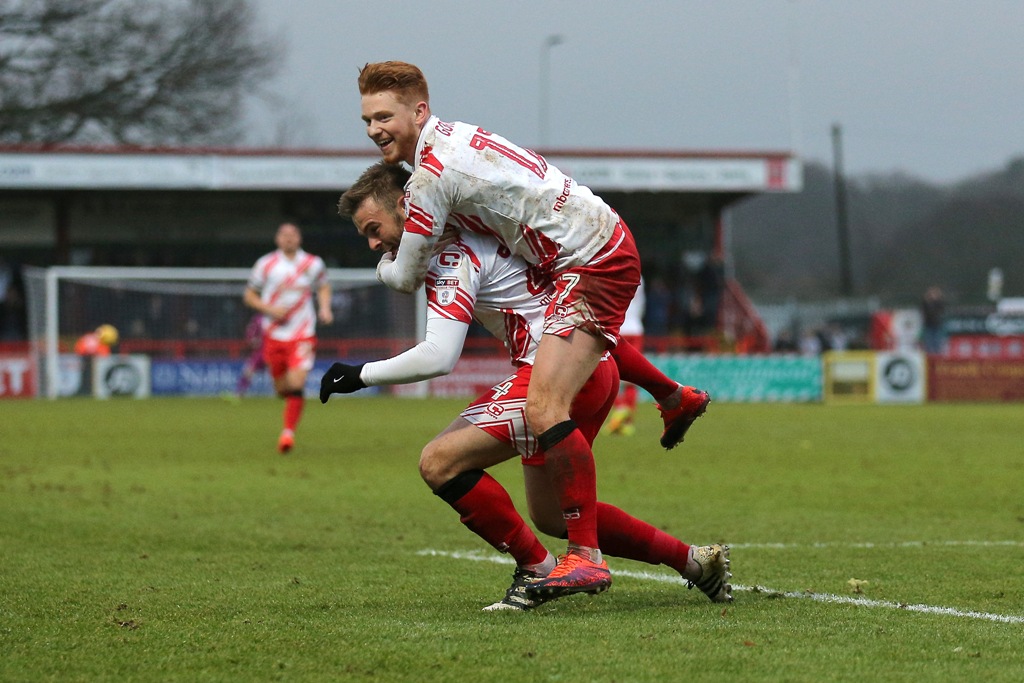 "I feel like I've settled straight away, but I don't think many people will come to Stevenage and not settle in," added Godden.
"It's certainly a step up from Ebbsfleet, but I'm not a stranger to the division. It's taken a little bit of getting used to, but I've got a few goals under my belt and hopefully I can kick on.
"It is different to National League South in some ways, but the physicality is the same.
"Though League Two has better players, the physicality is still there.
"To get a hat-trick was a special day for me.
"I scored three of them for Ebbsfleet last season, but it's my first one in the Football League, so a special day."
Despite their dire home form, Stevenage still find themselves in the play-off hunt.
Though there are a few teams between them and the top seven, Godden sees no reason why the club can't gain some upward momentum.
"The aim is definitely to push for promotion – that's what we as a club and the players feel. We can be a match for anyone on our day," said Godden.
"We go into every game fearing nobody, whether that's someone who's bottom or someone at the top.
"What I've found in League Two is that, if you get back-to-back wins, you can propel yourself from the bottom half of the table right up into the play-off mix within ten days.
"The league is crazy in that sort of way.
"So, back-to-back wins can really transform things for us."