By Neil Fissler
BEING AT Boothferry Park on the day Millwall reached the promised land of the First Division for the only time in the club's history is written into South London folklore.
It has become the Millwall equivalent of being at the Sex Pistols' first gig at the Free Trade Hall in Manchester or being in the Blind Beggar the night Ronnie Kray murdered George Cornell.
The vital goal came from the penalty spot after only 13 minutes and was coolly smashed home by winger Kevin O'Callaghan to earn the Lions a seventh successive win and promotion.
The only previous time they had come close to playing in the First Division was in 1971-72,  when they finished third in the Second Division two years before promotion for the top three was introduced.
Jimmy Carter played on the wing at Hull that day and remembers that nobody was going to stop the club from claiming a spot among the elite.
"We really felt invincible. We were going out to play super-confident home and away," he said. "We started to believe six or seven games from the end of the season and just steam-rollered everyone.
"It was a run where nobody could catch us. It was a magical time for everyone. We weren't sitting at the top all season. It all came from a late flurry.
"The penultimate game of the season we went up to Hull knowing a win would have us going up as champions – and it was never ever in any doubt.
"It was a poor game. Cally, (O'Callaghan) as cool as a cucumber, stepped up. We couldn't add to it but the final whistle was absolute jubilation. The fans were straight on the pitch.
"We got our shirts, shorts and socks ripped off us and we got back into the dressing room in just our slips. We found some T-shirts and went back out. It was the first time I've ever seen grown men cry."
It started a party the likes of which South East London had never seen before, but came at a cost to Brian Horne, Teddy Sheringham, Steve Wood, Dean Horrix and Sean Sparham.
"There was talk of us going out that night," said Carter. "We had stayed in Hull, but John Docherty thought there might have been a bit of a commotion if we went out night-clubbing.
"So he hired out a room and had a few drinks. But a few of the boys ended up sneaking out to a nightclub and ended up not getting in until four or five in the morning.
"Doc got to know about it and woke everyone of them up and got Roger Cross, our youth team coach, to drive them back to London at about six because there was a reserve team game at The Den at 2pm.
"Four or five of the team who had just been promoted were playing in a reserve team game in front of about 30 people, all totally hung over. It was typical Millwall.
"We lost the last game of the season, 4-1 at home to Blackburn Rovers, because we had been out on the beers all week!"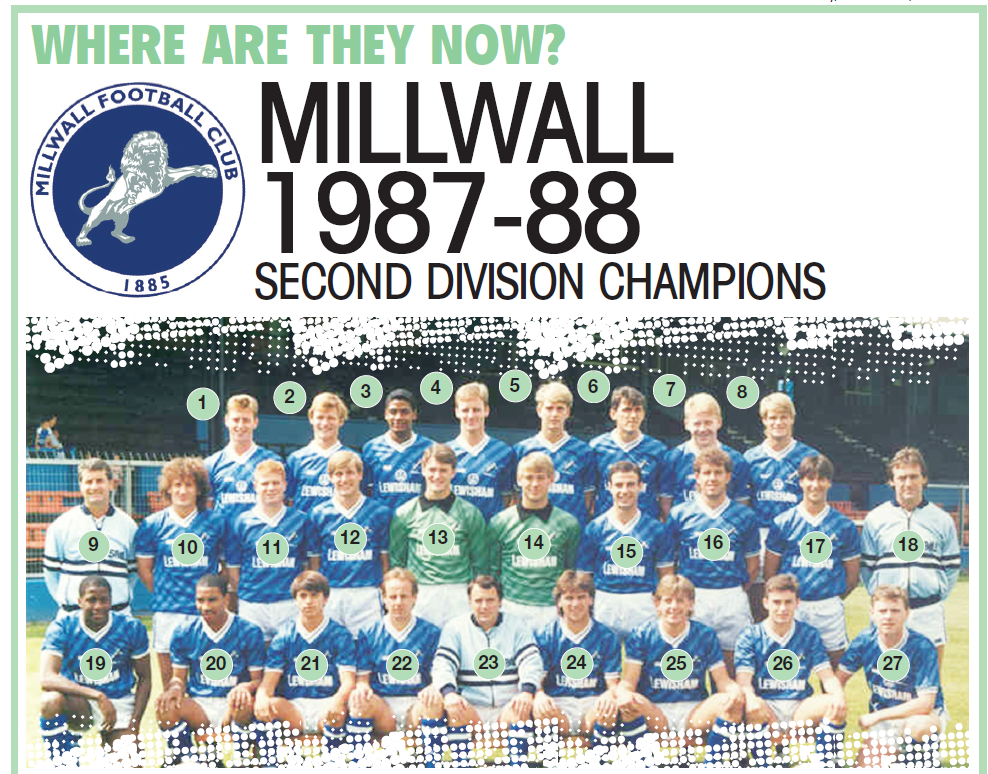 Keith Stevens: A full-back and former joint manager now living in Australia, where he has coached at the Queensland Academy of Sport, Brisbane Roar and the Southport School.
Teddy Sheringham: The England striker coached at West Ham United and was in charge of Stevenage until February 2016.
Steve Anthrobus: A striker who lives in the Handsworth Wood area of Birmingham, coaching schoolchildren and helping disabled kids. He has also managed Hednesford Town.
Alan Walker: A central defender who managed several non-league sides in Kent and was head of coaching and development for the county FA. He now scouts for Blackburn.
David Thompson: A central defender who settled in Cambridge and worked as a postman.
Tony Cascarino: The Republic of Ireland international striker has worked for talkSport and Sky since retiring from playing.
Michael Marks: A striker who has been assistant manager of Non-League Beckenham Town and has worked as a delivery driver.
Steve Wood: Central defender who has run a coaching business, Planet Sport, and is now a director of management firm Midas Sports Management.
Frank McLintock: He has managed Leicester and Brentford, worked as an agent and in the media while also having business interests in a chain of pawn brokers.
Terry Hurlock: The midfielder has worked as a delivery driver, roofer and was given a job at rail union the RMT by Millwall fan Bob Crow.
Dave Mehmet: The midfielder worked in Millwall's academy and ran the football academy at New Eltham College.
Alan McLeary: A central defender who managed and coached at Millwall, as well as being a sports tour operator and a football agent.
Paul Sansome: A goalkeeper who has been a director of Alpine Power Tools in Kent since retiring in 1997.
Brian Horne: A goalkeeper who now runs a corporate hospitality firm and is a UEFA match agent.
Danis Salman: A full-back who settled in Plymouth, where he has worked in the local media and ran a soccer school.
Phil Coleman: A full-back who went into teaching at Colne Community School in Bright-lingsea, where he is head of PE.
Jimmy Carter: A winger who went into property and ran an investment firm. Now back at Millwall as head of commercial sales
Roger Cross: He coached at MIllwall, QPR, Tottenham and West Ham, where he became chief scout and then scouted for Charlton.
George Lawrence: A winger who lives in Greenford, Middlesex and is now a bus driver after working for a shipping company.
Wesley Reid: A midfielder who worked for the employment service in Peckham and then for a pupil referral unit in Richmond.
Darren Morgan: Midfielder who set up his own courier business, then started a printing firm in East London.
Les Briley: Midfielder who ran a building firm, then returned to work in Millwall's academy. He is also a match day host.
John Docherty: He also managed Cambridge United and Bradford City. Now retired and living in Wiltshire.
David Byrne: Winger who went into coaching at Torquay United, Swindon Town and Yeovil Town until leaving in May.
Nicky Coleman: A full-back who has run a building company in Bromley, Kent, after being forced to retire through injury .
Sean Sparham: A full-back who worked as a freelance photographer and picture editor. Now, a painter and decorator
Kevin O'Callaghan: A winger who coached the Millwall youth team. Lives in Meopham, Kent and works for a railway maintenance company.
This article originally featured in The FLP on 6 November 2016. Subscribe: http://bit.ly/FLP-Subs