By Neil Fissler
RAY CRAWFORD was the leading scorer in six of his nine seasons at Portman Road, one of which helped them become champions of England.
Crawford scored 40 goals when Ipswich claimed the Second Division title in 1961 and then 33 a season later when they followed it up with the First Division crown.
The club's all-time record scorer with 218 in 354 appearances became the first player to score a hat-trick in the Football League, the League Cup, the FA Cup and the European Cup.
Under Sir Alf Ramsey, Ipswich were then seen as a small provincial club which had spent only one season out of the Football League basement, up to winning the Division Three South title in 1957.
Within six seasons, they pulled off the impossible as they finished three points ahead of Burnley and rounded it off in a season when Crawford says they just couldn't do any wrong.
"I remember one of the games against Manchester United at Portman Road," he said. "We won 4-1 and I scored one and Ted Phillips got a couple.
"Afterwards, they interviewed Bobby Charlton who said: 'We had 90 per cent of the game and got beaten 4-1. If people came in and watched the game they wouldn't have believed it'.
"He said they had so much of the ball, but that is the way it was. The boys at the back were brilliant. For those two years, everything went our way."
Crawford remembers well the game when they won the league title. Aston Villa visited Portman Road for their final game of the season.
"Chelsea had already been relegated and they had to go to Burnley," he said. "We thought they would be able to see them off.
"We had a dour game against Villa. They had Derek Dougan playing for them and I knew the Doog from my Pompey days.
"He was defending virtually the whole game, to make sure we didn't win. But Andy Nelson did a good job on him when he came forward.
"The first half was something and nothing. Then, in the second half, Aled Owen took a free-kick which John Elsworthy headed on to the bar and I was in the six-yard box to head it in.
"The second goal was good play at the back, one against one. I hit a good shot, which the keeper saved, but I followed up and we were home and dry.
"We should have been four or five up by then. But then we had to wait in the dressing room for the result from Burnley for what seemed like ages," he added.
Crawford points out that Ipswich needed to keep celebrations to a minimum because the following day they were due to travel abroad.
The former England international kept his feet on the ground because, within weeks, he was doing his summer job to top up his Ipswich wages, which dropped in the closed season.
"We obviously didn't think we were going to win anything because we booked up to go on tour the day after we won the league," he admitted.
"When we got back, I went back to Portsmouth and worked on the docks humping timber for Bailey and White because you had winter wages and then summer wages at the time."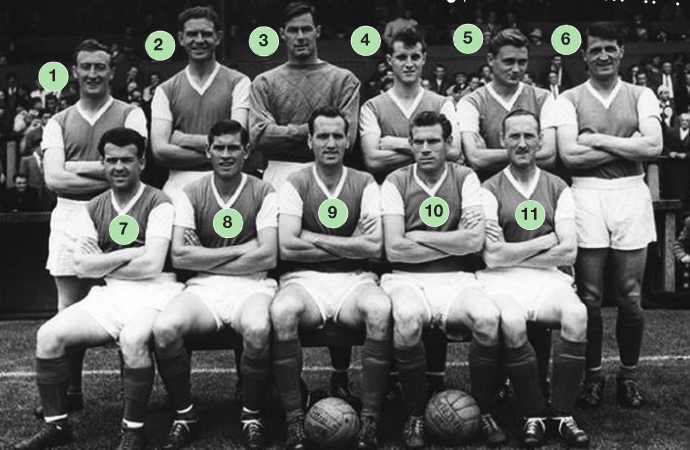 Larry Carberry: Right-back who returned to his native Merseyside, where he turned down the chance of becoming Liverpool's chief scout and went to work as a docker. He died in June 2015.
John Elsworthy: A wing-half who remained in the Ipswich area where he ran a sub post office. He died in May 2009 following a fight with Alzheimer's.
Roy Bailey: A goalkeeper and father of former England keeper Gary, he became an agent as well as a pundit and television commentator in South Africa until his death in April 1993.
Billy Baxter: Central defender who became Northampton Town's player-manager before returning to Scotland. There, he was an engineer for BT for many years. He died in May 2009.
Doug Moran: Inside-forward who finished his career in his native Scotland where he lives in Inveresk, East Lothian, in retirement.
Ken Malcolm: A left-back who became a publican, hotelier, fish merchant and driver for Fisons in Ipswich, where he lived in retirement until his death in May 2006
Roy Stephenson: A winger and colliery maintenance man who stayed in the Ipswich area and worked in a scrapyard. He died in February 2000.
Ray Crawford: A former England striker who was Brighton's youth coach then coached at Portsmouth. He managed Farnham and Winchester prior to becoming a merchandising rep until retiring.
Andy Nelson: Central defender who coached Millwall before going into management with Gillingham and Charlton Athletic. He retired to Spain.
Ted Phillips: Inside-forward who spent many years working for cable firm Pirelli, of Southampton, and now lives in retirement near Colchester.
Jimmy Leadbetter: Winger who was player-manager of Sudbury Town before returning to Scotland where he became a delivery van driver for the Edinburgh Evening News. He died in July 2006.
NOT PICTURED
John Compton: A full-back who settled in Poole, Dorset, where he worked as a petrol tanker driver for Texaco for more than 30 years until retiring.
Dermot Curtis: Irish international forward who settled in Devon, where he worked as a panel-beater in Exeter. He died in November 2008 after a long illness.
Wilf Hall: Goalkeeper who went on to serve Macclesfield Town as trainer, groundsman and then director. He died in August 2007, aged 72, after a battle with cancer.
Doug Millward: Inside-forward who managed Poole Town and St Mirren, before settling in Baltimore, US, where he coached tennis. He died in October 2000.
Aled Owen: Winger who finished his career in his native Wales where he ran his father's road haulage company in Anglesey until retiring.
Reg Pickett: Wing-half who returned to live in Portsmouth where he worked in the dockyard and for a gas company. He died in Rowlands Castle in 2012.