(PIcture: Action Images)
By Ross Lawson
WHEN your manager labels you a 'plonker' and 'the best player in League Two' in almost the same breath, it can be hard to know how to react.
Yet, despite those recent comments, Luton striker Danny Hylton is adamant that Nathan Jones and his unique management style are a big reason he is flying so high with the Hatters this term.
Hylton, 27, is a recent addition at Kenilworth Road, arriving from promoted Oxford United this summer. It's his latest venture in League Two after spells with Aldershot, Bury and AFC Wimbledon.
It's also a move which has helped the marksman thrive. He's already into double figures for goals, though a pair of suspensions, following eight bookings and a sending off, did prompt the 'plonker' comment from Jones.
The boss has only been in charge at Luton for less than a year – having replaced John Still back in January – but, with the Hatters in the automatic promotion hunt and having beaten Aston Villa in the EFL Cup, he is already being linked with a move to higher divisions.
And Hylton, who has been wearing a mask since fracturing his cheekbone in September, insists it is former Brighton coach Jones that prompted him to sacrifice a shot at League One with Oxford. It's something he does not regret, despite his manager's recent remarks.
"He's called me plenty worse than a plonker, don't worry about that!" joked Hylton.
"But his praise is flattering as well. You appreciate that from a manager.
"I've still got a lot of work to do, a lot of yards to put in, but in the end he was a huge part of why I went to Luton.
"There were offers to stay at Oxford, but I went into pre-season with an open mind and, after hearing the passion and enthusiasm he had, I knew going to Luton would be a good move for me.
"He makes you want to play for him, but it's not just me saying that.
"All the lads know he's spot-on. He works tirelessly around the clock and his ideas and what he brings to the training ground are something special.
"So long as I can keep down the yellow cards, then he'll be happy. Perhaps I just need to be a bit smarter!"
Despite Luton going into the weekend 11 points behind league leaders Plymouth Argyle, the season has started promisingly. Now, they've added a place in the FA Cup second round to their surprise victory against Villa.
But four draws from their five October league games has threatened to derail momentum after Jones' side topped both the table and goalscoring chart after six games.
September's 4-1 win over Wycombe was particularly memorable for Hylton as he bagged his first hat-trick since January 2013.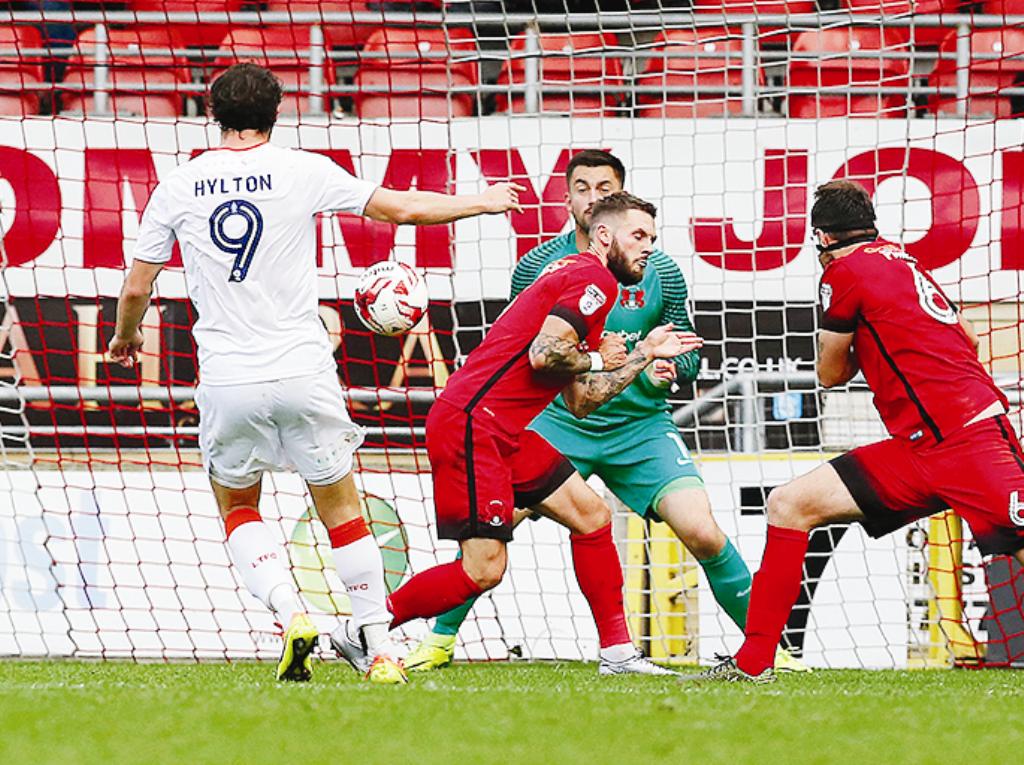 It was a game which ramped up his belief in a title push as the striker noted similarities between this season's Hatters and Oxford of last year, when they ultimately finished second to Northampton.
"Plymouth have shot off a bit, but there's no reason why we still can't win the division," added Hylton.
"Northampton were in our position at this stage when Argyle started strongly, so changes like that can happen. There's a long way to go.
"Looking around the dressing room, there are a lot of similarities to what I had at Oxford.
"We've got a lot of experience in our team, guys who have knowledge of League Two and above and a lot of young guys in there, too, who will get better over time.
"On a personal level, it's nice to get goals early on to settle you in, but it's all about the team.
"It's a cliché, yes, but for Luton it's about putting some decent results together."
*This article was originally featured in The FLP on Sunday 13th November.