By Tony Leighton
Mark Sampson aims to become the first head coach in 42 years to lead an England women's team to victory over France when the two nations clash in a friendly at Doncaster on Friday.
As England begin their build-up to next summer's European Championship finals in the Netherlands, a long-awaited success against the team ranked third in the world would be a huge confidence boost for Sampson and his players.
It is 17 games and counting since the last win against Les Bleues in 1974. That's 10 years before the birth of the England coach, who will send his side out at the Keepmoat Stadium three days after celebrating his 34th birthday.
The three most recent of those winless matches have come with Sampson at the helm, and the coach acknowledges that Friday's meeting will be a measure of how far England have come since he took charge in December 2013.
"Over the course of those three games against France we've identified a way in which we can be more competitive," said Sampson, "and the team has certainly grown and matured in the time since I came in.
"We are now in a place where we know that, if we're at our maximum, we can beat the likes of France. That's got to be the mission on Friday, to make sure our performance level is as good as it can be and we get all the little details right."
Sampson's team – ranked fifth in the world – almost got the little details right when the teams last met, a goalless draw in the She Believes Cup in America in March, but the previous two encounters both ended with France deserving winners.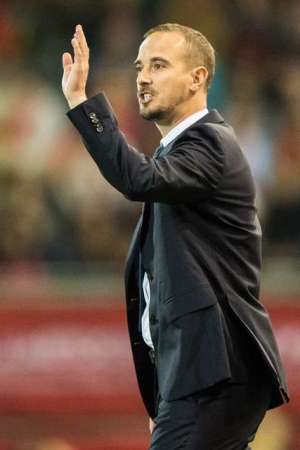 England's 2-0 defeat in the 2014 Cyprus Cup final was followed by a 1-0 loss at the group stage of last year's World Cup finals in Canada – and Sampson is brutally honest in his assessment of the first clash in particular.
"That Cyprus Cup final was the first defeat we suffered after I took over and it was a bit of a wake-up," he admitted. "France were by far the better side and anyone watching will have seen that the teams were a long distance apart.
"The team was not ready for that level of competition, either physically, emotionally or tactically; but over the last two games against them we've been far more resilient, especially in the She Believes Cup game.
"We showed we can defend, and our clean sheet was the first in a long time against France. But, more than that, we went toe-to-toe with them and created goalscoring chances – and we've got to take that into the match on Friday."
England head into the game unbeaten in seven matches while France, after some disappointing recent results and a poor showing at the Olympic Games, have a new coach in Olivier Echouafni after last month's sacking of Philippe Bergeroo.
Whatever effect his opponents' change of management may have, Sampson – who has added to his striking options by recalling Manchester City's Toni Duggan to the squad – reckoned: "It's going to be a very difficult game for us.
"But we'll aim to keep a clean sheet and be a threat at the other end. It's great to welcome Toni back. She's really played consistently well over the last couple of months and, with the way she's now playing, she will certainly be an asset to us."
Following Friday's game, England are set to meet Spain in Guadalajara on Tuesday in a friendly announced only this week.
Sampson explained: "The fixture has been in the pipeline for a while, but we couldn't confirm it until now.
"It's another very good game for us, though. Spain are an excellent team with some world-class players and, like France, they are the kind of team we want to be playing against to get ourselves prepared for the Euro finals."
---
England squad:
Bardsley (Manchester City), Chamberlain (Liverpool), Spencer (Chelsea), Bassett (Notts County), Bright (Chelsea), Bronze (Manchester City), Flaherty (Chelsea), Houghton (Manchester City), A. Scott (Arsenal), Stokes (Manchester City), Stoney (Arsenal), Carney (Chelsea), Christiansen (Manchester City), Davison (Chelsea), Moore (Notts County), Nobbs (Arsenal), Potter (Notts County), J. Scott (Manchester City), Williams (Arsenal), Carter (Arsenal), Daly (Houston Dash), Duggan (Manchester City), Parris (Manchester City).