By Neil Fissler
GEORGE BEST felt harshly treated by the Football Association after he was banned for four weeks and fined £100 by kicking the ball out of the hands of a referee.
Unfortunately for the Cobbers, it was they who were in the firing line when he returned from his month of stewing on the sidelines.
He regarded the incident at the end of a League Cup tie against Manchester City as nothing more than a moment of high spirits, but the FA took a dim view.
As a result, Best put on one of his most mesmerising displays scoring six goals as United ran out 8-2 winners in an FA Cup fifth round tie.
Frank Rankmore, who missed a penalty when Northampton were 3-0 down, points out it wasn't until an hour before the game that they knew Best was playing.
"Do you have to remind me about that game?" laughs Rankmore. "George was magnificent that day, to be fair. We certainly knew he was a genius after the game.
"There was a bit of a palaver in Manchester about whether he should play or not, and the rumour that reached us was that they weren't going to select him. We knew that he was with the team when they arrived, but we knew he was playing for sure only when they handed in the team sheet.
"He had a point to prove that they were right to play him – and we were on the end of it .
"The whole game revolved around George Best."
At the time Northampton were back in the Fourth Division, having risen to the top flight before dropping down again almost as quickly.
They had seen of Weymouth, Brentwood, then Exeter City after two replays, and Tranmere after another replay to earn the tie against United.
And, even though United were inconsistent during that campaign, they proved to be far too good for Northampton, thanks to the Best inspiration.
"The build-up was very good," said Rankmore.
"We had a decent side at the time and had been playing as a team and getting some good results.
"We had achieved some very good results to get to play United.
"But, at the start of the week, there was a doubt about the game because the pitch was under water.
"But it proved to be playable. And, if I'm honest, we should really have taken the lead before United scored and then later I missed a penalty.
"Really, we had at least one or two players who were a little overawed by the presence of George Best. There is no doubt about it.
"It is certainly one of those games that you don't forget, especially because George decided he wanted to punish us for being suspended by the FA."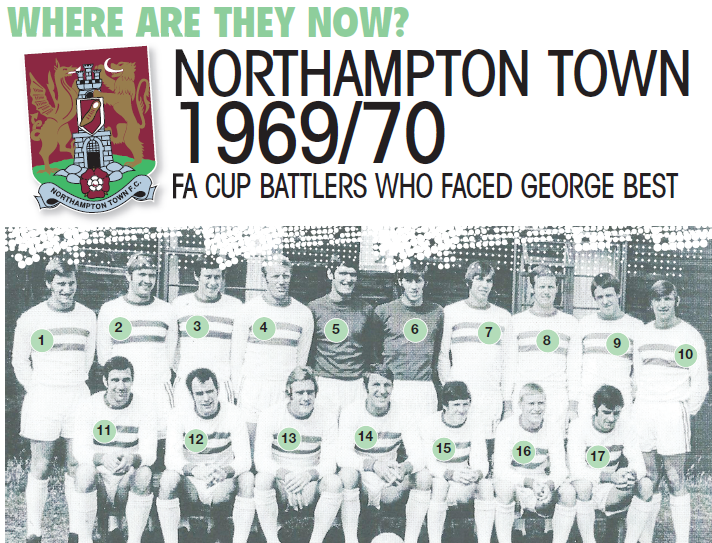 BACK ROW
Graham Felton: England youth international winger who became a painter and decorator from his home in Little Billing, Northants.
Dixie McNeil: A striker who managed Wrexham and was then assistant manager of Coventry City. He later worked as a business development manager for Marstons Brewery.
John Clarke: The England youth international became a wholesale parts representative for Carnation Skoda until his death from a heart attack on New Year's Day 2011, aged 64.
Frank Large: A centre-forward who died in Louisburgh, Co Mayo, in August 2003 aged 63, after becoming a game keeper and estate manager in the West of Ireland.
Gary Knibbs: A goalkeeper who managed Wellingborough Town and Brackley Town while working as a builder. He now lives in retirement in Wootton, Northamptontonshire.
Kim Book: Goalkeeper and brother of Manchester City legend Tony, who lives in his native Bath, where he has run a building company. His son, Steve, played for Cheltenham Town.
Neil Townsend: England youth central defender who lives in Northampton where he has run a health studio and gym before working for Securicor.
Eric Brookes: England youth international now living in Glinton, Peterborough, and worked locally for diesel engine manufacturer Cummins UK.
Phil Neal: England full-back who managed Bolton, Coventry City, Cardiff City and Manchester City before becoming a pundit for radio and television.
John Fairbrother: A striker who became a hotel maintenance man and then ran a family building business from his base in Hemel Hempstead, Hertfordshire.
FRONT ROW
Ray Fairfax: A right-back who became assistant secretary at WBA and then club secretary at Port Vale before joining the ticket office staff at Aston Villa until retiring.
Joe Kiernan: Served as the Cobblers youth team manager before becoming a painter and decorator. He died in August 2006, aged 66.
Keith East: A striker who settled in the Epsom area of Surrey, where he has worked as a salesman in the car industry.
Frank Rankmore: Welsh international who became a publican for two years before returning to his native Cardiff, where he worked as a toolmaker until retiring.
John McGleish: A winger who settled in the Northampton area before returning to live in his native Airdrie, Lanarkshire.
Peter Hawkins: Welsh schoolboy international striker who has settled in the Weymouth area, where he has run his own business in the catering industry.
Eric Ross: A Northern Ireland international midfielder who settled in Canada in the 1970s, working as an estate agent in the Vancouver area.
NOT PICTURED
Bernie Fagan: Winger who settled in the United States, where he coached FC Portland and now runs his own successful youth camps.
Brian Knight: Midfielder who settled in the Northampton area, where he runs a golfing holiday business, Tarleton Travel.
Des McPartland: Goalkeeper who became an engineer with Haigh and Ringrose and the Babcock Group but died from lung cancer in April 2006, aged 58.
Gordon Morritt: Goalkeeper who settled in Yorkshire and became a security manager for a company based in York until retiring.