by Chris Dunlavy
STOOD on stage in a swanky suite at Huddersfield's John Smith's stadium, Jamie Paterson clasped his Champagne and awkwardly accepted the adulation.
An hour earlier, the 24-year-old had orchestrated the destruction of Charlton, capping a display of vision and verve with a sweet strike to make it 3-0.
A bearded MC fired questions. Paterson wise-cracked back. A half- cut audience chuckled in appreciation. It has been a while since anyone paid the midfielder this much attention. Or, in fact, any at all.
Exactly two years ago, Paterson was in the form of his life for a Nottingham Forest side chasing the Championship title.
Signed from Walsall six months earlier for a fee nudging £1m, the young winger began 2014 with an FA Cup hat-trick against West Ham. Next came goals against Bolton and Blackburn, a brace at Huddersfield, a slew of spectacular strikes and twinkling runs. By the end of the season, Paterson had 12 goals.
By then, though, Billy Davies was gone, sacked by a board weary of the misguided bitching and bull-headed belligerence that sabotaged any chance of promotion.
Stuart Pearce arrived, along with £1.5m winger Michail Antonio. Used fitfully at first, he eventually ceased to make the squad. Paterson went from inspirational to invisible in the space of one summer.
"I thought everything was going gravy," said Paterson. "Then, all of a sudden, I was in a position where I wasn't even playing. You're just thinking 'What have I done?'"
Even when Pearce departed, Dougie Freedman took a similar stance. Rumours swirled that Paterson had gone 'big time', hit cruise control and taken his place for granted. Andy Reid was quoted as saying the youngster "needed to get his feet on the ground".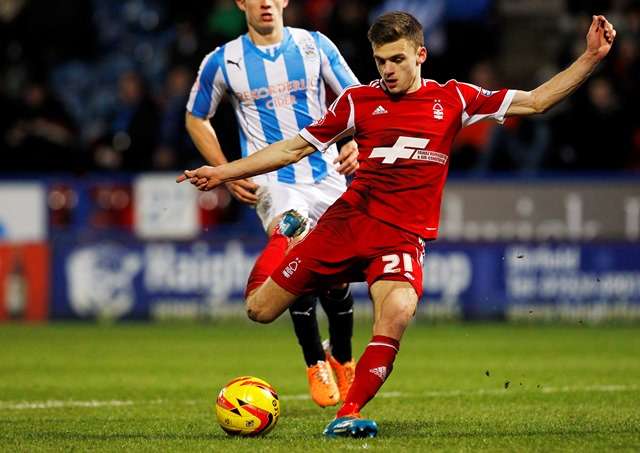 Paterson, who joined Huddersfield on loan in September, nods at this. "At the time I probably took it quite badly," admits the midfielder, a slight, willowy figure with piercing blue eyes and a fluffy excuse for a beard. "Ask any footballer – when they aren't playing, they aren't happy.
"The season before I'd done really well, ended up top scorer. The next season, I wasn't involved at all. It didn't feel fair. It was the first time that had really happened to me and maybe I didn't react in the right sort of way.
"But you have to remember, I was only 22 or 23. Nobody was explaining what I'd done. I didn't really understand how to react.
"That's the problem sometimes. Football is a ruthless business and there aren't enough people who will pull you to one side, say what's going wrong and really talk to you.
"If you aren't in the starting XI, you're just kind of brushed aside and ignored. As a young lad, football has always been your life and you think to yourself 'Why am I getting treated this way?'
"People underestimate how hard football is mentally. When you're not fancied by a manager, and you don't even get given a chance to change his opinion, it preys on your mind.
"It starts with doubting yourself, your game and your ability. Then you start feeling anxious on the pitch. You get five minutes at the end of a game and you try to impress too much. That puts you at the back of the queue again.
"It happens to the best players. I know that now. If I had my time again, I'd definitely try to relax and work a bit harder, which perhaps I didn't do at Forest. But when you're young and it hasn't happened before, you don't know how to handle it."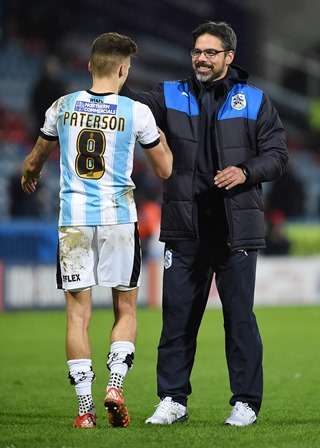 Don't the older heads help? At the time, Forest had old stagers like Reid and Jamie Mackie who'd suffered more than their own share of dips in form.
Paterson smiles. "In football, everyone is out for themselves," he adds. "If you're 17 and you're having a rough time, the lads will probably pull you and give a bit of advice.
"I was 22-23, I'd played a lot of games. I wasn't a kid who needed help, I was a threat to their place. It wasn't their job to help me out and I wouldn't have expected them to.
"It's all in your own head. That's when you need your family and friends, people to stop you worrying and getting anxious. Thankfully I had that."
By August, the writing was on the wall. A Carling Cup start and nine minutes on the opening day forced Paterson to agitate for a loan. Huddersfield, who'd tabled a bid during his Walsall days, finally got their man. And this time, Paterson vowed not to let the demons win.
"I never lost the belief that I could score goals and change games at this level," says the Coventry-born star. "But I can't lie – my confidence had taken a knock.
"When I came here, I told myself that I had to give myself a chance and not be so self-critical. Even when I was out of the team for a bit under Chris Powell, I tried to just enjoy training, enjoy the time I was on the pitch and play without feeling pressurised. That's what I've learned."
Now Powell is gone, replaced by David Wagner. Assistant to Jurgen Klopp at Dortmund, the German's 'rock and roll' football is going down a storm, with the Terriers now unbeaten in five and scoring goals galore. "It just felt instant," says Paterson. "David took the shackles off, put across really clear ideas. We all knew that we had to change something or we'd get relegated and we bought into him totally. The improvement has been rapid and that result (the 5-0 win against Charlton) has been coming for a while.
"For me personally, he's been great, too. He's put his arm around me, given a bit of encouragement and made me feel like the good player I know I can be.
"I feel like my old self again but let's be honest – I've only had three or four good games so I've got to keep it up."
And after that? Paterson's loan runs to the end of the season but Forest are openly willing to ditch a player whose deal does not expire until 2018. Would he be up for a permanent switch to West Yorkshire in the summer?
"I honestly try not to think about it," he insists. "I don't ask any questions. I leave that to the clubs and the agents. As I said, I came here with the sole intention of enjoying my football and I don't want anything to jeopardise that.
"It's something I'll evaluate in May but if it's the right deal and everything goes well then yeah, it would be good to stay."
After his experiences over the last couple of years, you can understand why he's taking nothing for granted.