Realism is a dirty word in football. Ambition is where it's at. Because even the smallest acorn can become a mighty oak.
It's a fallacy that costs chairman their fortunes, managers their jobs and, in the tragic case of Bury, a town its football club.
This week's victim was Daniel Stendel, who was sacked as head coach of Barnsley just six months after guiding the Tykes to promotion from League One.
Stendel's men – or boys, to be realistic – hadn't won a match since the opening day of the season.
But nobody at Oakwell was kicking off. Nobody was jeering the players. Even the keyboard warriors were yet to wield their weapons. Because unlike the club's bungling board, they were realistic.
They knew, like Stendel himself, that the club's prospects were torpedoed by a summer recruitment strategy that could generously be described as naive.
Torpedoed
A promotion-winning spine was ripped out. Adam Davies and Liam Lindsay joined Stoke City. Ethan Pinnock signed for Brentford. Kieffer Moore went to Wigan. That's the keeper, both centre-halves and your top-scorer gone like Scotch mist.
In their place came a succession of inexperienced youngsters, many from overseas. In Stendel's final game, a 5-1 defeat at Preston, the back four had an average age of 20 and a combined total of 34 Championship appearances.
Is it any surprise they played, in the manager's words, like a youth team?
Of course, Barnsley's owners are perfectly entitled to sign who they want. Their vision, informed by Moneyball pioneer and minority shareholder Billy Beane, is to turn the Tykes into a Championship force by finding value that others have missed.
Fair enough. But that vision must be married to a recognition that young players – irrespective of nationality or talent – require a lengthy period of acclimatisation.
Taylor Moore, a star of the England age groups and a regular with Lens in Ligue 1 at 18, needed three years and several loans before he was equipped to represent Bristol City in the Championship. "I look back now and I can see I wasn't ready," he told The FLP last month.
Barnsley, in particular, should be all too aware of that fact. Co-chairmen Chien Lee and Paul Conway were both at the yoke during the 2017-18 campaign, when the Tykes deployed the exact same strategy, in the exact same division, with the exact same results.
On that occasion, a team crying out for a few experienced heads had their confidence shattered and went down with a whimper.
To hold Stendel accountable for a repeat scenario is like Ferrari inventing a three-wheeled car, watching it disintegrate in a wind tunnel, then blaming Sebastien Vettel when he ploughs into a tyre wall.
As the German prepared for his final game last Saturday, Stuart Webber – the architect of promotion at both Huddersfield and Norwich – was speaking to Radio 5 Live.
"The thing with us," said the Canaries' technical director, "is that we know what we are and who we are. And our lives aren't dependent on staying in this division.
"You've got to be realistic, and that's the great thing for Daniel Farke and our players. We don't judge everything purely on results.
"What are our performances like? What are our processes like? It's never going to be 'We've lost a few games, the world has ended, let's sack Daniel'.
No. It's all part of the journey and if we get everything right along the way then we'll probably have success."
At Barnsley, it seems, there is no sense of what they are or who they are, nor any recognition of a process with proven flaws.
Ambition and arrogance has trumped realism, resulting in the departure of a man who was clearly not part of the problem.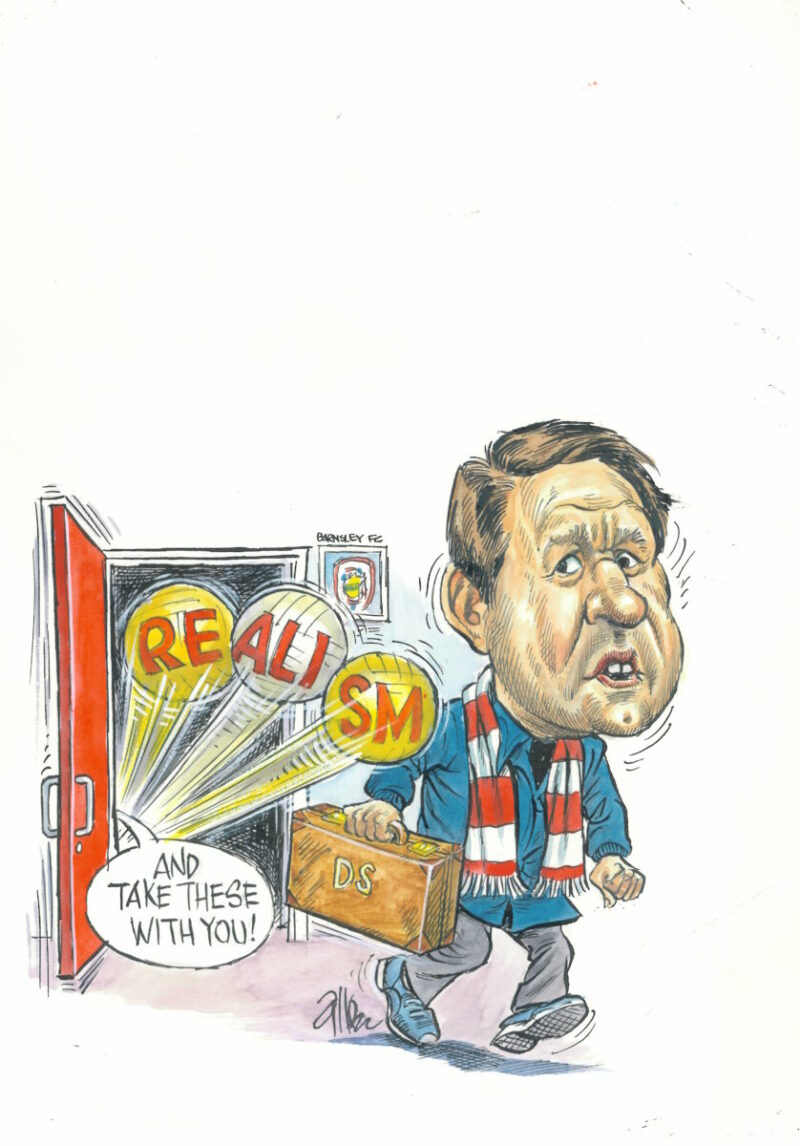 BY CHRIS DUNLAVY/ PA IMAGES