(Photo: Action Images)
By Richard Dore
FOR the three automatically- promoted League Two teams, the celebrations are now done, holidays beckon and attention is turning to how they'll fare come the autumn.
The 2017-18 season has been a fairytale for those happy parties, with Accrington and Wycombe lauded for successful campaigns on tight budgets and Luton for their sheer goalscoring prowess.
The Hatters finished second behind Accrington but found the net 94 times in the division, boasting a goal difference 18 notches better than the champions.
If you fancy Luton to star in League One and for the football over the summer check out Live betting at Stakers.com
Last month, Luton boss Nathan Jones claimed his team were 'the best side in League Two' and it seems that his first signing at the club – Irish defender Alan Sheehan – doesn't disagree.
"We were top of the division for a number of months and we were there to be shot at – I do believe that we are the strongest team going forward," said the 31-year-old, who started 42 league matches this term.
"But then Accrington did win the league. People have said a lot about their smaller budget and we're in the top five budgets in the league, but it's one thing having a good budget and it's something completely different getting it right on the pitch.
"The manager has built this squad for League One. This team was very, very strong for League Two and we dismantled a lot of the teams in the division.
"We're not going into League One fearing anybody but you've got to respect the league as well because we are stepping up."
The dismantlings Sheehan has in mind are those games where Luton refused to take their foot off opponents' throats – the season-opening 8-2 win over Yeovil an example of the three times seven or more goals were scored in a game.
The big question for next season is, will that attacking approach remain?
"We've got a structure at the club," said Sheehan. "We work on it and everyone's job in the team religiously twice a week so that in the last 15 or 20 minutes everyone knows what they've got to do.
"We are a very attacking team and sometimes we're three or four-nil up. We smell blood and always go for the killer blow.
"The manager brought in most of the squad here, so everybody is behind him and loves playing for him.
"When we go up to League One, obviously there will be a higher quality of player but we'll still be very much focused on our team and our job.
"We'll go into each game thinking we can win it – that's the positive attitude that the manager has instilled in us."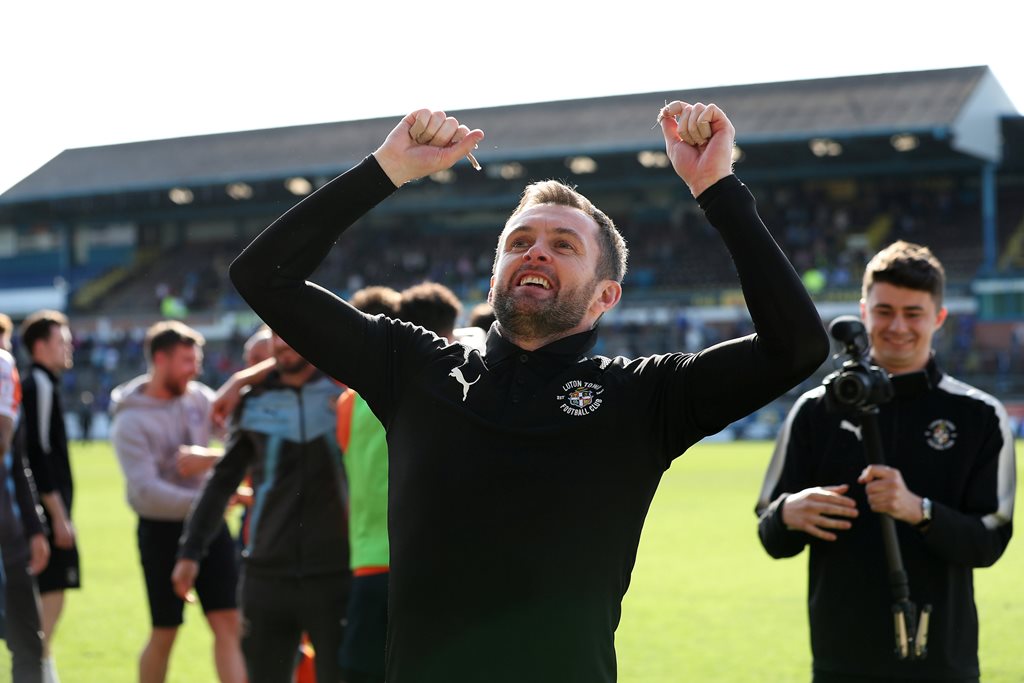 Whatever the approach Luton take in League One, this summer will be one to savour for a club that have been outside the top three tiers for the past decade, with five seasons in Non-League football to boot.
Previous manager John Still settled a turbulent period for the club, with Jones taking over in January 2016.
While Accrington and Wycombe have earned praise for earning promotion on a shoestring, some have used Luton's larger budget as a stick to beat the club with – something Sheehan is looking forward to seeing the back of.
"We can't wait for some huge games now," added Sheehan. "Clubs like Barnsley will come down and be strong. You've got Portsmouth and Bradford, and clubs like that.
"It's going to be a tough season but there's not really anything but excitement here.
"We know we're going to be playing against bigger clubs and people with more money than us but at least when we beat those teams there won't be any excuses about budgets, eh!"