ENGLAND have their first game this month since the World Cup bronze in Canada. It's going to be interesting to see the squad manager Mark Sampson picks – and who he doesn't.
Gemma Davison has been excellent for Chelsea this season. She's a really creative player for the Blues.
But she's always struggled to get selected for England. I know Mark Sampson very much rates her as a player. When he was at Bristol Academy he talked to me about being an admirer of her game.
She's a creative player but she probably needs to develop the other side her game – tracking back and the more disciplined duties.
It does sometimes feel like some people will always be out of favour when it comes to the national side and you can't quite put your finger on why.
We had Natasha Dowie as a guest on last week's FA WSL review show. She's been in good form with Liverpool for the second half of the season after missing out on going to Canada.
Her goal flurry has put her in a good position and from speaking to her I know she's desperate to get more caps.  Another player hoping she can break in to the squad is Notts County's Jess Clarke who narrowly missed out on selection last time.
The fact of the matter though is some people always have to be let down.
More than anything it shows the talent out there and the new generation coming through.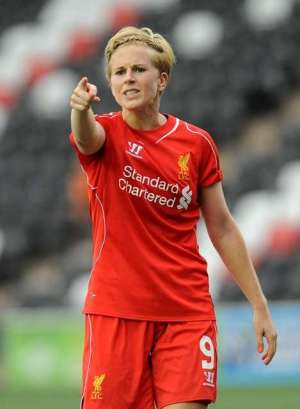 If you look at the younger members of the Lionesses squad – the Jade Moores, Fran Kirbys and Alex Greenwoods – they more than stepped-up to the role and responsibility of playing in the senior side.
You've got to nurture that more and make a team for the future that can consistently compete for silverware at major tournaments.
Especially because we've got some very talented and experienced players who possibly haven't got many years left and maybe after the Euros in 2017 we'll be saying goodbye to some of the big names we've got used to.
I do think the aforementioned Davison, Dowie and Clarke will be part of the conversation for the Euro qualifiers because of their current form. They're all playing really well.
And no one can ignore Beth Mead's goal record at Sunderland Ladies, plus Toni Duggan has been on fire for Manchester City since coming back from Canada.
All eyes will be on England, especially after the World Cup. I've certainly noticed a pick-up in interest in the women's game. I get more comments on social media about the show now than I did in previous seasons.
The Euros is the next landmark in sight. I think it's a crying shame there won't be a team at the Olympics in Rio next year.
England defender Lucy Bronze was very outspoken about it. She took to social media to say how disappointed she was – and rightly so.
A team in Brazil would have really continued the current momentum further. There's a year gap so let's hope the interest doesn't fade.