By Neil Fissler
PETER SWAN was involved in one of the most infamous betting scandals in English football history, receiving a prison sentence and a life time ban from playing.
Swan was earmarked as a member of England's 1966 World Cup-winning squad, but a year earlier was sent to prison for four months.
He worked as a car salesman and then a publican before his ban was lifted in 1972 and he returned to playing with Sheffield Wednesday after eight years out of the game.
Keen to continue his career, he joined Bury after a move to Chesterfield, where he later lived, had broken down. He repaid the Shakers by captaining them to promotion from Division Four.
His impact at Gigg Lane is best measured by a dodgy spell in November and December when they only won two games while he was out of the side.
His return in January co-insided with a seven-game unbeaten run, helping to set up a promotion bid which had begun to look unlikely.
"I had been playing in America in the summer and got back seven days before the season started to find we had signed Peter Swan," remembers keeper John Forrest. "Peter had obviously been out of the game. He was such a character, and still had the ability, having played for England, before his little misdemeanour.
"A lot of the younger lads looked up to him. He knew how to handle things. He was a typical old fashioned centre-half."
Forrest remembers one incident when Swan looked to get the mental edge over an opponent by using his reputation.
"Gillingham had a lad called Brian Yeo and he was the leading scorer in the league. It was the season we had the three-day week, so we were playing on a Sunday and in midweek.
"Gillingham were having a kickabout and Swanny came out and shouted at the top of his voice 'Which is that Yeo?' and all the Gillingham players stopped and looked around.
"And, when we had a corner, he would go and put his foot on the wall behind the goal and get the crowd chanting while we were waiting," he adds.
Swan spent one season in Lancashire before becoming player-manager of Matlock Town after being offered a month-to-month deal.
But it was enough to see Bury promoted in fourth place behind Colchester, Gillingham – helped in no small part by Yeo's 31 goals – and champions Peterborough United.
"In our last home game of the season against Newport, we were each given two bouquets of flowers to throw into the crowd.
"Somebody asked 'Where's Swanny?' and he was at the back of the stand at the Cemetery End in the crowd with all of his kit on. It was hilarious.
"He was getting on by then and the biggest surprise was they only offered him a short-term contract for the start of the following season, which he turned down."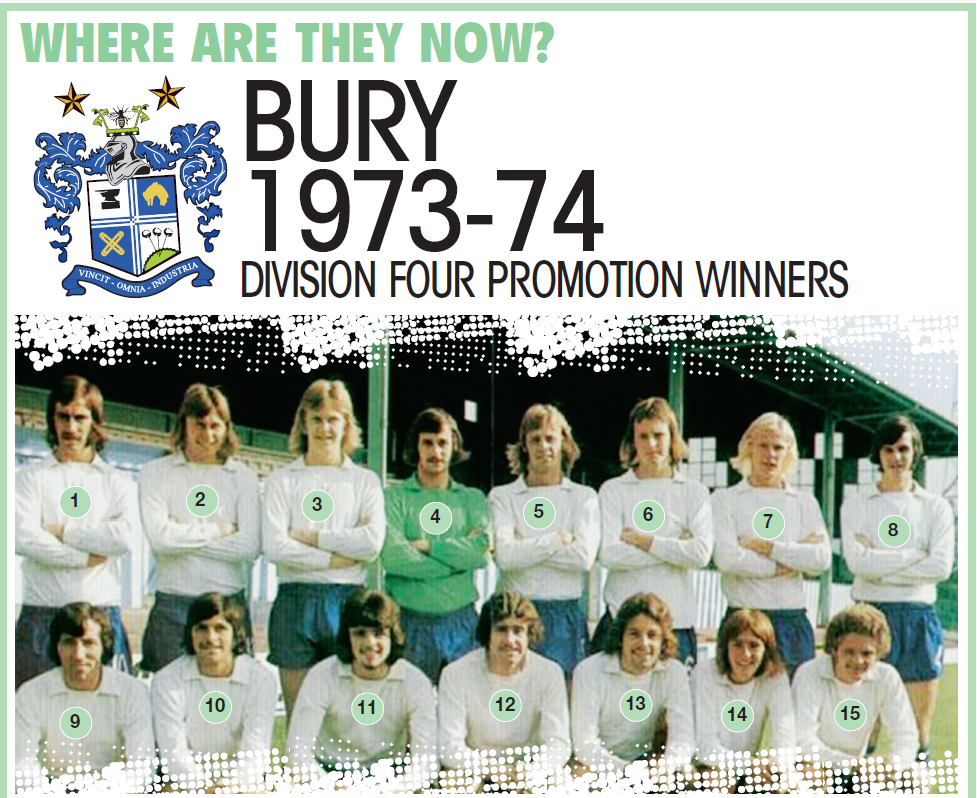 David Hughes: Winger who became head of football at Stonyhurst College in the Ribble Valley before returning to Scotland, where he was a behaviour support officer in East Lothian.
David Howitt: Right-back who worked for several large transport and courier firms. Now in Northampton and was warehouse manager for Click Distribution.
Ian Warburton: Forward now based in Rossendale, Lancs. A mechanical engineer and director of his own design company.
John Forrest: Goalkeeper who had a spell on Bury's coaching staff. He has been chief scout at Rochdale and Barnsley and also worked for a chilled foods firm.
Steve Hoolickin: Right-back who settled in Carlisle, where he was a publican, and then became a self-employed building contractor. His son, Lee, was also a professional footballer.
David Holt: Centre-half who ran David Holt Plastics in Haslingden before moving to Wellington, New Zealand, where he ran a courier business until his death from a heart attack in June 2003, aged 51.
Derek Spence: Northern Ireland international forward who ran an off-licence and soccer schools but has spent the last 20 years working on the staff at Blackpool.
Alan Tinsley: Midfielder who managed his home town club, Fleetwood Town, and Lancaster City. He has worked as a scaffolder and a machine operator in an engineering firm before returning to scaffolding.
Billy Rudd: Midfielder whocoached at Blackpool before becoming a self-employed decorator and joiner in Bury until he retired.
George Hamstead: Winger who became Bury's reserve team coach and ran angling shops in Bury and his home town of Rotherham before taking a job with M&S until retirement.
Brian Williams: Winger who was a youth coach at Shrewsbury Town before becoming community officer at Hereford FC and then at Shrewsbury until his retirement in December 2015.
John Murray: Winger who managed Newbury Town and was youth development officer at Newcastle United, before becoming a staff coach and skills trainer for Texas Lightning in Dallas.
Keith Kennedy: Left-back and brother of Liverpool's Alan, who went on to run a greetings card business. His son, Tom, had two spells at Gigg Lane.
Ian Miller: Right-winger who has worked on the coaching staff of a number of clubs, including Bury, Leeds United and Huddersfield Town. He is now chief scout at Preston North End.
Charlie Gisbourne: A midfielder who settled in Kerikeri in New Zealand and was a stock investment manager for more than 25 years.
NOT PICTURED
Peter Swan: England centre-half who spent  many years running a pub in Chesterfield. Now retired, he has managed Non-League sides Matlock Town (twice), Worksop Town and Buxton.
Jimmy Nicholson: Northern Ireland international midfielder who eventually became manager of Sale Sports Centre in Manchester.
Steve Melledew: A forward who assisted with Reading's youth team and managed Newbury Town while working as a bailiff.
Tommy Horsfall: Winger who rejoined the police in his native Kent and now living in retirement in Kennington, near Ashford.
Terry Gennoe: Goalkeeper who has been an education officer in Blackburn and goalkeeper coach at several clubs, latterly Aston Villa.
Peter McDonnell: Goalkeeper and European Cup winner with Liverpool. Became production planner at a paper mill near his native Kendal and a council member of the Westmorland FA.