By Neil Fissler
BILLY BREMNER, was the heartbeat of the Don Revie side which is still the most successful in the history of Leeds United. They won almost every trophy available.
So, when Leeds became mired in the Second Division in the mid-80s, they turned to one of their greatest-ever players.
Bremner who had impressed managing Doncaster Rovers, set about trying to bring former glories back to the club where he still had god-like status.
After steering them clear of relegation in his first season, Bremner came within 20 minutes of reaching an FA Cup final and ten minutes of promotion to Division One in his second.
Ian Baird, their top scorer with 19 goals, remembers  they were coasting to victory at Hillsborough when a crucial error cost them dearly
"We scored first through David Rennie and were comfortable until they brought on Micky Gynn. Then Brendan Ormsby tried to usher a ball out right on our goal line," said Baird.
"Dave Bennett managed to hook it back around and Gynn scored. Keith Houchen put them ahead, but Keith Edwards equalised to force the game into extra-time.Bennett scored the winner in extra-time after Mervyn Day had blocked a shot. I'll always remember how bad it was in the dressing room. Everyone was upset.
"On the coach afterwards, Bobby McDonald said, 'Believe me, you don't get many opportunities to get to a Cup final' and that really hit home with me."
Baird also remembers Leeds being confident going into the play-offs, which were newly- introduced, and seeing off Oldham on the away goals rule to set up a final against Charlton Athletic.
The Addicks, who were playing at Selhurst Park, needed to win the play-offs to retain their top-flight status.
And it was another case of Leeds having victory snatched from them at the very end.
"We were 180 minutes away from playing in what was then the First Division," said Baird, "but we lost the first game down at Selhurst Park. Elland Road was absolutely packed for the second leg and we won 1-0.
"We then had to go to St Andrews and I will always remember there were only 500 Charlton fans there and the rest were from Leeds.
"John Sheridan scored for us and we were ten minutes away from winning it. Then, Peter Shirtliff scored with two headers, but we were by far and away the better side.
"We went out into Leeds afterwards. I got in at 5am and I wasn't even drunk.
"I was that disappointed and that summed up our season of near misses."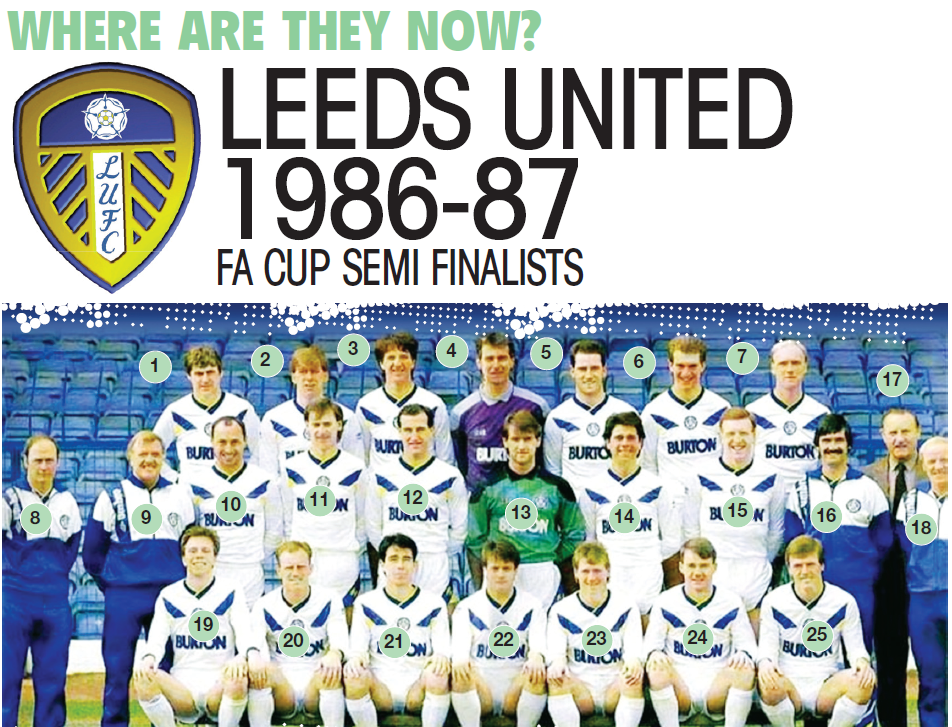 Jack Ashurst: Defender who was a partner in an electrical shop in Sunderland, then returned to the Wetherby area working as a warehouseman for Golden Fry Food.
Ian Baird: Striker who set up his own contract hire and vehicle leasing company. He has also managed Havant & Waterlooville and Eastleigh and  is now assistant manager of Sutton United.
John Pearson: Striker who sold insurance, owned a pub, coached, was a players' agent and is now working for Sheffield Wednesday's community programme.
Mervyn Day: Goalkeeper who managed Carlisle United. He had a number of coaching and scouting jobs, including chief scout at Leeds. Now an international scout for Bristol City.
David Rennie: Defender who settled in Leicester and has worked in IT and then for Peninsula Business Services, advising companies on health and safety and employment law.
Peter Swan: Striker who has coached, worked as a players' agent and as a procurement manager as well as in the media.
Neil Aspin: Defender who managed Harrogate Town and then FC Halifax Town until 2015, when he took charge of Gateshead.
Alan Sutton (physio): Spent more than 25 years at Elland Road until retiring in 2014.
Peter Gunby (coach): A former electrician, who joined Leeds from Huddersfield and then worked part time for local clubs until retiring.
Bobby McDonald: Left-back who went into coaching before starting his own company, Academies of Football. Now an academy coach at Hearts.
Peter Haddock: Defender who lives in Seaton Sluice, Northumberland has owned a baker's, worked as a postman and a courier.
Scott Sellars: Midfielder who, after stints on the coaching staff at Mansfield and Chesterfield, became academy manager at Manchester City and is now coaching at Wolves.
Ronnie Sinclair: Goalkeeper who held a number of coaching positions at Stoke City until going to work for Aston Villa's academy.
Nigel Thompson: Midfielder still living in his native Leeds, working as a postman in the Woodhouse area of the city.
Brendan Ormsby: Defender who became a postman in the Leeds area and coached at junior and senior clubs in Yorkshire.
Dave Bentley (coach): Spent 19 years as community officer at Mansfield and was then youth team boss at Chesterfield.
David Blakey (chief scout): The former off-licence owner was associated with Doncaster Rovers for many years after leaving Leeds. He died in April 2014, aged 84.
Billy Bremner (manager): Was living in Doncaster when he died in December 1997, aged 54. He was in management for 14 years before leaving the game to become a columnist and after- dinner speaker.
John Stiles: Midfielder and son of Nobby.  Sold insurance before going into sports management. He then joined the after-dinner circuit as a speaker and comedian.
Andy Ritchie: The striker managed Oldham Athletic, Barnsley and Huddersfield before working as media pundit for MUTV.
Bob Taylor: Striker and former binman who started his own events company and has done some freelance coaching.
Micky Adams: Full-back who has held a number of management posts since 1996 and is currently a consultant for Midas Sports Management.
Russell Doig: Winger who settled in the Leeds area and is working as a taxi driver in the city.
John Sheridan: Midfielder who has spent over a decade in management and is currently in charge of Notts County.
Keith Edwards: Striker who was a lorry driver before joining Cancer Research UK. Later, he returned to driving with Sheffield Installations.