by Neil Fissler
CHRIS TURNER thinks Sheffield Wednesday will never again enjoy a season like the one that brought Wembley success and promotion.
Guided by Ron Atkinson, the Owls bounced straight back after relegation from Division One to win promotion to the top flight. Bet in the top flight with the bonus code offers available with match bonus. Wednesday finding themselves on the way up after finishing third behind Oldham Athletic and West Ham.
They also beat Atkinson and Turner's former club, Manchester United, 1-0 in the League Cup final, with Mancunian John Sheridan scoring the goal.
Turner admits he can still remember an Atkinson pep talk before the season got underway, when he called for them to be successful.
"I don't think Sheffield Wednesday have ever had a season like it," he said.
"For the football that was played and to have two successes will be very difficult to cap.
"I will always remember (Atkinson's words) at the training ground at Middlewood: 'I want to do well in the Cup, we want to win promotion back to the top division, we want to do well in the reserves and the youth team'.
"Well, we won promotion, we won the League Cup, the reserves won the reserve league and the youth team got to the final of the FA Youth Cup. It was an unbelievable season for the club. We had some great players for Division Two and were confident we could bounce straight back.
"We were by far the best team in the league that season. No danger. And I think it was only our form in the cup competitions that stopped us from winning the league title."
Wednesday knocked out Brentford, Swindon Town, Derby County and Coventry City, all away from home, before seeing off Chelsea in the two legged semi-final.
In the final, they faced Sir Alex Ferguson's Manchester United, who were about to sweep all before them.
"To beat Manchester United was a dream come true," he said. "It's not like we got to the final and played someone from Division Two. It was just before United hit the heights of winning trophies.
"A month after we beat them at Wembley, they beat Barcelona to win the Cup Winners Cup, so we beat one of the best teams in the country at the time.
"I played for them and Ron managed them – and anytime you play Manchester United it's a special game. They are the biggest  club in the world.
"But we were always confident  we could win that game. We went out on the Friday night and had a few beers and we had a reception on the Saturday night.
"Then we played the game on Sunday and we beat them. Ron made us so relaxed it was untrue."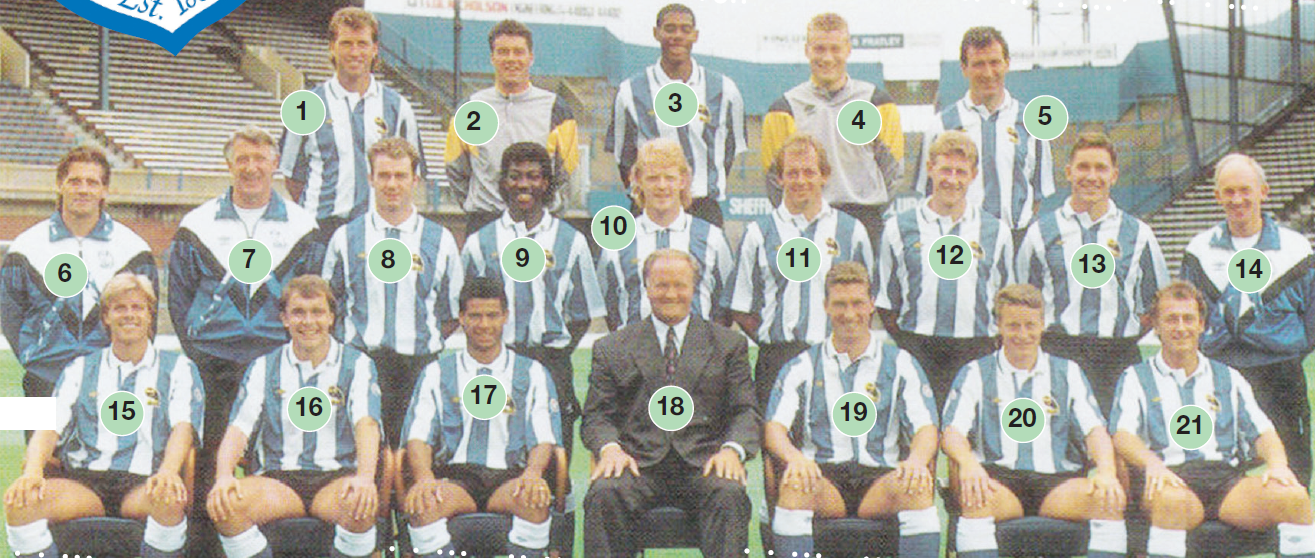 Peter Shirtliff: A central defender who managed Mansfield and was assistant at Tranmere Rovers, Swindon Town and Bury. He is now working at Oldham under Sheridan.
Chris Turner: A goalkeeper who's managed Leyton Orient, Hartlepool – where he was also director of sport – Sheffield Wednesday and Stockport. He is currently Chesterfield's chief executive.
Carlton Palmer: The England international midfielder has managed Mansfield Town, taught PE in Dubai, worked as a pundit and is now director of sport at Wellington College, Shanghai.
Kevin Pressman: A goalkeeper who went into coaching and has held a number of posts including one at Manchester City. He is now working for Millwall.
Lawrie Madden: A defender who went into the media, woking freelance for Sky Sports, as a senior lecturer at Staffordshire University and now at UCFB (University of Football Business), as well as running his own consultancy.
Roger Spry: He's held many coaching appointments around the world and is now a freelance fitness and conditioning consultant.
Richie Barker: A former striker, who was Big Ron's right-hand man. He has managed a number of clubs, but his last job was as WBA's chief scout. He now lives in retirement near Market Drayton
John Sheridan: The Republic of Ireland midfielder is in his second spell in charge of Oldham Athletic after stopping off at Chesterfield, Plymouth Argyle and Newport County in between.
Dave Bennett: A winger who was forced into early retirement following two leg breaks. He now works in the warehouse for the Pearson Shared Book Company and has also been employed at a Coventry radio station.
Phil King: An England B defender who settled in the Swindon area, where, since 2001, he has been landlord of the Dolphin Hotel and has also worked for local radio.
Steve McCall: An England B midfielder who was chief scout at Ipswich Town for 13 years and is now doing the same job for Colchester United.
Nigel Worthington: Defender, based in Norfolk, who has managed Northern Ireland, Blackpool, Norwich City and York City.
David Hirst: An England striker who ran a corporate entertainment firm as well as working on local radio. He also coaches at The Owls Academy.
Alan Smith: The former England physio is now running his own practice in Rotherham, South Yorkshire.
Roland Nilsson: Swedish defender who has managed Coventry City, GAIS, Malmo FC and Copenhagen and is now coach of the Swedish under-17 side.
Darren Wood: A full-back who went into the fish wholesale business with his father, before running his own business, based in Barnsley, that supplies meat to delicatessens.
Paul Williams: An England B striker who ran his own furniture shop in London but is now living in Florida, where he is director of coaching at Florida Fire Juniors.
Ron Atkinson: After having a successful career in management, he went into the media and has appeared on Celebrity Big Brother. He lives in Worcestershire.
Nigel Pearson: Defender who went into management with Carlisle United, Southampton, Hull City and two spells in charge of Leicester City.
Danny Wilson: Northern Ireland midfielder who has spent 21 years in management, including a spell at Wednesday. He is currently in charge at Chesterfield.
Trevor Francis: The first £1m player has managed QPR, Sheffield Wednesday, Birmingham and Crystal Palace and has worked as a television pundit for Sky and now BT Sport.