by Kieran Thievam
USA superstar Abby Wambach confessed "the time is right to retire" as she brought the curtain down on one of the greatest careers in women's football.
Wambach, who retires this week as the leading international goal scorer of all time (184 goals), played 70 minutes in her final match for the US Women's National Team on Wednesday in what was her side's first defeat on home soil in 11 years after a 1-0 loss to China in New Orleans.
That ended a 104 game unbeaten run for the world champions, which coincided with Wambach's final farewell as she bows out of the game after 14 years.
Women's Football Weekly spoke to the Rochester, New York, native a few days before her final appearance, and she admitted that this was the right moment to step away from the spotlight.
"I feel great and the biggest thing is I feel complete – no question it is the right decision," she said.
"The minute I announced my retirement is the minute I could shed my soccer skin, and it feels amazing to be able to expand my vision."
At 35, Wambach has been a mainstay of the US team since making her debut in 2001, earning herself the reputation for being a leader, an inspiration, and in many people's eyes, the 'GOAT' (Greatest Of All Time).
But in the last couple of years, it would be fair to say that opinion has been divided among American fans as to whether the star forward was gaining her roster spot for her performances, or for that reputation.
Honest and open when questioned about this, Wambach revealed she knew not everyone was overwhelmed with her continued inclusion.
"I'm not an idiot," she said. "I know people were saying I'd lost it, but I also knew I was being relied on to be a leader for this team, which is why I didn't walk away earlier."
With two Olympic gold medals obtained in 2004 and in London in 2012, as well as the 2012 FIFA Ballon d'Or Women's Player of the Year award, Wambach has achieved more than almost any player to grace the field.
But the one thing missing in her collection was a World Cup, and with the victorious '99ers' legacy hanging over the team throughout her whole international career, she was determined to walk away from Canada with the full set of major honours available to her.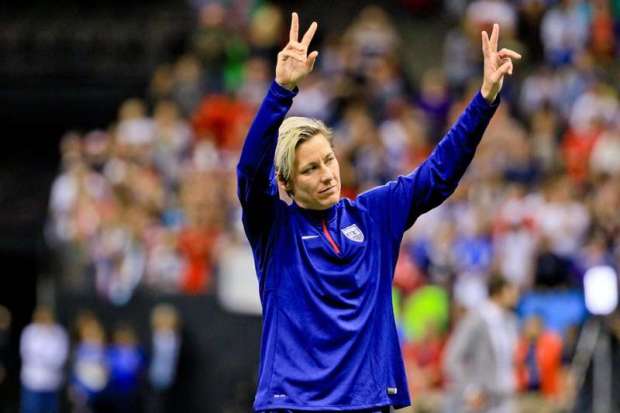 But would she have played this long if things had worked out differently when they lost the final to Japan on penalties in 2011?
"If we had won a World Cup earlier, I don't think I would have carried on for as long as I have," she said.
"But now I have a sense of completion that is important for any athlete when walking away from their sport."
It was close to home at the Red Bull Arena, New York in June 2013 when Wambach passed her former team-mate Mia Hamm to become the all time leading goal scorer in international women's football.
Hamm notched 158 goals, but Wambach passed that landmark in style, bagging four goals in the first half of a match against South Korea.
In her 255 caps for the US, Wambach was paired up front with talent such as Hamm and Kristine Lilly, and while she highlighted the huge influence both had on her career, it was her partnership with current star Alex Morgan that she says was the one that really blossomed.
"Mia Hamm made and created everything that happened and as I got older I realised how selfless she was," she said.
"Kristine Lilly was also great, but the partnership I had which really connected was with Alex Morgan because we complimented each other."
Wambach's status within the women's game has seen her have as much of an influence off the pitch, as much as on it.
Before the World Cup this year she joined a number of players in taking legal action against FIFA for allowing a tournament to be staged that would be played on artificial turf.
While this action was subsequently dropped, the US forward has had her fair share of controversial scenarios to deal with, most recently in Hawaii when a match against Trinidad & Tobago was cancelled hours before kick-off due to concerns over the field.
"It's been frustrating for years when you feel there's unequal treatment, not just from us (US Soccer), but also FIFA," she added.
"We spoke our truths and we were heard (in Hawaii), but not every battle will be heard and we need to bring in a protocol where pitches are safe."
Whether you class her as an icon, an inspiration, or the GOAT, when Wambach speaks, people listen, and her absence will leave a big hole.
"I'm leaving the game better than I found it," she said.
"There is so much potential in US Soccer and keeping that excitement is the challenge, and I certainly want to help do that now I am gone."