(Photo by Amy Nixon, Carlisle United)
A DAY of enlightenment at a gruelling pre-season training camp is what Carlisle striker Jabo Ibehre credits for his uncharacteristically prolific start to the season.
In 16 previous professional campaigns, Ibehre has only registered double figures twice, yet he was sitting pretty on nine strikes already this term ahead of yesterday's visit from Dagenham & Redbridge.
And the 32-year-old points to time spent with his team-mates at the Cassius Camps facility for inspiring his seemingly new lease of life.
Boss Keith Curle did not tell his players their destination as they boarded the team bus on a July morning and most were completely out of their comfort zones as they spent time next to the picturesque Lake Windermere completing hail-bay press ups, tyre flipping and a number of other challenges.
And Ibehre believes the unique experience has played its part in his superb start.
"The camp during pre-season was one of the hardest things I've ever done," said Ibehre. "It challenges you mentally as well as physically. You are taking on obstacles and challenges that you think you can't overcome, but you soon realise you can. It opens your mind up and really pushes you to your limits. It's amazing what you can do if you put your mind to it.
"I've often scored on my debut, so I expected to score in my first match for Carlisle. Once I did that I thought I could go on a run, enjoy each game, then there's no reason it should stop.
"I know I've not done it before, but if I get my head down and don't think about anything then hopefully it can continue."
Walsall and Leyton Orient fans saw the best of Ibehre in front of goal, but the acknowledgement of his overall work in the final third was made by Colchester United in 2012-13 – handing him their player of the season award despite him only scoring in six matches.
Such strengths convinced Curle to sign Ibehre this summer, stating from the off he would not be burdened with expectations of being free-scoring.
Six goals in his first three appearances, including a hat-trick against Cambridge United, may well have altered Curle's thinking, but Ibehre insists proving his manager wrong was not the plan.
"I'm just happy that I'm able to contribute and help," he added.  "But I need to keep producing, to add more goals and help us climb the table.
"I've always had chances, wherever I have played. But it's always been that I miss more than I score or I've had injuries when I've started going on a good run and then it's taken me a while to get going again once I'm back to fitness. So far I'm on a run, and I'm still fit and looking forward to each game.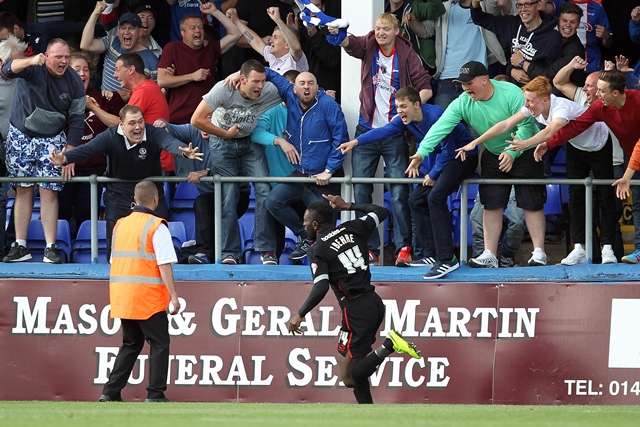 "I think I'm getting the rewards now for the hard work over the years. I've had a wonderful time so far, and I'm very focused on my game. I couldn't have started much better."
Alongside a strong start in League Two, Carlisle have been excellent in the Capital One Cup and go to Liverpool in round three later this month.
Whether Ibehre plays at Anfield, though, is down to Curle. He has started as a substitute in each of the last two rounds and the Londoner feels that might be a lucky omen.
"If I'm on the bench then so be it," he says. "Whatever happens hopefully I'll get the chance to play my part, but it's down to the manager. I'm not really fussed.
"We want to go there and play some football. We're not going there to make up the numbers, it's our chance on a big stage to show what we can do.
"I've been on the bench in the first two ties, so maybe I should stay there at Anfield."