By John Lyons 
The press conference to launch the Dean Smith era at Brentford is officially over, but the new manager is happy to continue chatting to the stragglers.
There are no airs and graces as he holds court in the Griffin Park boardroom on Wednesday afternoon, nattering about the Bees' internationals and whether Jimmy Floyd Hasselbaink has been appointed manager at neighbouring QPR.
Bees' co-director of football Phil Giles recently described the club's philosophy as "we take risks", but you feel they've got a safe pair of hands in the staight-talking Smith.
And after the year they've had, the Bees need some stability in the hot-seat. There have, after all, been four incumbents in the calendar year.
The successful Mark Warburton fell out with the club's hierarchy over the decision to put more emphasis on a statistical approach to recruitment and departed at the end of last season's magnificent play-off campaign.
Dutchman Marinus Dijkhuizen took over in the summer, but results quickly went against him and he was sacked.
Then Lee Carsley led an upturn in fortunes, but maintained his position that he didn't want the manager's job long-term.
Come in, Smith. The 44-year-old had been in charge at Walsall since 2011 and guided them to the Johnstone's Paint Trophy final last season.
This season a side tipped to struggle by the bookies have instead mounted a surprise promotion challenge – and Smith's stock has risen on the back of it.
He would have loved to have finished the job at Walsall, but no one can really argue with him moving up a division in the fickle world of football that we live in these days.
"Normally any young aspiring manager would jump at the chance to come and manage in the Championship," he said. "But it's difficult when it's a football club close to your heart and it has been for a long time.
"However, this is an opportunity that doesn't come along very often. It's one that excited me and it fitted in with my values as well. It was a hard decision, but myself and my family felt it was the right one.
"Lee Carsley steadied the ship at Brentford and turned it around. I've left a ship that is sailing in the right direction at Walsall as well."
The former Leyton Orient assistant manager's opportunity in the second tier is good to see – a young British boss being given the chance to make his name. Reaching the Premier League is his ultimate ambition with the Bees and he believes it's "realistic" given they reached the play-offs last term and, ahead of the weekend, were only three points off the top six.
And he's also realistic enough to know that his best chance of managing in English football's top flight is by winning promotion into it.
"Most of the Premier League clubs have foreign owners and there are a lot of big-name managers in the league," he said. "But you only have to look at what the likes of Eddie Howe, Sean Dyche and Brendan Rodgers have achieved.
"I was coming up against Eddie Howe two seasons ago and you see the job he's done. It would be fantastic if I could emulate someone like him. It gives a lot of managers in the lower leagues great belief to see people like that do it and it certainly did for me.
"There are a lot more in the lower leagues that can go up through the divisions."
No one can suggest Smith doesn't deserve his opportunity. He had a lengthy playing career with Walsall, Hereford, Leyton Orient, Sheffield Wednesday and Port Vale before moving into coaching a decade ago.
He started off as a youth team coach at Leyton Orient before becoming assistant manager to Martin Ling. He joined Walsall in 2009 as head of youth and became first team boss in January 2011.
By the time he left the Saddlers this week, he was the fourth longest-serving manager in English football behind Arsene Wenger (Arsenal), Paul Tisdale (Exeter) and Karl Robinson (MK Dons).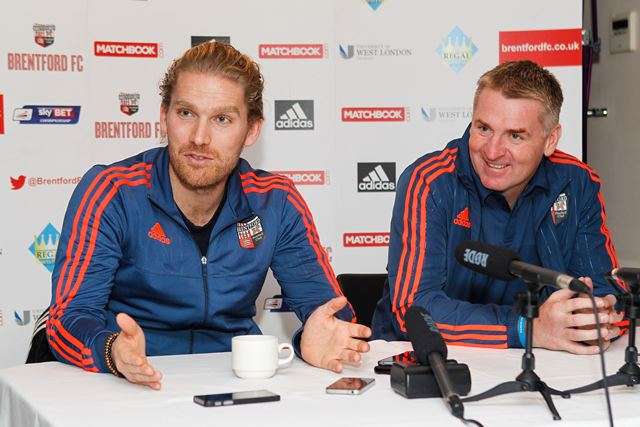 He's earned a reputation for encouraging his teams to play the game the right way, another reason why Brentford found him an attractive proposition.
And he's eager for his players to learn.
"I believe every day is a school day," he said. "You have a choice in life and I say to my daughter every day that when you get up it's your choice if you want to be happy or not. I tell my son exactly the same.
"If footballers want to work it's down to them, it's their choice. We will encourage them as much as possible.
"Most players want to get better and that's our job as coaches. The idea is you get enough messages across to players that they can end up self-managing. It makes your job a lot easier.
"One of the things that excited me was that I know some of the players at Brentford and how good they are, and I can improve them and the team.
"There are some very good players here. We can help them achieve the things they want to in the game.
"I always said when I finished playing that I wanted to be a manager that I would have wanted to be managed by.
"I stick by that. I don't ask the players to do anything that I wouldn't have expected to do myself."
As for the much-touted statistical approach, Smith insists he's open to new ideas, though suggests there's a balance to be found between 'old-fashioned methods and new methods'.
With a contract until June 2018 tucked away, he wants to get on with the job.
But you can bet he'll cast the occasional glance back in his old club's direction.
"Walsall have some really good players and it's a good job for whoever goes in," he said. "I was sad to say goodbye to those players we've helped develop.
"Some of them will move on because they're good enough to, but the football club's in a good place and has retained good staff and people."
Smith plays down talk that he would be tempted to raid his old club for the likes of star striker Tom Bradshaw or in-demand left-back Rico Henry, but admits they have 'a lot' of players who are good enough to play in the Championship.
Aside from football, Smith also had to consider the family aspect of moving to London.
"We moved back to the Midlands six-and-a-half years ago," he said. "My dad's got dementia and it was nice to be back at home and to help with that.
"However, Brentford is a great opportunity and they don't come along very often."
After turbulent times, Bees fans will be hoping he's there to stay.
*This article was originally published in the FLP on 6 December 2015.