by Neil Fissler
TREVOR FRANCIS has revealed that Nottingham Forest took a massive gamble – by playing Britain's first million pound footballer without insuring him!
Brian Clough shattered the British transfer record – previously the £500,000 that West Bromwich Albion had paid to Middlesbrough for David Mills – to sign the England striker.
Francis was injured prior to his move from Birmingham and  jumped at the chance of some match practice just 24 hours later.
The first team game, however, was called off so he made his debut for Forest's third team –  against local rivals Notts County in the Midlands Intermediate League!
Such was the rush to get the transfer completed, Forest weren't able to get him insured to play – but went ahead and took the risk anyway.
Francis told The FLP: "I can understand to many people it looked strange that I was making my debut for the third team on a park pitch –  in front of 20 people against Notts County.
"A lot of people would have looked on a £1m footballer playing on a park pitch and thought it strange, but it was a bonus for me to have the chance to get a little bit of match practice. I had a few injuries in my career but in this one I didn't get injured – it was a good job as Forest hadn't insured me!"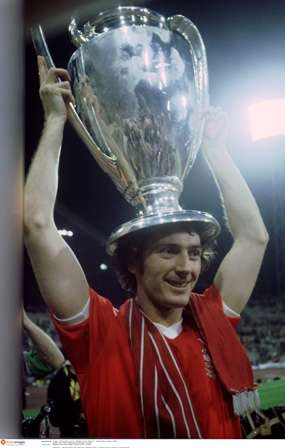 Francis admits that what he didn't know when signing was that he wouldn't be able to play in the European Cup until the final, if they reached it – because of UEFA's registration rules. So he had to watch the quarter-final against Swiss side Grasshoppers and the semi against Germany's Cologne from the sidelines.
But as soon as Forest won through to face Sweden's Malmo in the Munich final, he was free to take his place in the side.
And on the stroke of half-time he paid back most of the million pound fee by heading the only goal of the game.
"Ian Bowyer played a ball out wide to John Robertson. Cloughie always used to tell me when I was playing out wide to get into the back post when John got the ball on the other flank," said Francis.
"Nine times out of ten he would go past his full-back and deliver a ball into the box. When he got the ball, I realised I had a lot of ground to make up and had to get motoring.
"And as that ball came into the box I had to make sure I got a good connection to put it back towards where it had come from.
"I could get very good accuracy with my right foot but I wasn't so good with my head. Fortunately, it flew in."
The rest is history…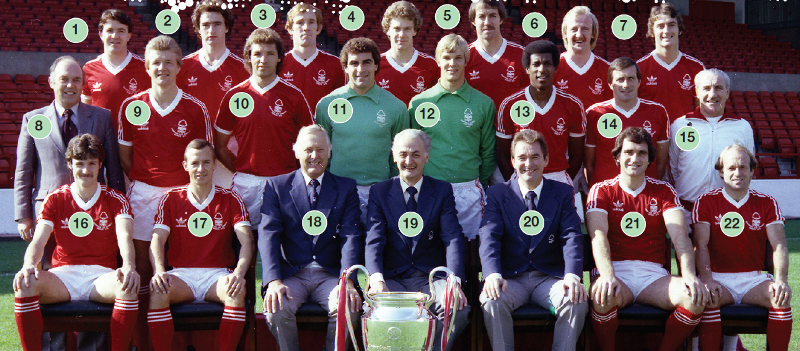 John Robertson: The winger was assistant manager to Martin O'Neill at Wycombe, Norwich, Leicester, Celtic and Aston Villa.
Martin O'Neill: The Northern Ireland midfielder has managed Wycombe, Norwich, Leicester, Celtic, Aston Villa, Sunderland and now the Republic of Ireland.
Ian Bowyer: Midfielder who has managed Hereford United, was assistant manager of Plymouth and Rotherham. Has coached at Forest and scouted.
Tony Woodcock: Striker who now works for a finance company. Is agent for his son-in-law, England rugby international Mike Brown.
Frank Clark: The full-back served Forest as coach, manager, chairman and ambassador. Also managed Leyton Orient and Manchester City and is vice-chairman of the League Managers' Association (LMA).
Kenny Burns: The defender has worked as a newspaper columnist, after-dinner speaker and entertained match day guests at the City Ground.
Trevor Francis: Striker who has managed QPR, Sheffield Wednesday, Birmingham and Crystal Palace and has worked on television for Sky and BT.
Ken Smales: Played county cricket for Yorkshire and Nottinghamshire, joining Forest in 1958 until his retirement 35 years later. Died in March 2015, aged 87.
Colin Barrett: Full-back who became a painter and decorator from his base in Southwell, where he now works as a house painter.
David Needham: The central defender is now a successful businessman in Leicester, where he was chairman of Hinckley and runs a company that makes plastic signs.
Peter Shilton: England's repcord appearance holder with 125 caps, the legendary goalkeeper managed Plymouth. Spent three weeks on Dancing on Ice in 2010. Now a motivational and after-dinner speaker.
Chris Woods: Was goalkeeper coach at Everton and Manchester United as well as with the USA national team. Now working for West Ham United.
Viv Anderson: Full-back who was England's first black international. He was assistant manager at Middlesbrough, runs a sports travel business and is an FA ambassador.
John O'Hare: Striker who ran a pub and sold insurance before going to work for Toyota in Derby, where he is a part-time chauffeur. Also a Forest club ambassador.
Jimmy Gordon: Wing-half either side of World War Two. Coached under Clough and Taylor at a number of clubs. Died in August 1996, aged 80.
Garry Birtles: Striker who was a former carpenter. He had a fish business in Grimsby but is now a television pundit and writes a newspaper column.
John McGovern: Midfielder who managed Bolton and Rotherham and was assistant manager of Plymouth. He also worked for local radio and is a Forest club ambassador.
Peter Taylor: Clough's side-kick who also managed Burton Albion, Brighton and Derby County. Died of a heart attack while on holiday in Majorca in October 1990, aged 62.
Stuart Dryden: The Forest chairman was a former Grenadier Guard and ran a sub-post office in Ruddington.
Brian Clough: Managed Forest between 1975 and 1993. The legendary manager died in September 2004, aged 69, after a battle with cancer.
Larry Lloyd: Central defender who had spells in management with Wigan and Notts County. He ran a bar in Nottingham and Spain, where he has retired.
Archie Gemmill: Midfielder who coached at Forest but is now retired after spells managing Scotland youth teams.
NOT PICTURED
Steve Elliott: Forward who lives in Fulwood, Preston. He has managed leisure centres for South Ribble Borough Council and now works for Network Rail.
Bryn Gunn: Defender still based in Nottingham, where he played for and coached Non-League Arnold Town. Currently drives a van for calibration company SGS. Daughter Jenny and son Luke have both played cricket for England – the latter in the indoor format.
Peter Withe: England striker who managed Wimbledon before taking charge of Thailand and Indonesia, Now coaches Nakhon Pathom United in Thailand.
Gary Mills: Defender who has managed a number of clubs, including York and Notts County. Now in charge of Wrexham.