By Neil Fissler
BERNIE SLAVEN says he didn't have a dull moment in his eight seasons with Middlesbrough, which brought four promotions, relegations, cup semi- finals and finals.
The Republic of Ireland international was signed for a bargain £25,000 but, within a year, the club were fighting liquidation after being locked out of Ayresome Park.
But two successive promotions saw them rise into the First Division, even though they were relegated in their first year.
Slaven believes it was the dark days that laid the foundations for promotion to the first ever Premier League and everything achieved thereafter.
"I was one of the players who went through the dark days, along with Stephen Pears, Tony Mowbray, Gary Hamilton, Colin Cooper and Gary Pallister.
"It made me grateful for everything that I achieved afterwards. It was horrible not knowing if you could pay the bills.
"And to get into the inaugural Premier League is no mean feat. Then we had the glamour when we were an established Premier League club with Ravanelli, Juninho and the Samba Band.
"I honestly believe we laid the foundations for that success because we could quite easily have been out of business by then and we could have walked away because all the contracts had been broken.
"I was at Middlesbrough for eight years. It was up and down but there was never a dull season. We were either going for promotion or fighting relegation," he said.
Slaven clearly remembers the game that clinched promotion behind Ipswich Town because he wasn't due to be playing.
But, after receiving a late call- up, he set up the equaliser for ten-man Boro to clinch their place among the country's elite.
"Our goal that season was to gain promotion. It was a roller-coaster. We didn't have a great deal of money at our disposal but we kept chipping away.
"It was a turbulent season. When we played the final game against Wolves at Molineux, there was a bomb scare and the game was delayed.
"We were getting beaten 1-0 and we came back and won it 2-1. The funny thing about that game was I didn't see eye to eye with Lenny Lawrence, despite my goal tally and the games I'd played.
"He told me he was going to play Andy Payton, for whom he paid £1m, alongside Paul Wilkinson. Then, about half an hour before we left the hotel, there was a knock on the door and it was Lenny.
"This was an important game, but he said that Andy had backed out and told me I was in.
"Anyway, for our first goal I got a touch and it rebounded to Jon Gittens who scored.
"And, on the way back, all the lads were winding up Gittens that I scored the first goal and he wasn't too happy about it!"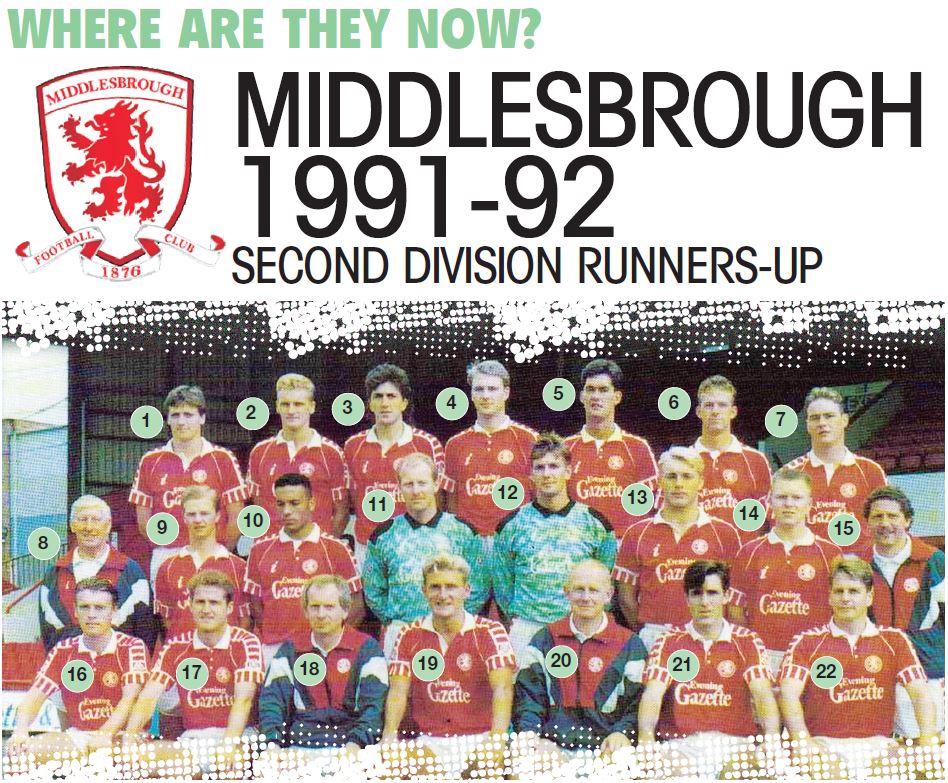 Jimmy Phillips: Defender who twice helped Bolton win promotion to the Premier League and is still working for the club in the academy after a spell as youth team coach.
Nicky Mohan: Defender who later won promotion with Bradford City. He returned to live in his native Middlesbrough where he became a drugs counsellor for Cleveland Police.
Paul Wilkinson: England Under-21 striker who helped both Boro and Barnsley win promotion to the Premier League. He is currently assistant manager at his first club, Grimsby Town.
Alan Kernaghan: Republic of Ireland defender who was part of three Boro promotion-winning squads. He has managed Clyde, Dundee and Glentoran and coached for the Irish FA.
Willie Falconer: Midfielder who helped Aberdeen win a Scottish title. He opened a coffee and sandwich shop, then coached at Motherwell before running a property rental business.
Robbie Mustoe: Midfielder who won three promotions with Boro. He settled in the United States where he coached at Boston College before becoming an analyst for ESPN and now NBC.
Gary Hamilton : Midfielder who also settled in the US, living in Texas and running the Houston Dynamo Academy. He is executive director of the McAllen Youth Soccer Association.
Tommy Johnson (physio): Spent 25 years at Harlepool and then a further ten for Boro before retiring.
Ian Arnold: England C forward who settled in Carlisle and set up a commercial interior design company, called Interior ConneXions.
Curtis Fleming: Republic of Ireland right-back who was assistant manager at Queens Park Rangers until February 2018 when he returned to Boro as first-team coach.
Stephen Pears: Goalkeeper who has coached at Boro as well as Hartlepool United and Gateshead, where he has coached the goalkeepers.
Ian Ironside: Goalkeeper whose son Joe is an England C international. He is back living in his native Sheffield, where he is a earning a living by working as a joiner.
Stuart Ripley: England international who ran a sports injury clinic before becoming a solicitor. His son, Conor, is now a goalkeeper at the Riverside.
Owen McGee: Full-back and a ZDS Cup finalist who still lives in his native Middlesbrough, where he became a database specialist for a Knaresborough-based firm, called TSYS.
Ray Train (reserve team boss): He spent 13 years at the club before leaving in 2004 and has a driving job at a garage in the town.
Gary Parkinson: Right-back who was head of youth development at Blackpool until he suffered a stroke in September 2010 and now suffers from locked-in syndrome.
Mark Proctor: An England Under-21 midfielder who was Boro's academy boss and managed Livingstone. He later became director of football of Premier 18 Player Football Academy.
Lennie Lawrence (manager): He has 40 years of management and coaching experience and his last job was as a consultant at Newport County.
Tony Mowbray: Defender who has managed a number of clubs, including Celtic and Boro. He is now the head coach of Blackburn Rovers.
John Pickering (asst mgr): He spent a decade with Boro as first-team coach and then in the academy. He died in May 2001, aged 56, after a long illness.
Bernie Slaven: Republic of Ireland forward who won three promotions with Boro and stayed local, having carved out a successful career in the media.
John Hendrie: Winger who had a stint as manager of Barnsley before moving into law as a consultant for LCF Sports Law and then Blacks Solicitors.