By Chris Dunlavy
NEIL Warnock has barely finished his beef stew when a track-suited coach careers into the Cardiff canteen.
A furrowed brow, an urgent whisper. "I'll be five minutes," promises the Bluebirds boss, cutlery jettisoned as he scurries into an adjoining room.
By the time Warnock re-emerges half an hour later, the lights are off, the dishes are steaming and the chef is heading home. No pudding today.
"Who'd be a manager, eh?" laughs the 68-year-old when we are back in his spacious office at the upscale Vale Resort in Hensol. "Always some bloody crisis."
The exasperation, though, is delivered with a smile. A week shy of his 69th birthday, there's nowhere – not even his beloved Cornwall – that Warnock would rather be.
"I tried living without football, and I wasn't the same person," explains Warnock, who is married to Sharon and has four children, James, Natalie, William and Amy.
"I didn't really enjoy feeding the chickens or going to the shops or any of that mundane stuff you do when you retire.
"Sharon and me, we had a few holidays. They were nice, but even while I was there I was thinking about football. What's the point in that?"
Warnock doesn't look like a pensioner, less still a gnarly veteran of 16 clubs, seven promotions and 37 years at the football coalface.
Nimble and enthusiastic, he barrels around Cardiff's training base like a kid on smarties. Yet the reasons for that self-ascribed "year out" were never physical.
In 2015, shortly after he left Crystal Palace, wife Sharon was diagnosed with breast cancer. A mastectomy was followed by chemotherapy, which in turn led to Lymphoedema, a debilitating condition where fluid retention causes the limbs to become swollen and painful.
Warnock has described the subsequent period as a "black hole" but says the family are optimistic of a recovery.
"Everybody's rallied round," he says. "And Sharon's been great. Women are always a lot more stoic than us lot, aren't they?
"It does give you perspective. You think about your problems in football. Who to drop, players getting injured. But when somebody you love gets cancer, you look around and think 'Who cares? How lucky am I to be fit, healthy and managing a team like this?'"
Yet, if Sharon's illness was the driver, Warnock's willingness to leave football was also informed by bruising stints at Palace and, particularly, QPR.
Having engineered promotion to the Premier League in 2011, Warnock saw the camaraderie he'd fostered at Loftus Road destroyed by big egos and big pay packets.
By his own admission, Hoops chairman Tony Fernandes was conned into signing mercenaries, who then started a whispering campaign against their manager. By January 2012, Warnock was gone.
"There are plenty of good pros in the Premier League, make no mistake," says the boyhood Sheffield United fan, who guided the Blades to the top flight in 2007. "But players rule everything now. They definitely rule managers.
"When I was there, you had players going out socially with the chairman. Are they ever going to say anything good about you if they aren't in the team? No, they belittle you.
"The chairman thinks he's getting inside information on what's going wrong, but he's really getting one guy's gripes.  Once the chairman starts listening to players, forget it.
"At that level, there are too many individuals and not enough teams. Put it this way, I look back over those seven promotions and all my lads still meet up now. Will any team in that Premier League be having a reunion in ten years? I don't think so.
"But it's not just the players. It's the money. Everything's driven by finances and the fans get neglected.
"They aren't top of anyone's list, but they are what has kept clubs going for decades, long before all this TV money started. Clubs have lost their manners.
"Me, I enjoy the rapport with fans when I get off the bus. And I always sign autographs. That's one of my big gripes. Players now get off the bus with their earphones on and don't stop to sign anything. Don't even look at you.
"That only happened to me once as a kid, but it stuck. I'd stood outside Bramall Lane for this player because I especially wanted his autograph. For some reason he was late.
"It was half past six, chucking it down. I'd been there an hour and a half when he came running out. I said 'Please, can you sign my book?' And he said 'Sorry son, I'm so late' and belted across the road. I cried my eyes out that night and I thought 'If I ever get to that stage I'll never refuse'.
"Being in that environment just… I don't know, I lost a little bit of zest. And it's amazing how many fans up there say 'I don't care if we go down'. I think they see the Championship as the way football should be. I do."
And it was the Championship, ultimately, that rekindled Warnock's faith. In February 2016, Rotherham were dead, buried and heading for League One when Millers chairman Tony Stewart issued an SOS direct to Warnock's mobile phone.
Having initially refused, he found Sharon famously intervening. "I'd just come in from feeding those bloody chickens," he laughs. "She was saying to the nurse 'If Neil washes the pots, the water goes everywhere. He never makes the bed. He never plumps the cushions'.
"I said 'Hold on, why don't I just get out of your way and go to Rotherham?' She said 'Yeah, go on then!' And that was that."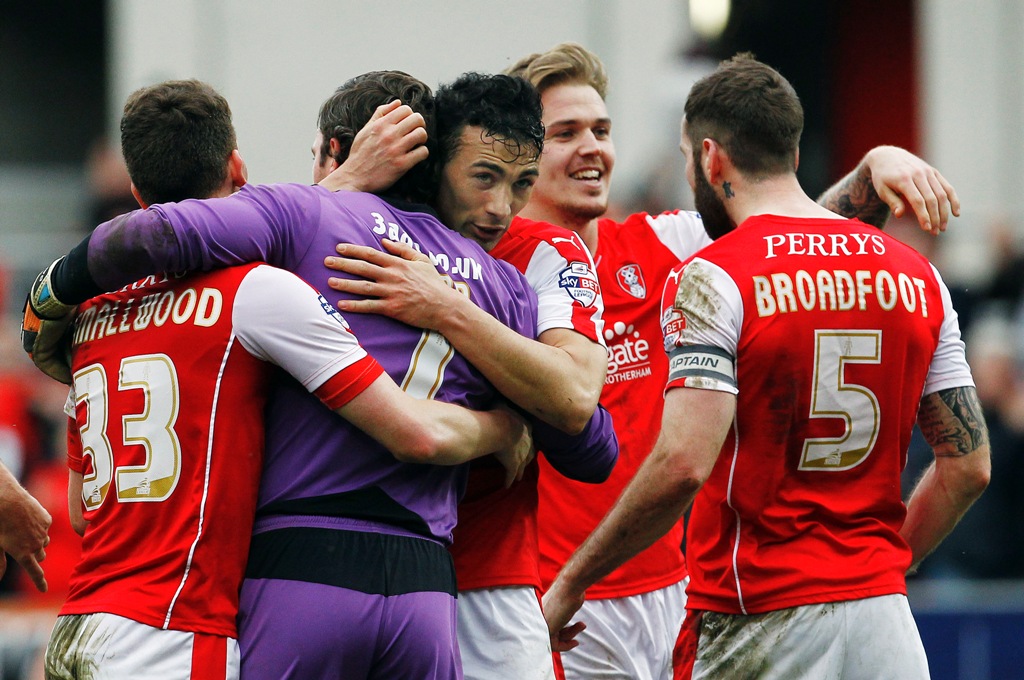 What followed was six wins, six draws and arguably the greatest Championship escape act of all time.
"We pulled off miracles like you've never seen," laughs Warnock, who ranks Rotherham's survival as the greatest achievement of his career.
"We were 3-0 down against Derby County, 82 minutes on the clock.
"They're all celebrating on the bench. It was the young lad they had in charge, Darren Wassall.
"Danny Ward scored after 83 minutes. I sent on Leon Best and he scored after 89. Nobody was celebrating then. When we equalised in the 92nd (Best again) it felt like winning the World Cup! You should have seen their faces.
"Middlesbrough were a Rolls Royce that season. At our place, they should have been six up at half-time. I had a few words and we came out and fought like I've never seen. We scored with about 20 minutes to go and won 1-0.
"I got a text off (Boro owner) Steve Gibson on the way home saying 'I knew you'd win when you got away with that first half!' We still laugh about it now."
"We went to Sheffield Wednesday and won 1-0. Matt Derbyshire was up and down the left wing like a young pup. Lee Frecklington was a great captain. The way the fans took to me, seeing those lads – limited but willing to die for us – run through brick walls, it felt like going back ten years.
"I could have stayed at Rotherham and I probably would have if they'd offered what I asked for straight away. But I'm glad they didn't because I'd have just been picking up money to do a job. And, as I said to Tony at the time, it's not about money now,  I just want another go at promotion."
Talking of ten years ago, has Warnock finally mellowed from the ref-baiting, Stan Ternent-antagonising, fight-in-an-empty room firebrand who was disparagingly labelled Colin W****r by opposition fans?
Who called El Hadji Diouf a "sewer rat", racked up thousands in FA fines and once managed to fall out with Kevin Blackwell, his long-time assistant and best friend in football!
"Maybe," he chuckles. "But I don't regret owt I've said. Most of it's funny when you look back. I remember when I was at Palace and we played Bristol City, they put five minutes up.
"Ninety-six came and they got a free-kick. We cleared it for a corner and the ref should have blown then, but he let them take it in the 97th. Of course, they headed it in.
"It was a TV game, so I knew they'd ask me about it straight away. I went into the dressing room and said 'Listen lads, I'm going to get fined now. I'm going on camera and I'm going to say exactly what you're all feeling. But I'm not paying for it, you lot are'.
"Sure enough, they shoved a microphone in front of me. First question: What did you think of the referee playing 97 minutes?' I said 'Well, the time was bad enough but I thought it was out of order when the ref jumped up and punched the air when they scored!' They did me for two grand but the lads all agreed to chip in. Great memories.
"Am I a bad loser? I don't like it. How many games have I done? Fifteen hundred, more. I don't think you can last that long unless you've got that hunger to win.
"An hour before kick-off, my stomach is churning. Even after all these years, the nerves are horrendous. After breakfast, I can't eat anything on a match-day. If that feeling ever stopped, I'd stop. But not yet."
In Part Two: How I ended up in Cardiff, managing Adel Taarabt, possession stats mean nowt and why i'll never 'do a Wenger'
*This article originally featured in The Football League Paper which is available every Sunday.