By Matt Badcock
CHANCES are not many people had heard of the Cowley brothers before this season – but that's all changed now.
Danny and Nicky, the management duo in charge of Lincoln City, hit the headlines as the Imps made a remarkable run to the quarter-finals of the FA Cup this term, beating Burnley on the way before being knocked out by Arsenal.
But the Cowleys have long been making a noise in Non-League football and now they've added the National League title to their CVs – plus the right to call themselves Football League managers.
"When you haven't played in the League, you have to earn it," Imps boss Danny Cowley told The FLP. "That's what we've done. We know the rules. When opportunities come around to change your life, the most successful people take them.
"Now we've got this opportunity to be Football League managers. We expect to take it."
They're a ten-year overnight success. Starting out in the Essex Senior League with Concord Rangers – Nicky was their star midfielder before later moving into the dug-out – they took the tiny club, based on Canvey Island, to Conference South.
That landed them a shot in the National League with Braintree Town last season, and their winning habit continued by guiding the part-time side, with a small budget, to third place.
Lincoln came knocking in the summer, offering a shot at full-time management, so they gave up their jobs in the PE department at the Fitzwimarc School and headed north.
Lincoln have been in the doldrums since relegation from League Two in 2011 and hadn't even managed a top-half finish before this season's title triumph.
The championship was confirmed last Saturday with a 2-1 win against Macclesfield Town in front of more than 10,000 joyous supporters. So, has planning started for the big time yet?
"Started Sunday morning!" Danny said. "We've had some plans in place but you don't want to be complacent or get ahead of yourself when you're still fighting to win the league.
"So the focus, particularly recently, has been on finishing the journey and getting promoted. Now we have.
"It's 24/7, 365 days of the year. We've got to be on it. We're not going to rest on our laurels. We need to use this as a springboard.
"We're respectful of League Two. Cheltenham were a fantastic team last season and so were Grimsby. Cheltenham have just about staved off relegation and Grimsby have had three managers, so it's a tough division.
"It's one we need to get the plans in place for now. We've obviously done well financially out of the FA Cup, but we mustn't put all our eggs in one basket and waste that money.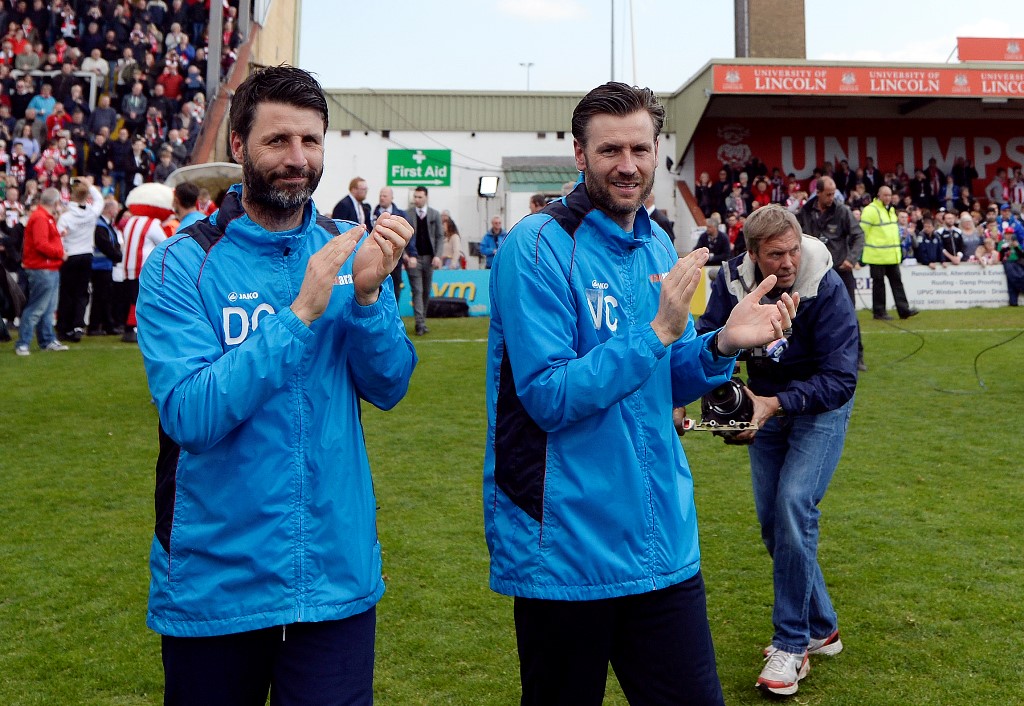 "It's about trying to build the infrastructure of the club so we've got a solid foundation to have continued success. That's what we want.
"We're trying to put that in place. We'll try to improve our training facilities, our academy and, hopefully, that will allow us to improve our playing squad and our playing environment, which will allow us to keep winning games." And they'll also look to continue the recipe that has brought them so much joy with their players prepared to match the work ethic demanded by the management team.
"We just try really hard every day," said Danny. "We love football so we're naturally enthusiastic about it.
"It's a whole group of people who have achieved this. It's not  one or two people, it's a whole group. It's been a brilliant journey.
"I feel really sad to be leaving Non-League. It's been so good to me as a player and then as a manager.
"I will dearly miss it because it's real. It's just real football and real people."
*This article originally featured in The FLP on 30 April 2017 – Subscribe to the paper here