(Photo: Action Images / Henry Browne)
By Chris Dunlavy
FORGET promotion to the Premier League – Brighton supremo Tony Bloom is planning to turn the Seagulls into a European force.
That is the view of club legend Kerry Mayo, who made over 400 appearances in 14 years for his hometown club.
Bloom, a boyhood fan whose personal fortune is estimated at over £1bn, has spent £250m since buying the club from Dick Knight in 2009.
And on Monday night his investment paid off in spectacular fashion as a 2-1 win over Wigan sealed a place in the top flight for the first time in 34 years.
But Mayo, who spent Monday night partying with Brighton's staff and players, says Bloom – a personal friend – will not simply settle for survival. "First and foremost, it's about staying in the Premier League," said Mayo, who still attends every home match. "For now, that will be the only thing on Tony's mind.
"But if Brighton can sustain that status for the next two or three years, then there'll be a push towards European football. I strongly believe that.
"Tony drew up a five-year plan to reach the Premier League when Brighton moved to the Amex in 2011. It's a year off, but it's worked out.
"And from speaking to Tony – and knowing him as well as I do – I'd be very surprised if there wasn't another five-year plan to take this club into Europe. If you look at the stadium and the facilities, that's what everything's been gearing up to."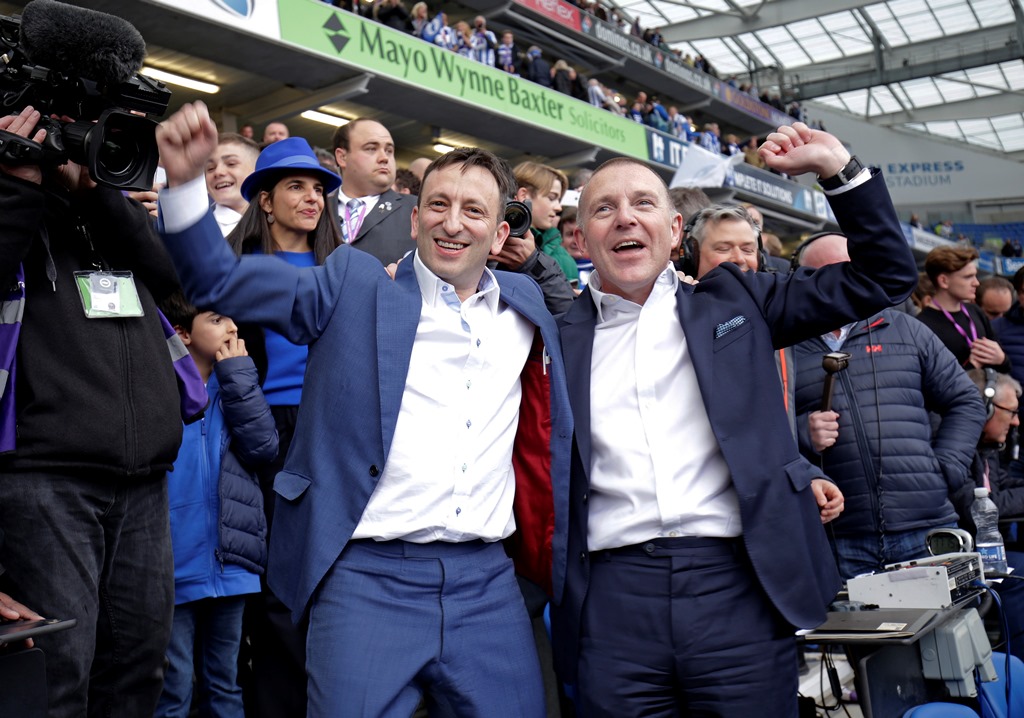 European football was the last thing on Mayo's mind when he made his debut in 1996 with Brighton bottom of the Third Division and close to going out of business.
"I was on a month-to-month contract," he recalls. "And that was only because Jimmy Case, our manager, took a £150-a-week wage cut so the club could afford to pay my wages.
"Without him, I probably wouldn't have had a career. A lot of lads were let go just because the club didn't have any money.
"The place was in absolute disarray. They sold the Goldstone Ground for £7m just to clear debts, which was a disgrace. At one stage we were 11 points adrift at the bottom of the table.
"Thankfully Steve Gritt came in as manager and did a wonderful job keeping us up, but it was a close run thing.
"If we hadn't drawn at Hereford on the final day, we'd have been out of the Football League with no home ground, no players and on the verge of extinction. It would have been fatal."
Saved from ruin by local businessman Dick Knight, the Seagulls battled through two years playing 'home' games at Gillingham, then another 12 at the Withdean athletics stadium.
"It wasn't the best ground but it turned us into a community club," recalls Mayo. "There was a bond between players and fans and a sense that things could only get better."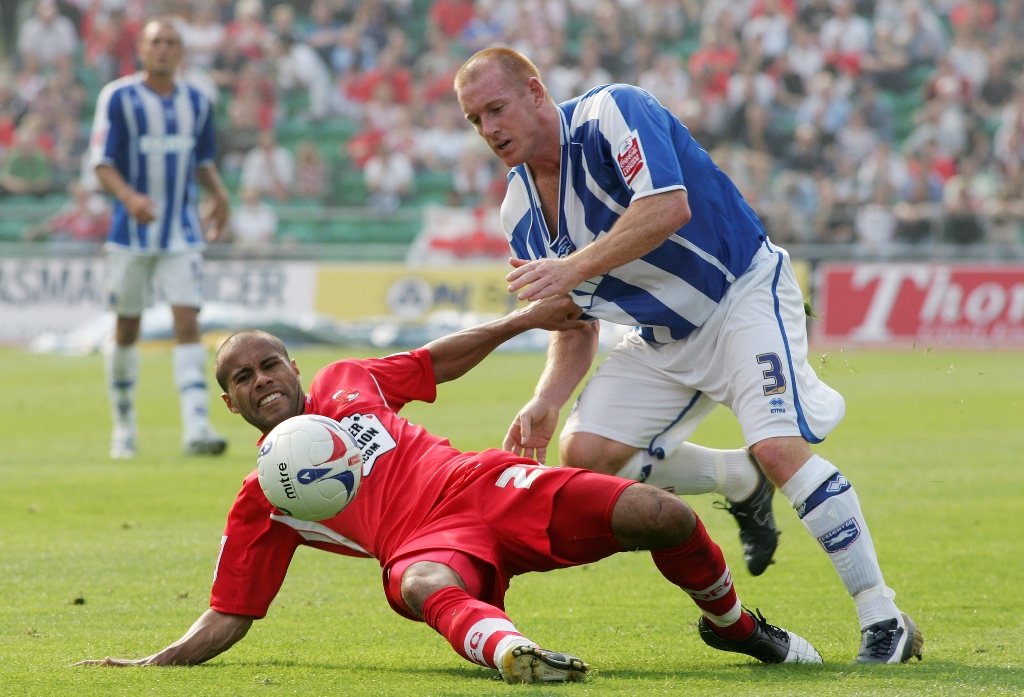 And when Bloom, who made his money from gambling and property, took control in 2009, they did. Eight years on, the club Mayo knew has changed beyond recognition. International players, a 30,000-seat stadium modelled on the Emirates, a training ground akin to St George's Park.
"Tony's injected money, enthusiasm, power and drive," said Mayo. "He hasn't just taken the club up one level. He's taken it to the elite level."
Bloom is undoubtedly the architect of Brighton's success. But every general needs a good lieutenant and in manager Chris Hughton – a Championship winner with Newcastle in 2010 – Bloom has found his.
When the 58-year-old took over in 2014, the Seagulls were flirting with relegation. Play-off contenders under Gus Poyet and Oscar Garcia, Sami Hyypia's cut-rate squad was a disorganised mess.
Hughton instantly steadied the ship before steadily injecting quality additions like Beram Kayal, Anthony Knockaert and, this season, Glenn Murray.
"When Gus was here, the team played very good keep ball," adds Mayo. "We were great to watch. We dictated the pace. It was very hard for the opposition to score.
"But we rarely won games by more than one or two goals. There was no spark or burst of pace up front. Oscar was the same.
"Chris changed all that. He's a manager who knows the Championship very well. Who knows the Premier League very well. He's got a recruitment process and a team of people around him who know exactly what type of players he wants and who can adapt to the way he plays.
"If you've got that confidence – that feeling that you're all together and all sticking to a plan – you feel like you've won a game before it even kicks off."
Mayo also praised the consistency of keeper David Stockdale but was in no doubt who has been the on-field driving force behind Brighton's promotion push.
"Anthony Knockaert is the EFL Championship Player of the Year for a reason," he said. "He's known as the Little Magician at the club. Whenever he gets on the ball, you can feel a buzz go round the Amex.
"But he doesn't just attack and torment defenders, He does the dirty stuff, the gritty work, getting back and helping the full-back.
"When you've got a player like that in your team, it helps everyone else out. Under Gus, Brighton would win the ball back and have nowhere to go. With Knocky in the side, there's an instant break on. He's been so, so important.
"As a former player, watching the game can be hard. But it's made easier when you're a fan of the club and you're watching players like that. I've wanted them to do well for so long and seeing Chris and the chairman out there celebrating – it gave me so much pride."