By Charlie Bennett
SOUTHEND United  striker Simon Cox wanted to celebrate scoring his 100th career goal in style – but had to laugh when his best-laid plans literally fell apart.
Heading into United's clash against Rochdale a fortnight ago on 99 goals, the 29-year-old thought a t-shirt under his jersey with '100 goals' would be perfect if he netted against Dale.
And he did just that, netting an injury-time winner in a 2-1 success for Phil Brown's men. Cue the celebration…
"I'd asked Gary, our kitman, to print me a shirt saying 100 goals on it and he brought it back with an apostrophe in the word goals," said Cox.
"I said 'Gaz, that's not the way you spell it' and so he had to go back to the printer and heat up the lettering again to take it out.
"When he brought it back again the one and one of the zeros were flapping a little bit, but I did not want to send him back because who knows what he would have done with it then!
"I thought if I scored early I would be OK but as it was in the 90th minute they had fallen off. The shirt read '0 goals' and I just had to laugh at it!
"To get 100 career goals is not something I ever thought I would get to when I started out, but I knew at the start of the season that I needed nine goals and it was a case of how long it was going to take. If I stayed fit, it was just a matter of time.
"Now I want to score more and help us get promoted."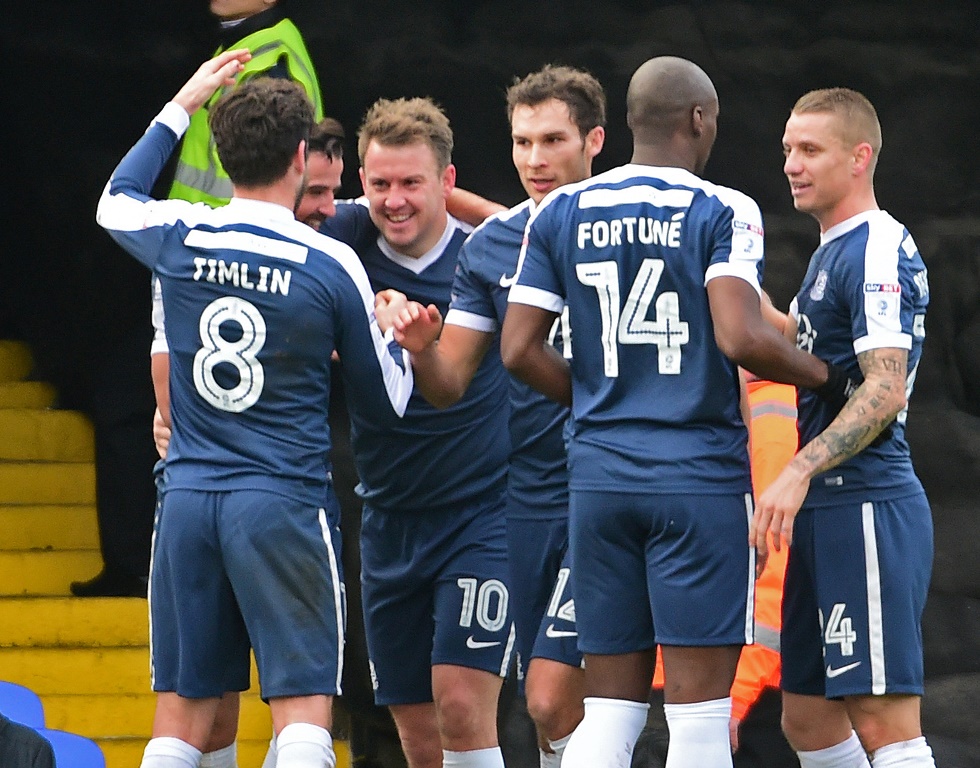 Something else that should give the former Republic of Ireland international a boost for the remainder of the season is finally moving into a new home.
He joined Southend in the summer, having been released by hometown club Reading. But it hasn't been all plain sailing. The ex-Swindon, West Brom and Nottingham Forest forward started the season with just two goals from his first 16 appearances – as life off the pitch began affecting his form on it.
He has lived out of a hotel for seven months after seeing one house fall through at the last minute. But in two weeks he will finally be out of his hotel room and he says knowing a move is round the corner has had a major impact on his game, with five goals in his last five games heading into the weekend.
"Buying a house is a weight off my shoulders and it has given me a new lease of life," said Cox. "It will be nice to get out of there and have my home comforts again. In a hotel, you get a box room and you wake up, go to training, come back and sit in this room. It affects your life.
"I would never have imagined I would have been in a hotel for seven months. I hoped to be there two or three months maximum.
"I had a house fall through on the day I was supposed to exchange keys, which was not good. I had to go back to the drawing board and it takes a long time to go through that process. I can see the light at the end of the tunnel now."