By Neil Fissler
ROBERT MAXWELL is not remembered fondly for most things, but for a short time he was the toast of Oxford United.
The club had been elected to the Football League in 1962 and enjoyed some moderate success, with  two promotions in their first six seasons.
But they were on the verge of bankruptcy and just two weeks away from closure when, in January 1982, Maxwell stepped in and saved the club.
Then, in April 1983, with a promotion bid faltering, Maxwell announced a plan to merge with bitter rivals Reading to form Thames Valley Royals.
They somehow came through all of that and, in a golden era, romped to the Division Three title in 1984, finishing eight points clear of Wimbledon.
Then, 12 months later – after 23 years in the League – they won promotion to the First Division for the first time, finishing two points ahead of Birmingham City.
"Looking at the history of Robert Maxwell, I apologise to every pensioner I see now, but if it wasn't for him we wouldn't have got to where we were," said winger Peter Rhoades-Brown, who still works for the club.
"It's the same as it is now. If it wasn't for the money backing a club, you can't buy players, but we went from Division Three to Two and then the Milk Cup Final in three years.
"Maxwell was a multi-millionaire globe-trotter and sometimes he would come and sit in the dressing room. I remember walking in somewhere at half-time when we were 2-0 down.
"We expected Jim Smith to paint the walls with our blood. He was about to let rip and Maxwell came in and sat down. Jim then just took it down a couple of pegs.
"I think, after that, Malcolm Shotton invited him to sit in on every half-time team talk!"
A huge amount of credit for promotion was due to the division's leading scorer, John Aldridge, with 30 goals, the vast majority created by Rhoades-Brown and Kevin Brock.
"When we got promotion from Division Three, we made some decent signings late in the season, when, I think, John and Les Phillips came in," said Rhoades-Brown.
"Then, after we went up, we all got together after about ten games and realised there was nothing to scare us – and we did really well.
"John said in his autobiography that he wouldn't have had the goals if it wasn't for crosses from the likes of Kevin and myself. It's true he wouldn't have had as many.
"I didn't score many myself, but I was paid to create them for John and Billy Hamilton, as well as Dean Saunders.
"It was so easy for me. I was told to beat the full-back and just pick someone out near or  far post. They always latched on to it because they were natural goalscorers.
"John was just amazing. I always knew where he was going to be and that made it so much easier. He wasn't the best of runners but he got into some great positions."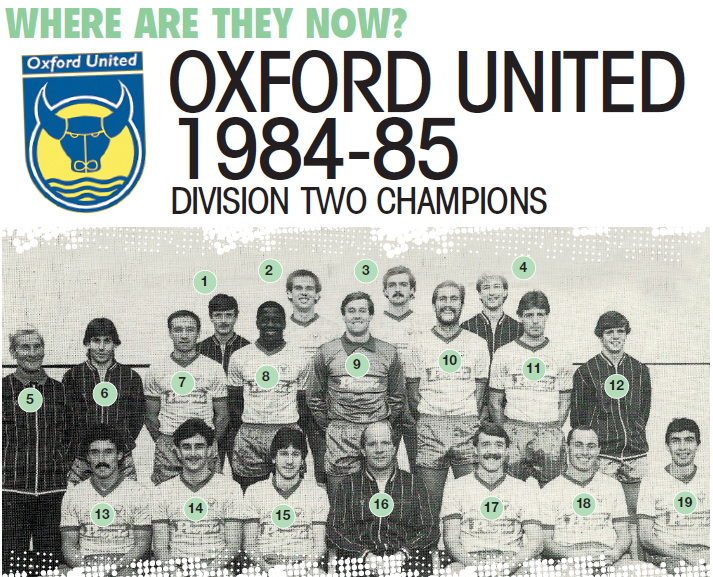 Les Phillips: Midfielder, part of two promotion winning squads with the U's. He has worked for a building company in Oxfordshire and scouted for the club.
Paul Hinshelwood: Full-back who was a member of five promotion-winning squads at Crystal Palace, Oxford and Millwall. He sold insurance in Kent and is now a postman in West Sussex.
Gary Briggs: Central defender who helped Oxford to back-to-back promotions and later another with Blackpool. Now living on the Fylde coast and has worked as a caretaker and a civil servant.
Andy Thomas: Midfielder who won back-to-back promotions with Oxford and has managed Oxford City and Banbury United. He works at Wychwood Golf Club, Lynham, Chipping Norton.
Ken Fish: South African international who retired after spending 20 years on the Oxford coaching staff. He lived in Stoke-on-Trent at the time of his death in April 2005, aged 91.
Gary Barnett: Midfielder who won the League of Wales Manager of the Year award in three consecutive seasons with Barry Town. Now a personal trainer from his base in the Cotswolds.
David Langan: Republic of Ireland right-back, who also won the Milk Cup with Oxford. He was employed in the security industry and then became a porter at Peterborough Town Hall.
George Lawrence: Midfielder who helped Millwall win a Second Division title. He has worked as a players' agent, a property developer, personal trainer and now a bus driver in West London.
Steve Hardwick: Goalkeeper who helped Oxford win successive promotions. He has been a groundsman for Hoylandswaine Cricket Club and worked as a technical sales representative.
Billy Hamilton: Forward who was one of the heroes of Northern Ireland's 1982 World Cup campaign. He set up his own trophy business in Bangor, Northern Ireland, while also working as a media pundit.
Trevor Hebberd: A midfielder who won one promotion with Southampton and two at Oxford. He is now living in Leicestershire and has worked as a warehouseman for a steel stockholder.
Mark Jones: Winger who helped Oxford win two promotions before achieving another at Swindon. He is now director of Oxfordshire-based Premier Soccer Centres, which he started in 2003.
John Trewick: Midfielder who won successive promotions with Newcastle and Oxford, as well as West Brom earlier in his career. He has managed Hereford and coached at a number of other clubs.
John Aldridge: Republic of Ireland striker. Won a League title with Liverpool, managed Tranmere, owned a bar and works in the media on Merseyside.
Kevin Brock: Midfielder who won England Under-21 honours. He has managed Oxford City, Banbury United and Ardley United. He works for kitchen fitters Inside Out in his native Bicester.
Jim Smith: The Bald Eagle enjoyed a long career in management and coaching and retired after leaving the Oxford United board in 2009.
Malcolm Shotton: Central defender and Oxford captain who lifted the Milk Cup. He later managed the club and coached at Leeds before working as a salesman for Mercedes in Huddersfield.
Bobby McDonald: Left-back who played for Manchester City in the 1981 FA Cup Final. Started his own academies after coaching in Scotland and now works on a freelance basis throughout the UK.
Peter Rhoades-Brown: Left-winger who won back-to-back promotions with Oxford, staying on to work in the commercial office. He then ran the community programme and is now business development manager.