Rock-solid: Andy Edwards has provided a foundation at Leyton Orient's academy whilst eight first-team managers have come and gone (Photo: Action Images / Paul Redding)
By Chris Dunlavy
FOR Peterborough supremo Barry Fry, the pursuit of Andy Edwards has been a ceaseless endeavour.
"I inherited Andy at Southend in 1993," explains the 71-year-old, now director of football at London Road. "He was a brilliant defender. Put his head in anywhere, tackled, used the ball. He had a bit of everything and was a fantastic captain for me.
"I signed him for Birmingham, then for Peterborough. He must have played more than 400 games for me all told. I even tried to snatch him from Orient to manage our youth team – twice – but he was too loyal."
Loyalty has always run deep in the new O's manager, promoted this week to replace the sacked Alberto Cavasin.
From the day he made his Southend debut as a 17-year-old in 1989 to the day he quit the pro game 18 years later, Edwards represented just four different clubs.
First came the Shrimpers and a journey from the pits of Division Four to the brink of the newly-formed Premier League. A season at Birmingham, then seven years at Peterborough, culminating in a play-off victory at Wembley. Edwards it was who led the team up the steps.
By 2006, courtesy of a stint at Rushden & Diamonds and two years back at Roots Hall, the man nicknamed 'Eagle' had amassed six promotions and not a single relegation. "It's no coincidence that success followed Andy around," adds Fry. "He was a leader, the kind of player every manager wants in a dressing room.
"He was great with the players. Everybody listened to him. If he criticised, it was constructive. If he complained, it was justified. And he didn't bawl and shout. He got his point over calmly and firmly. He was great in the community as well. He'd do anything for the club."
Those sentiments were echoed by Rushden boss Brian Talbot, who described Edwards as a "terrific ambassador" for the club during his solitary, 41-game season for the Irthlingborough minnows.
So, too, by those who played alongside him. Adam Drury, a youngster at London Road who has since played in the Premier League with Norwich, hailed the influence of his defensive partner.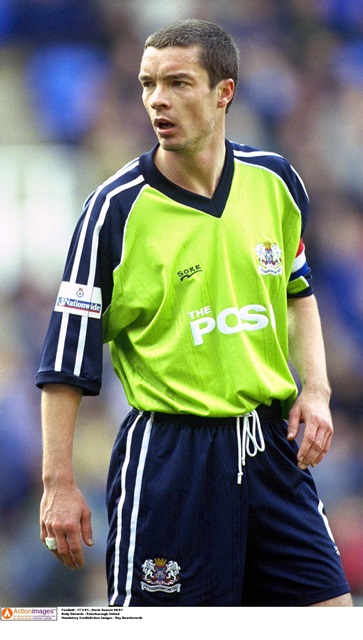 "For a young lad coming through, he was brilliant," said the 38-year-old, who retired in 2014. "He was always talking you through games, always giving you help and advice.
"He had enormous respect from all the lads, not just because he was our captain but because of how he was as a person."
Even as an injury-plagued veteran, Edwards still garnered plaudits. Terry Brown, his final club manager at Aldershot, hailed the defender's leadership and ability, "both to instruct players around him and deal with the ball itself."
That was evidenced a year later when Rhys Day, a centre-half extensively mentored by Edwards, led the Shots to the Conference title with a record-shattering points tally.
By then, though, Edwards was earning his coaching stripes in Arsenal's academy while assisting ex-Posh team-mate Steve Castle at St Albans.
Bursting with ideas and a natural around youngsters, Castle swiftly realised the partnership was doomed to be short lived. "He's an outstanding coach and that has been noticed at various levels," he said when Edwards was lured to Leyton Orient as youth team coach in 2009.
"Very informative, very knowledgeable. Every player here will bear that out. He's been great for me and, to be honest, he'll be a success wherever he goes."
So it has proved. Throughout the turmoil of recent years – the O's have rifled through eight managers since his appointment – Edwards has provided a rock-solid foundation, his supply line of talent cherished by every new arrival.
Moses Odubajo, the full-back sold to Hull City for £3.5m, is perhaps his crowning achievement, though the likes of Aron Pollock, Josh Koroma and Charlie Grainger are just the latest in a slew of youth graduates to play for the O's first team.
So respected was his work as academy director that both Andy Hessenthaler and Kevin Nolan invited him to join the first-team staff during their time in charge.
---
The FLP's weekly profile is sponsored by Marathonbet. Odds here: https://www.marathonbet.co.uk/en/
---
"You look at big teams like Chelsea and the youth and first team work on different sites," said Edwards.
"But every day for the last seven years I've sat opposite whoever the manager has been and been part of discussions.
"I've been part of training so you are very closely linked to the first team. I've seen everything that goes on."
Edwards' brief stint as caretaker following Hessenthaler's departure in September was roundly praised by O's players, who lobbied for his retention.
"It was the attention to detail," said defender Tom Parkes. "Little clips, bits of information. We felt very prepared and knew exactly what we were coming into."
Now, after the predictable failure of Cavasin and yet another quickfire sacking, owner Francesco Becchetti appears to have finally listened.
"I'm absolutely delighted Andy's been given the chance," said Fry. "And I'm telling you – he will sort Orient out as long as he's left alone.
"I've watched him for a number of years now and he's a top-class coach. He's also a very sensible man, very level-headed. If he wins 3-0 or loses 3-0, he'll be the same. He's the stability they desperately need.
"That's why I would say to the Italian gentlemen 'Leave him to get on with it and you'll see Orient rise to where they should be'. Do that and I know he will succeed."
*This article was originally featured in The FLP on 27 November 2016.
---
Andy Edwards FACTfile
Born: Epping, 1971 (Age 45)
Playing Career: A centre-half, Edwards was a YTS at Southend who made his debut in a Division Four match against Wigan in 1988, aged 17. In six years at Roots Hall, he made 147 appearances, winning consecutive promotions from Division Four to Division Two between 1990 and 1991. He made a £450,000 switch to Birmingham in 1995, playing 41 games, finishing 15th in the second tier and appearing in the League Cup semi-final defeat by Leeds. Unwanted when Trevor Francis replaced Barry Fry, Edwards rejoined his old boss at Peterborough in November 1996. He would spend the next seven years at London Road, scoring 13 goals in 310 games and captaining his side to victory in the 1999-2000 Third Division play-off final. A move to Rushden & Diamonds in 2004 brought a Second Division title, followed by consecutive promotions to the Championship with Southend between 2005 and 06, taking his appearance tally for the Shrimpers beyond 200. After a final season at Aldershot in 2006-07, Edwards retired.
Managerial career: After coaching at Arsenal's academy and assisting Steve Castle as manager of St Albans, Edwards joined Leyton Orient as a youth team coach in 2009. This role morphed into the position of academy director two years later and, after a spell as caretaker in September 2016, Edwards was named first-team manager earlier this week.