(Picture: Action Images)
Aston Villa have announced the appointment of former Brighton coach Colin Calderwood as Steve Bruce's new assistant manager.
Calderwood, who was at Villa as a player, and assistant manager at Brighton, was put on gardening leave on November 12 after making it clear he wanted to leave the Seagulls, and officially left just hours before the two sides played on Friday night.
A Brighton statement that was released on the club's website late on Thursday hinted at the 51-year-old's departure, and Chris Hughton confirmed the news after the 1-1 draw at the Amex.
"It has been agreed for Colin to go to Aston Villa and he is free to go." said Hughton.
"I'm disappointed and very surprised.
"We have to move on. We have a team that is very well drilled at this moment.
"My main concern now is that we have no disruption here. I will think long and hard about bringing someone in that position."
There was thought to be some dispute over a compensation deal for Calderwood, who still had a year left on his Albion contract, but that has been resolved and Steve Bruce told Villa's official website that he is delighted to have the former Hibernian and Northampton boss on-board.
"When I heard Colin was interested he shot to the top of the pile," said Bruce.
"We interviewed two or three people but once I knew Colin was available there was only one person I wanted here."
The loss of Calderwood could pose a problem to Brighton who are aiming to complete their dream of reaching the Premier League, after coming so close last season.
Hughton's ex-assistant is regarded as one of the main reasons for Brighton's miserly defence, which has conceded just 10 league goals all season and kept 10 clean sheets; more than any other team in the country.
Albion captain Bruno said: "It's a big loss for us. He was so popular, but we are looking forward now and wish him the best of luck.
"He's experienced and knew the league a lot. His character is very positive and it's a big loss, but we have to move forward.
"Everyone was surprised, and we didn't expect this, but it's life. These things happen and everyone has their reasons."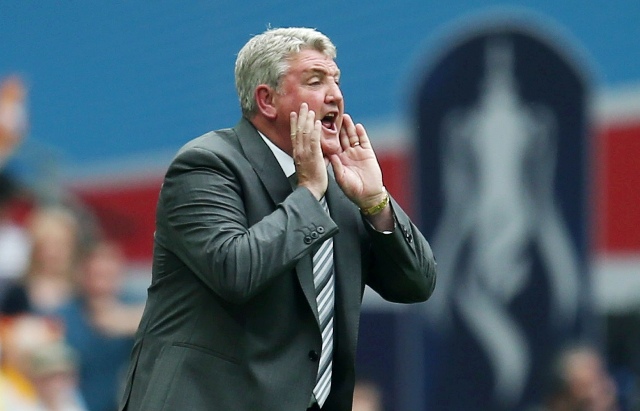 Bruce took over as Villa boss on 12 October, after Roberto di Matteo lost his job, and the former Birmingham boss is yet to see his new side taste defeat as they play catch-up with the pack hunting promotion.
After Bruce brought in former Blues player Stephen Clemence as head coach, having worked with him at Hull and Sunderland, and Villa named Ian Atkins as their new chief scout, Calderwood could be the missing piece of the puzzle.
Villa director of football Steve Round said: "We are delighted to secure the services of Colin. He is an excellent coach and an outstanding person.
"He has a wealth of experience at the highest level and will be a great addition to our management team."
Brighton meanwhile have been linked with former Cardiff manager Paul Trollope to replace Calderwood, and he could be in place before Fulham's visit on Saturday.