by Mark Sharman
IT'S A WET NIGHT in Derby and the autumn breeze is funneling drizzle into the front rows of the stands, but nothing can dampen the spirits of another bumper crowd at the iPro Stadium. Borrowing the Harry Kane song from Spurs, they raise arms and roar "he's one of our own, he's one of our own…" as Derby County move towards their eighth win in ten games.
But this adulation doesn't belong to any star striker, it's for owner-chairman Mel Morris.
He admits to feeling a little awkward with the attention and isn't sure whether or not to acknowledge it, but he can afford a smile. In fact, Mel Morris can afford pretty much anything he wants.
The Sunday Times Rich List estimated his worth at £400million from software and technology – and to top that, on the very day of Derby's QPR match this week, his King Digital Entertainment, makers of the game Candy Crush, announced a proposed sale to US firm Activision for £3.8 billion. Morris owns 12.5 per cent of King – you do the maths!
He is the supporters' perfect owner, the local kid from the terraces who made a vast fortune and bought the club he loved. And not just any club; Derby, twice Champions of England and boasting a legacy of legends, Dave Mackay, McFarland and Todd, Archie Gemmill, Kevin Hector, Charlie George – and the two men whose bronze statues grace the iPro, Brian Clough and Peter Taylor.
Derby's history is a backdrop to Morris' life; his roots go back 46 years and a couple of miles, to the old Baseball Ground, a swamp of a pitch where the spectators were so close they could smell a winger's after-shave and where, at five to three on any given Saturday, emotions soared as the Rams took the field to The Dam Busters March.
"Derby County 5 Tottenham Hotspur 0, that was my first match," says Morris. "Jimmy Greaves was playing and I expected us to lose 9-0."
In fact, that match in September 1969 is a beacon in Derby's past. Clough's Rams were new to the top flight and skipper Dave Mackay was up against his old Spurs team-mates. A record crowd of almost 42,000 witnessed a remarkable performance – no wonder the 13-year-old Mel was hooked.
Did he have a season ticket?
"No, I couldn't afford it," he said.
"I sneaked in a few times without paying. Also, I sometimes went on the roof of the Leys factory next door, from where you could see some of the match.  My father was a builder and we knew some lads who worked there."
He now has a very clear view, both of the game and the club's future.
"We want Derby County to achieve promotion and be perennial performers in the top half of the Premier League," he says.
Morris took a phone-in on Radio Derby this week, where the toughest question was about the price of a cup of tea (he promised to review the catering). As he outlines his vision, his language is understandably that of the corporate world: growth, increased value in the club's assets, leadership groups, changing working cultures, investing in people. He supports UEFA's Fair Play Rules – and he says he bought Derby County "with my eyes wide open…. I don't intend to lose my money".
This man is, remember, first and foremost an entrepreneur. He knows which Premier clubs are operating at a profit (there are 12) and why their models are working.
And, with the new multi-billion TV deal kicking in next season, he's bold enough to stake millions up front to try and earn Derby a slice.  He promises that if head coach Paul Clement needs to further strengthen in January, he'll be supported.
Morris is, though, a true fan and is entirely believable when he says it's not about the money. He's using his management expertise to improve the philosophy and practices at Derby County from top to bottom.
"I don't feel as though I own the club," he says, "I'm the custodian. I enjoy the pride in what we're doing. "
He emphasises that it's not his style to micro-manage, "but it's important that we sort out targets and a time frame".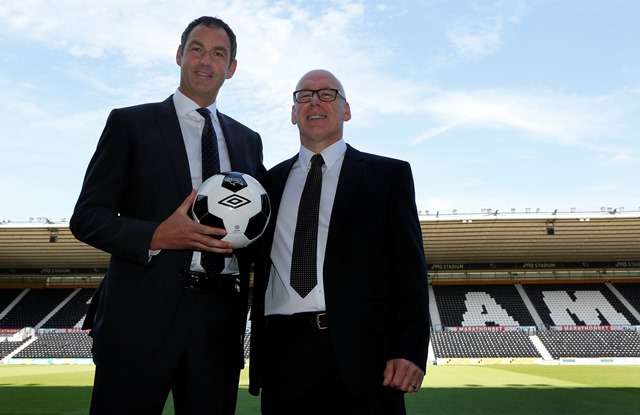 So, with that in mind, and with Derby's passionate football population fully expectant of success, is there extra pressure on Clement?
Morris replies: "Paul was on our short list of one…this is a man with a lot of talent. He's keen to learn, he's going to grow with us, he's going to take this team and improve it. We're not thinking short term. If we don't achieve this year, we must think how we can do better."
And, in a statement that should shock the football world, he adds: "Points and league positions can't be the only measure of success. If the squad is improving, then the value increases and the cost of further improvement is less.
"If we don't get promotion this season, we won't get rid of Paul Clement."
As you'd expect from a man of such phenomenal success in business, Morris answers every question with clarity.
Equally, he doesn't shy away from tough decisions – ask Steve McClaren about that – but he remains a man of the people, as befits a lad who left school at 16 to work in a pork pie company. He talks to as many members of staff as possible, except the players, on match days and always greets the groundsman.
"He's the last man the players see when they run out of the tunnel, we want him cheerful," Morris explains. "He said I'm the first chairman in 25 years to do it."
Morris readily admits he hates losing, but tries to learn lessons every time. He should know – he's the man who invented the equivalent of Facebook and didn't realise it.
"uDate was a success for me, but I thought everyone would only be interested in meeting new people – I didn't think they'd want to chat to people they already knew," he admits. "So we sold for millions rather than the billions Zuckerberg made. It was the biggest mistake of my life."
Last night's defeat at arch-rivals Nottingham Forest would not have gone down well for the man who says he was inspired by his school reports – a recurring 'could do better'.
Doubtless that's a message he'll have taken back across the 16 miles of Brian Clough Way. But don't expect one result to knock Morris, or Derby, off their ambitious track.