By Joshua Richards
PLAYING for England and firmly focused on promotion to the Premier League, Solly March has come a long way since turning out for Non-League Lewes.
But the Brighton winger is still just 21 and in no doubt that the peak of his powers is still some way off.
It has been a rapid rise to the Championship summit for March, who joined Brighton from their Ryman League neighbours as a 17-year-old four years ago this month.
Seagulls' young player of the year in 2013 and now a key cog in the side that sits near the top of the second tier – unbeaten in their last 17 league outings – March has already developed into an exciting prospect.
That hasn't gone unnoticed by England U21 manager Gareth Southgate, who handed him a starting berth in their 3-1 victory over Switzerland on Monday.
However, the man himself is confident the upward curve won't stop there – and his humble beginnings are to thank for that.
"I'm catching up with people because they have been in the professional game a lot longer," said March.
"I've done well in that short period of time but I've got more years to learn things and get better.
"It is a bit of a weird thing. I was playing for Lewes just four years ago and at school. It has happened quickly and I'm probably a late developer so I've still got plenty to offer and plenty of things to improve on.
"I think it gives you more motivation, more drive and more passion to get there because you started lower. You experience what it's like to be in the lower leagues and when you get to the top level, you realise what you've become.
"I have been at the club for almost four years now and a lot of things have happened – I have gone through to the first team and now England. I just need to keep improving and hopefully I can get to the Premier League with Brighton – that would be the next thing."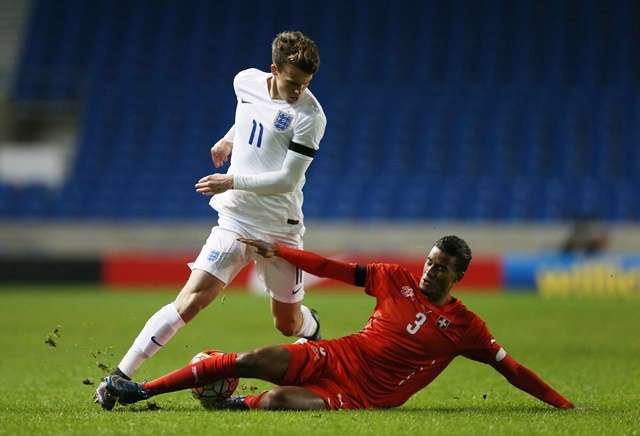 Not only did this week bring March's first England U21 start, but also in the familiar setting of Brighton's impressive Amex Stadium.
"Knowing the surroundings and the changing room, it probably calmed the nerves a bit but it was still a weird experience," he added. "Sometimes I was thinking 'Where's the right-back for Brighton!'
"It probably wasn't my best game going forward but that happens sometimes, especially in international football. You have to adapt and hopefully the more minutes I get, the more effective I can be.
"I had family and friends in the crowd and I did actually see them when we were singing the anthem, but I tried not to make eye contact."
However, focus now turns firmly back to the Seagulls as they seek to maintain a promotion push through the busy winter schedule.
This turn of events with Brighton may not have occurred at all though, March having received an approach from Premier League side Newcastle United as a teenager.
But the lure of playing close to home was too strong and, four years on, it is a choice on which the youngster can look back and afford to be pleased.
"It probably was the right decision to start at a lower level because you are going to get more chances – that was the thinking behind it," he added.
"When you are playing, you're happy – when you're not, you're not so happy. You've got to try and keep playing well to keep your place. It's hard work but that's what it's all about.
"My aim this season was to get more game time – score goals, get assists – and especially in the last four or five games I played, I have been doing that.
"I just want to keep my levels up and keep playing well."