(Photo: The FA)
By Kieran Theivam
England midfielder Jordan Nobbs says the team need to be 'adaptable' after a much-improved performance against Spain last Tuesday saw an encouraging 2-1 win in Guadalajara.
The victory, which came courtesy of an own goal and a beauty of a free-kick from captain Steph Houghton, occurred four days after a dour 0-0 draw with France in Doncaster that saw England fail to register a single shot on target.
Nobbs, who has been a key member of Mark Sampson's squad during his tenure, said England need to be able to adapt to each opponent, and not take anything for granted when coming up against some of the stronger nations.
"We have to be an adaptable team, you can't be over-confident when playing teams like France, they're a great team. If you looked at the way we defended in that game, we were tremendous," she said.
"Spain was a different game for us and we showed what we can do on the ball and how well we can press moving forward. It was two very different games, but we're really happy with this trip."
Much like England, Spain went the whole of their qualification campaign for next year's European Championships undefeated, and hadn't lost a match since they were defeated by South Korea at last year's World Cup.
The Lionesses got off to the perfect start, with Marta Torrejon Moya's own goal and Houghton's set-piece putting England 2-0 up inside 17 minutes.
But the hosts responded immediately when Torrejon Moya made emends for putting through her own net when she halved the deficit just two minutes later.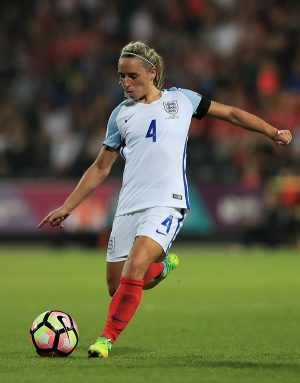 England created plenty of chances, with Nobbs herself hitting the bar with what she described as a 'cheeky chip,' showing their attacking prowess after Friday's defensive display against France.
Nobbs believed her side could, and probably should, have had a higher number in the goals column, but was pleased to have overcome a side with a growing reputation in Europe. A side, also, that contained a couple of familiar faces for the Arsenal Ladies midfielder, former teammates Vicky Losada and Marta Corredera.
"I think the 2-1 scoreline is a bit harsh, we could have scored a few more on the counter- attack, but I thought especially first half we were dominant and didn't allow them many chances, so we were really happy with the performance," she said.
"Some of the players in the Spain team have been with me at Arsenal for the last couple of years, so we know about their qualities and how technical a team they are."
England will play Euro 2017 hosts the Netherlands, who lost 4-2 in Germany this week, at the end of November, which is their last scheduled fixture for 2016.
Ahead of the challenging encounter, Mark Sampson's squad will be glued to their television sets and social media as the draw for next summer's tournament takes place on November 8 in Rotterdam.
Nobbs concluded by highlighting the importance of fixtures against teams such as Spain and the Netherlands, which will prove useful preparation for next year's Euros, where England will have the rare tag of being one of the favourites.
"Preparation and experience of playing these teams is going to be the most important thing," she said.
"You can't go into a European Championships expecting to know what you're up against unless you play these teams, so it's going to be learning curves for all of us in the lead up to the tournament."