by Tony Leighton
PROMOTION. That was the emphatic, one-word answer given 12 months ago by Reading's then first-team coach Kelly Chambers when asked what the club's aim would be in this year's Women's Super League 2 season, which is set to finish today.
Chambers had every right to set the bar high after the Royals finished third in the 2014 WSL 2 table, with former Arsenal and Wales midfield star Jayne Ludlow at the helm and England striker Fran Kirby scoring goals for fun.
But then in November Ludlow left the club to become head coach of her national team. And then, early in this season's campaign, Kirby – after hitting 11 goals in five games – was transferred to Chelsea.
Those departures may have been seen as a double-whammy to Reading's promotion hopes. But that has not been the case, as the table clearly shows.
The Royals, with Chambers having taken over the managerial reins, are sitting top and already promoted – and can step up to the elite division as WSL 2 champions if they beat Aston Villa in today's final round of fixtures.
Chambers said: "I never stopped believing we would get promoted. I'd coached the team before Jayne came in when we joined the WSL, and after working alongside her I was confident of being able to continue what she had started.
"Losing Fran was a huge blow, she's a fantastic player and I was gutted to see her go. But although she is a big part of what we've now achieved, we were never a one-player team as some people on the outside might have thought.
"She understandably took all the limelight, but other girls have stepped up. People may have wondered where our goals were going to come from, but players like Emma Follis, Lauren Bruton and Helen Ward have answered that question.
"If we can now finish the season as champions it will be the icing on the cake, and also well-deserved for a great effort from a close-knit group of players.
"A number of the girls in the squad have been with the club for quite a while – in fact there's half a dozen who I coached in the Under-10s a few years back. That makes this year's achievement even more special for me – it's a fantastic feeling."
It was players from the Under-10s class of 2002/03, among them Kirby, who have gone on to make the first team since their tutelage under an also very young Chambers – who was a mere 16 at the time, but a top coach in the making.
"I'd played for the club's Centre of Excellence team until I was 16," recalled Chambers. "And when I'd graduated from that level as a player I began coaching.
"I started playing elsewhere, but then rejoined the club as captain in 2007. At first it was a bit strange, playing alongside girls I'd coached as very young kids.
"Unfortunately an ACL (anterior cruciate ligament) injury ended my playing career in 2012, but then I moved on to the coaching and management side with the first team as well as still being heavily involved in the Centre of Excellence set-up."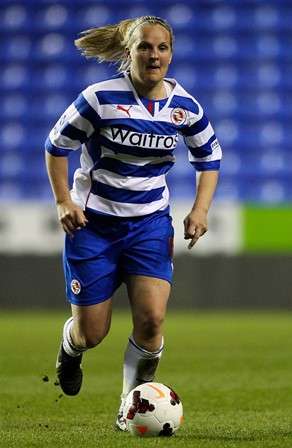 By the time she was forced to hang up her boots, Chambers was already working full-time as the Royals' Director of Women's and Girls' Football, a position she still holds as well as managing the first team.
And the 29-year-old coach is still just as dedicated to player development as she is to leading the senior team up to WSL 1 as one of only two female managers in the top flight – Emma Hayes of champions Chelsea is the other one.
"The club has always had a good player pathway," noted Chambers. "I'm determined to keep it that way and where I can I will do it with female coaches.
"Five of the six coaches in our youth system are females and are being encouraged to do their badges. I got my Level 1 at 16 and Level 2 at 17, and I was also getting good experience coaching our young Centre of Excellence teams.
"There's a number of women around with coaching licences but without the experience of working on a regular basis in clubs, so more opportunities are needed and hopefully we're a good example of providing those opportunities."
Chambers will continue flying the flag for female coaches as she takes on her biggest challenge to date, managing in WSL 1 with a team that for the first time will be full-time professional with the backing of parent club Reading FC.
"I'm really excited about what's happening at the club and so are the players," said Chambers.
"We're working on budgets and logistics at the moment, but depending on finance I'm hoping to have up to 14 players who'll be professional.
"Reading FC have always been very supportive of the women's side of the club, especially this year to help in our push for promotion.
"Now we're looking at next season and areas such as strengthening the squad, which will be necessary to make our mark in the top flight.
"We've already shown our credentials though, playing against Arsenal, Chelsea and Notts County from WSL 1 in the Continental Cup this season.
"We competed well with all of them and although we lost each game it was only by a single goal – and I felt Notts were lucky to beat us in the quarter-final.
"The aim in our first season up there will be to compete as well as we did in those Continental Cup ties and get the results  we need to keep us in the division, which is what we all want.
"In the long-term we'll hopefully be looking to challenge for a place in the top three or four, but that's for the future and right now we just want to finish off this year on a high as champions of WSL 2, that's our main aim.
"We're going up to Aston Villa knowing that we're in for a tough match after they drew with us at our place earlier in the season.
"But we really want that title – and we'll really be going for it!"