by Kieran Thievam
Swedish international Kosovare Asllani says she is 100 per cent sure she will enjoy her football this year after making the move to Manchester City Women last month.
Asllani, 26, has played in some of the biggest leagues in the world, including the US and France, as well as last season's Champions League final with former club Paris St Germain.
With 80 caps for her country already, the Swede is considered a marquee signing, not just for the club, but also for the FA Women's Super League.
However, despite coming to England with a big reputation and a wealth of experience, she seems unfazed by the challenge ahead.
"I don't feel pressure," she said.
"I was curious about this league, this team and about seeing the facilities. I feel sure this was the right move for me."
Known more commonly as 'Kosse' to her teammates, City's newest acquisition is the latest overseas player to join the FAWSL, alongside a handful of fellow Swedes, who are already here.
Fellow forward Sofia Jakobsson had a short stint in 2013 at Chelsea Ladies, but arguably the most successful export from the Scandinavian country is goalkeeper Hedvig Lindahl.
She won the double last year with Chelsea, making a real impression in her first season, which resulted in her signing an extended contract.
So, did Asllani speak to any of her international colleagues about the league before joining?
"I did speak a little bit with Hedvig," she said.
"I didn't want to let her know before making my decision, but I asked her about the league and how it is – I was curious."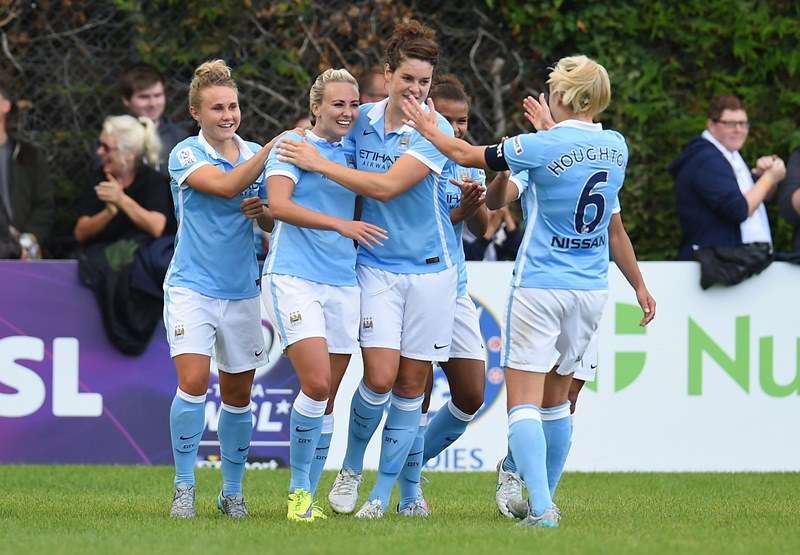 The former PSG forward's move to City offers a fresh start as she lost her place in the Parisian team, resulting in her contract being terminated by mutual consent.
Comparisons could be made between City and PSG, who are both looking to emulate the success of their respective men's clubs, having received significant investment.
The French club has had a head start, however, as Asllani spent three and a half years with the club.
She told Women's Football Weekly she could see the similarities between City and when she first joined PSG, although she confessed that the Manchester club felt like the future.
She said: "When I went to PSG it was the first year they were investing in women's football, but here (City) it feels like they have already done that because they have some amazing players.
"I have been in different clubs and they often say they want to be the best, but when I came here I have never seen this type of facility. It's world class.
"If you want to get better as a player and have the tools to [do so], this is the right place. That's what I felt from the beginning."
Asllani made her debut for the club last weekend, ironically against some of her international teammates, as City Women ran out 3-1 winners against Swedish champions FC Rosengard.
The striker came close to opening her account in the first half when she hit the crossbar. However, she was withdrawn at half-time as she was not 100 per cent fit.
City have a chance to build on that impressive win over the Champions League quarter-finalists when they face sister club Melbourne City Women in Abu Dhabi this Wednesday as part of a pre-season training camp.
Asllani, who will also be looking to force her way back into the Sweden team after recently losing her place, is confident a good pre-season will prepare City to make a solid charge for silverware this season.
"We need to keep on improving and working on the details," she said, "because it's the details that are the difference if we want to win. I know we will have time before the season starts to do that.
"We have quality players here and I just can't wait until the season starts because I like what I've seen."
*This article was originally published in the FLP's Women's Football Weekly pull-out on 14 February 2016.